CPU and ZZUIT sign Cooperative Agreement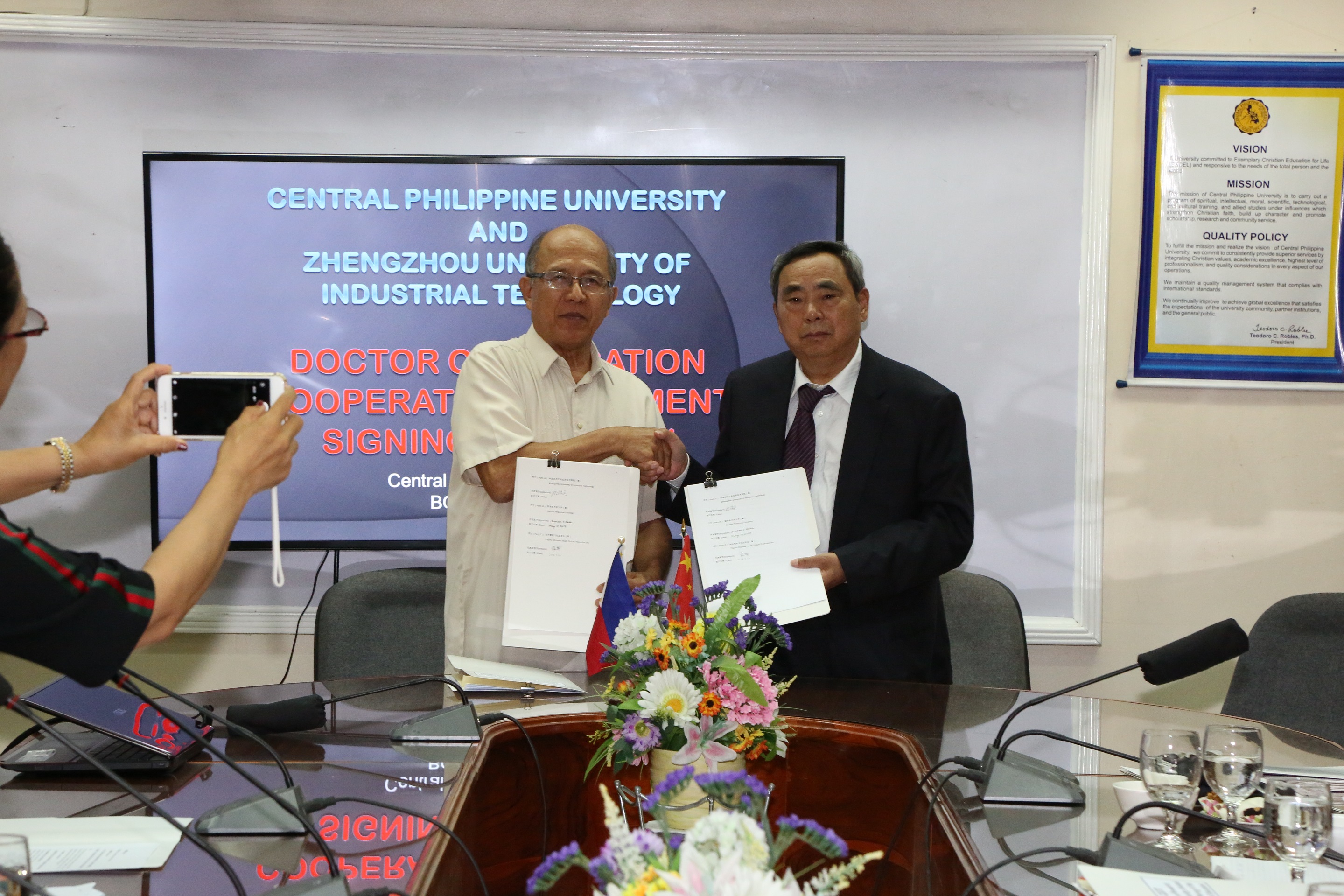 Building new heights for educational exchanges – CPU President, Dr. Teodoro C. Robles and ZZUIT President Dr. Yao Xiyuan officially signs the Cooperative Agreement.

Strengthening educational ties—Central Philippine University and ZhengZhou University of Industrial Technology signed a Doctor of Education Cooperative Agreement at the Administration Building, Board of Trustees Conference Room on May 10, 2018.
In his welcome remarks, CPU President, Dr. Teodoro C. Robles highlighted the strong ties of the university to educational institutions all over the globe. "CPU has been at the forefront of linking with many universities not only in the ASEAN Region but with other countries as well such as China, Japan, and Korea. With this academic linkage that we will establish today, we aim to improve our knowledge of the culture of China and to partner together in the development and progress of our respective institutions. We aim to improve not only our relationship with the university but with the people of China as well."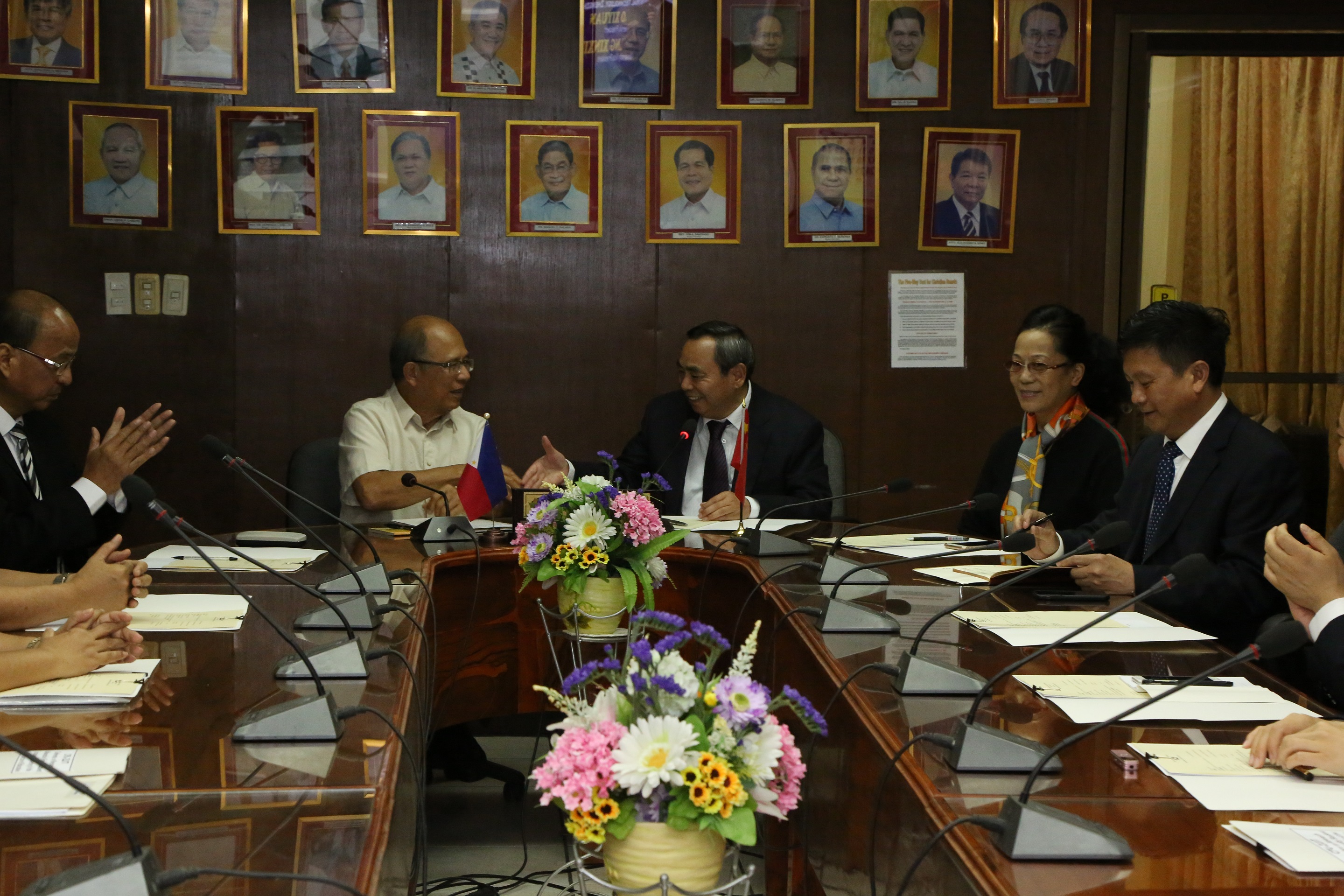 The start of a wonderful beginning – CPU and ZZUIT discussed possible joint degree programs, faculty and student exchanges, and collaborative research.
After his message, Dr. Robles introduced the CPU officials present for the signing, namely, Rev. Joniel Howard H. Gico, Vice President for Student Affairs; Dr. Irving Domingo L. Rio, Vice President for Academic Affairs; Dr. Florence P. Bogacia, Vice President for Finance and Administration; Prof. Rowena M. Libo-on, Director of the CPU Transnational Programs; Prof. Anna Mae Zerrudo, OIC of the Office of International Relations and Cooperation; Rev. Francis Neil G. Jalando-on, Director of the CPU Office of Communications; and Dr. Merle Junsay, Dean, CPU College of Education.
In reply to Dr. Robles' message, Dr. Yao Xiyuan, ZZUIT President, expressed his gratitude for the warm welcome of the CPU Administration. "In this beautiful month of April, we have come to a very beautiful Philippine university, CPU. We are received very warmly and we are thankful for the wonderful accommodation."
Dr. Yao then introduced the ZZUIT officials who accompanied him, namely, Prof. Yang XinXin, University Vice President; Prof. Feng GuangHui, Director of the Human Resource Department; Dr. Cen ShiHong, Director of Scientific Research Development; Prof. Wang HongHai, Director of the Office of the University President; and Prof. Xue XueHui, Director of the Board of Governors.
Both universities discussed possibilities on joint degree programs, faculty and student exchanges, and collaborative research. The said agreement will carry out joint postgraduate training program for the degree Doctor of Education, Major in Administration and Supervision. It is expected that the cooperation will cultivate a high level of understanding and enhance the intellectual capability to promote economic and social development.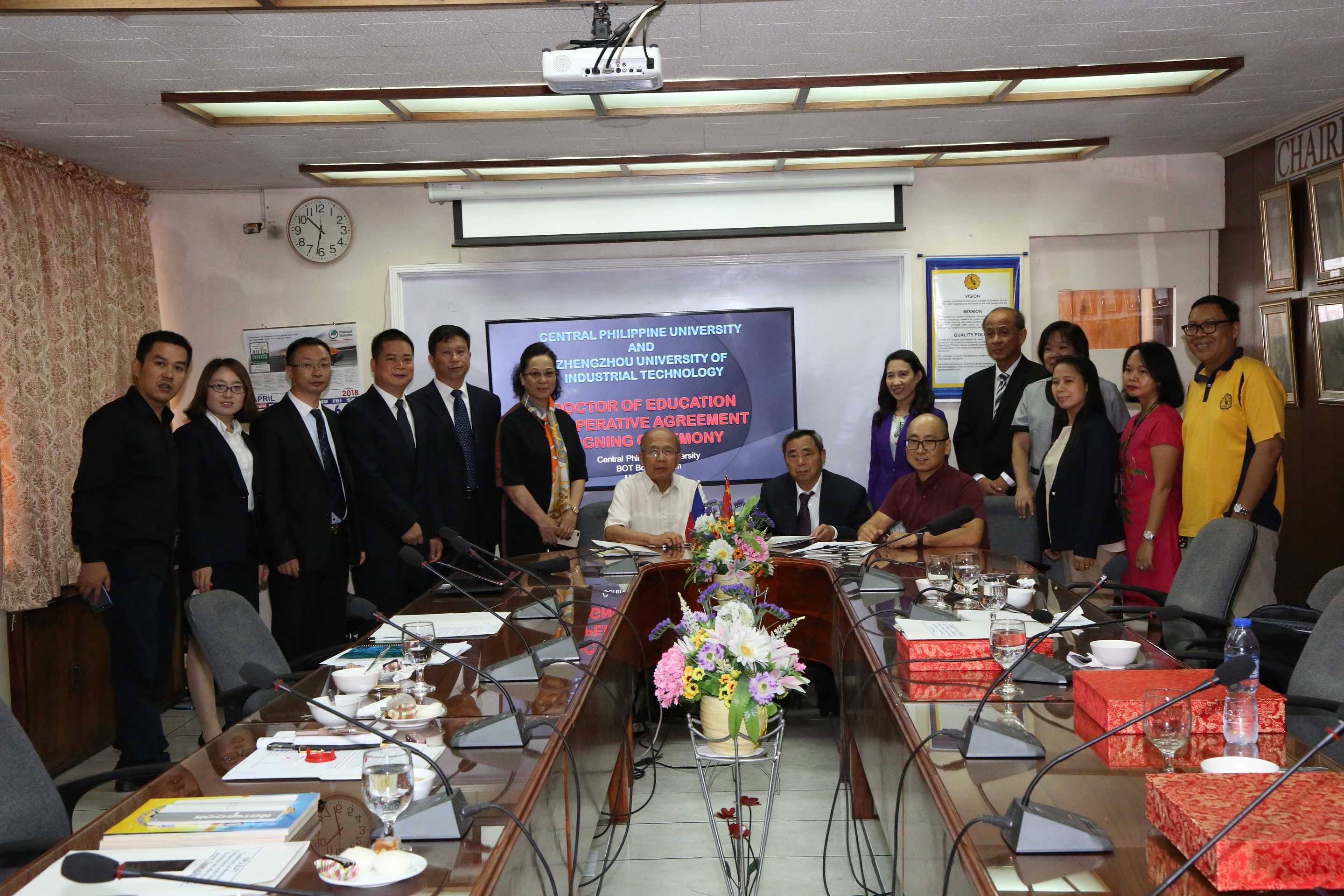 CPU President, Dr. Teodoro C. Robles and ZZUIT President Dr. Yao Xiyuan together with the university officials of CPU and ZZUIT.
It should be noted that both universities have held various programs and visits to strengthen their academic ties. On June 4-7, 2017, Dr. Robles together with his wife, Mrs. Angel Robles, Dr. Rio, and Prof. Yap-Zerrudo were treated to an educational tour of the facilities, laboratories, and equipment of this university located at ZhengZhuo City, Henan Province, China. Dr. Robles was honored to speak before the graduating students as the Commencement Speaker for graduation exercises in the said university.
On August 4, 2017, the Review Continuing Education and Consultancy Center in cooperation with the Office of International Relations and Cooperation held a one-day seminar on Chinese History and Culture entitled "The Charm of Central China" featuring the faculty of ZhengZhou University of Industrial Technology as expert lecturers.
On October 17-30, 2017, Engr. Dany C. Molina, Dean, CPU College of Engineering; Engr. Jeriel G. Militar, Chairperson of the CPU Mechanical Engineering Department; and Engr. Alejandro R. Manderico, faculty, CPU Mechanical Engineering Department went to ZZUIT for an immersion. The said visit enabled CPU faculty to observe the methods and applications of teaching and classroom and laboratory management of ZZUIT.
The partnership between CPU and ZZUIT was made possible by the Filipino Chinese Youth Culture Promotion, Inc. (FCYCP) co-founded by Mr. Xiu Bin and Mr. Yao-Yong Zeng. The group aims to establish mutual connections between the Philippines and China through youth education and exchange.