By Edwin C. Laru-an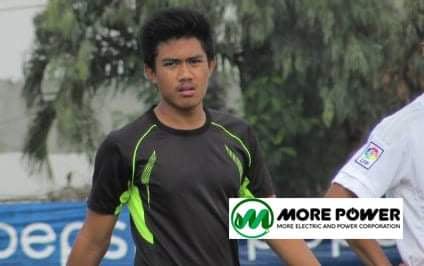 Bornales is currently a 1st year BMLS student.
Name: John Ashley Bornales
Nickname: Jabor
Height: 5'8"
Grade/year: 1st year, BMLS
Team: Football Men
Playing Position: Goalkeeper
Coach: Bob Rommel Javellana
Hometown: Janiuay, Iloilo
Achievements:
Best Goalkeeper Palarong Pambansa 2016
Champion ILOPRISAA 2016
Champion ILOPRISAA 2017
Champion ILOPRISAA2018
Champion WVRAA 2016
Champion WVRAA 2017
Champion WVRAA 2018
3rd runner up Palarong Pambansa 2016
1st runner up Palarong Pambansa 2017
Hobbies: Online games
Favorite Player: None
Most Memorable Game: Palarong Pambansa 2016 Semifinal
Principle in Life: "Let Go of Worry, Fear, And Anxiety"
What can you say as a player of CPU Golden Lions?
I am very happy to be part of the CPU football tertiary Men.
Why did you choose CPU?
Studying in CPU is a dream come true for me. The university has not only helped me achieve my goals but it has also given me the opportunity to play with members of the football team whom I consider as my brothers.