By Cyrus A. Natividad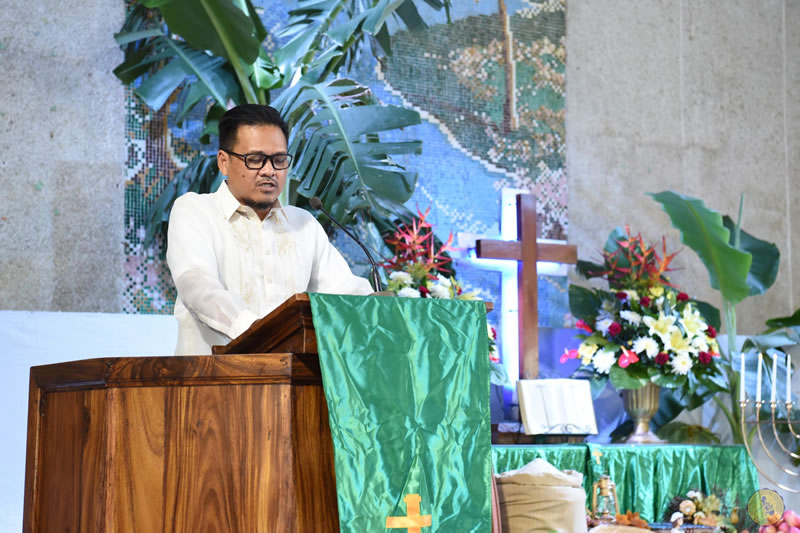 Rev. Cris Amorsolo V. Sian delivers the Thanksgiving Message.
A Thanksgiving Service was held at the University Church on Wednesday, November 23, 2022, after about three years without face-to-face service due to the pandemic. This year's theme is "Let me count the ways". The text found in Psalms 103 provided an encouragement for everyone to praise God for all that He has done, of God's personal blessings, His forgiving love and the universal call for all believers to praise the Lord.
The program started with the Thanksgiving Liturgy. The thoughts to worship was read in silence. Engr. Vitini Edhard O. Idemne led in the singing of the hymn, 'How Great Thou Art'. It was followed by an Opening Prayer of Rev. Ruth G. Lunasco.
In his opening remarks, University President Dr. Teodoro C. Robles reminded everyone that, "Simply being able to wake up every morning is already a cause for us to thank the Lord." He added that, "Regardless of the circumstances, we should always overcome because God is with us; we will always be victorious in everything we do."
A life story of thankfulness was told by Betty Ermitaño, Registered Guidance Counselor, Faculty-(CPU -CBA). The CPU Elementary School (CPUES Hiyas) also rendered a declaration of thankfulness for God's goodness thru the Thanksgiving Anthem. Rev. Cris Amorsolo V. Sian delivered a Thanksgiving Homily centered on how God is faithful and is deserving of our thanksgiving. An offertory call followed with the gathering of thanksgiving offering; the College of Theology Faculty and Staff rendered an Offertory Song, followed by an offertory prayer.
Acknowledgement is given to Pastor NG Fabula (Liturgist), Engr. Vitini Edhard O. Idemne (Song Leader) Mrs. Rona L. Idemne (Accompanist) and the CLC Members (Ushers).