By Cyrus A. Natividad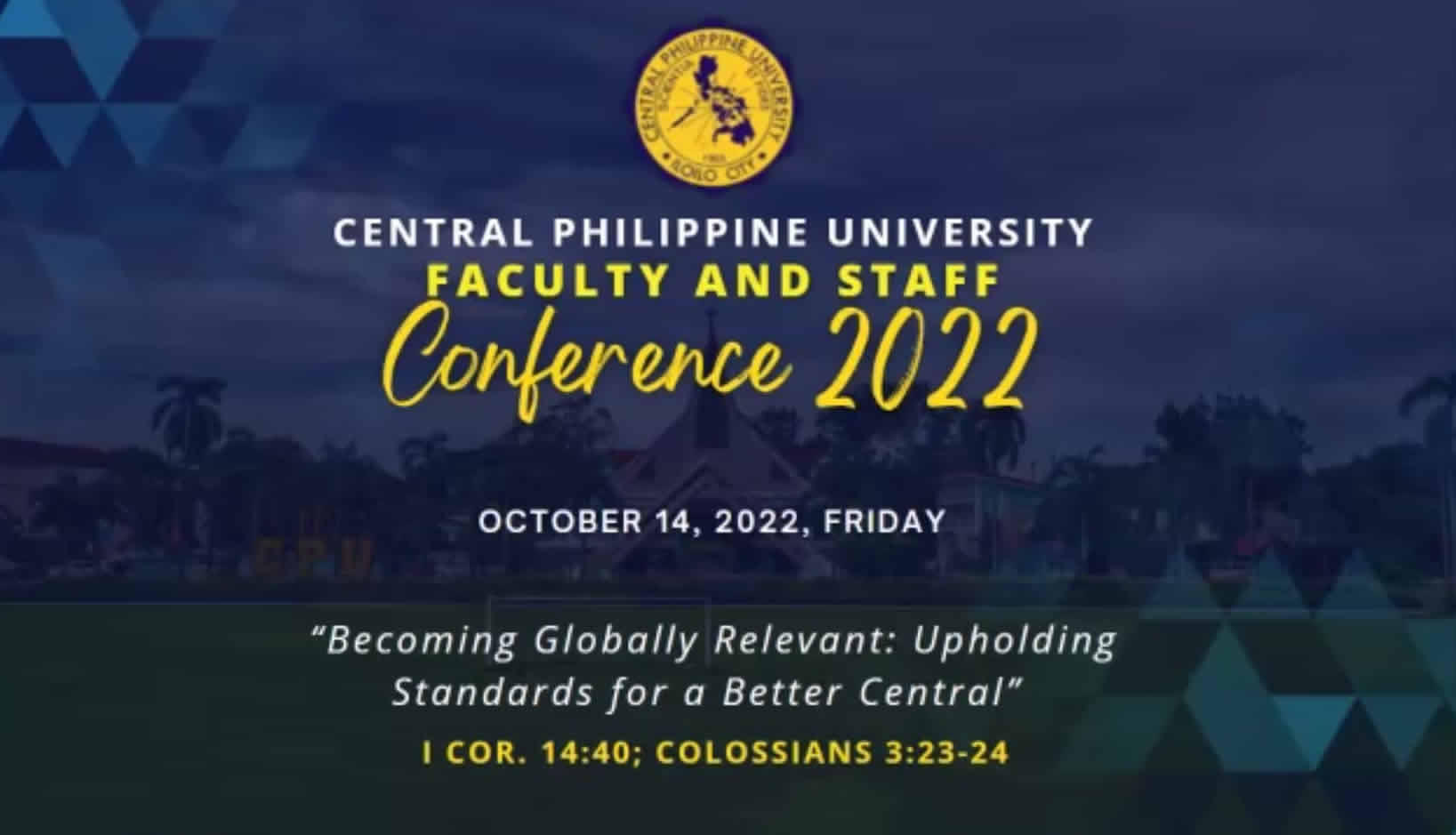 Central Philippine University held its annual Faculty and Staff Conference on Friday, October 14, 2022 via Zoom; with the theme "Becoming Globally Relevant: Upholding Standards for a Better Central." The CPU Elementary School Faculty and Staff was in charge of the program.
Admission to Zoom started at 7:30 AM with Host Mr. Jun Abelarde; Online Quiz (All about CPU) was facilitated by Ms. Theza and Ms. Anthea. Prof Janet P. Jaco, CPU Elementary School Principal and F & S Committee Chair, read the program's rationale. Prizes were raffled off in between the reports. Three Major Prizes were given away in the Grand Raffle Draw at the end of the program.
A video on Institutional Awards and Recognition was presented before the President's Report by University President Dr. Teodoro C. Robles. Dr. Irving Domingo Rio delivered his VPAA's report. Another video on Completed Researches followed before the VPFA's report of Dr. Florence P. Bogacia. There was an Open Forum with Ms. Ada Zyree May Beup (moderator). A synthesis of the morning session was given by Prof. C.G. Sotto.
The afternoon session started with the Vice President for Student Affairs Dr. Ester Rose Romarate's Report. A video on Community Engagement was presented. HRD's Report by Prof. Rodel C. Palomar followed with a video presentation on New Hires and Promotions.
The afternoon's Open Forum Moderator was Mr. Carlo M. Pausa. The Faculty & Staff Completers of Fellowship Programs and Recipients of Scholarships were also presented on video. Mrs. Mae Ann Puertollano gave a synthesis of the afternoon session. Election Results of winners were announced by the Election Committee.
The participants made a commitment to the University. The Alma Mater Song was rendered by the Faculty & Staff of CPU Elementary School. Rev. Dr. Jerson B. Narciso led the closing prayer. The program ended at 5:00 PM.
The Committee would like to thank CPU TV Channel for facilitating the video presentations.