By Cyrus A. Natividad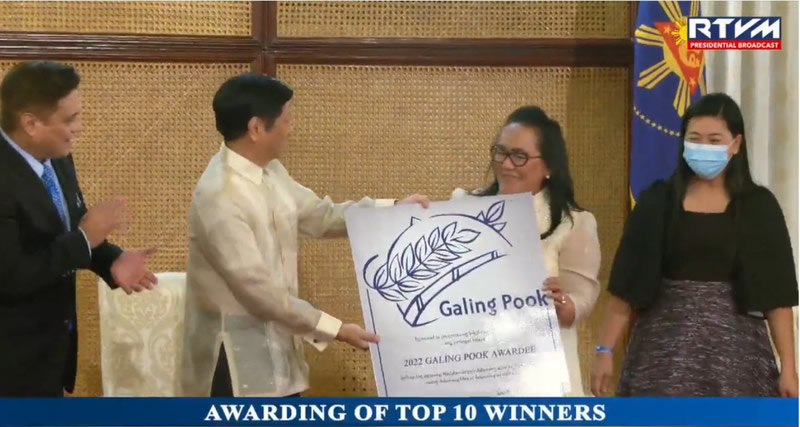 For her sustainable development advocacy in her municipality, Mary Jean N. Te (CPU Pol Sci Batch 1984), Mayor of Libertad, Antique received the 2022 Galing Pook Awards at the Ceremonial Hall in Malacañang Palace on November 22, 2022. She was among the Top Ten local government recipients (including Iloilo City Mayor Jerry P. Treñas). The awards were successively handed over to Te and Treñas by His Excellency President Ferdinand 'Bong-bong' Marcos, Jr. There were 196 local government units applications for the award from which only ten recipients were selected.
The Galing Pook award for the Municipality of Libertad was due to the excellent innovation of Te's 'Fish Forever Savings Club Program in Libertad. "The Galing Pook Foundation is the leading resource institution that provides support, tools and resources to local government units (LGUs) to enable them in building adaptive solutions to challenges in their respective communities. Through its programs, local chief executives and their units can enhance their knowledge and exchange best practices in fostering development in their localities."
Since her reelection in the May 2022 elections, the Centralian Mayor consistently brought to the consciousness of her constituents the importance of sustainability and intervention. "The Community Savings Club not just help fisherfolks but also farmers, parent leaders, nutrition scholars, barangay health workers and officials."
The initiatives of Mayor Te and her administration have created waves to other government agencies and non-government organizations, thus gaining more opportunities or access to funding assistance, and further enhance her development programs. It also creates a spot in the map and exposure, as the municipality has become one of the destinations for learning visits and ecotourism. She believes that, "Responsive governance understands the need and identifies the solutions to improve the welfare of her local constituents."
Mayor Te has been President – League of the Municipalities of the Philippines (LMP) Antique Chapter; Auditor – League of the Municipalities of the Philippines (LMP) National Chapter; Chairperson – LIPASECU Baywide Management Council, Member – Northwest Panay Biodiversity Council, and Member – Protected Area Management Board (PAMB). She is an active member of Central Philippine University Political Science Alumni Association.