By Christian Jones Clemenso BST-4, CPU CHM Ambassador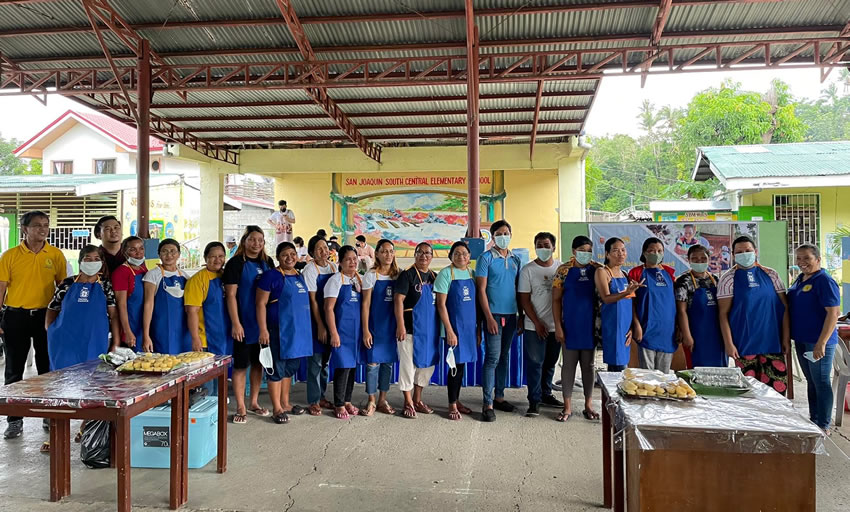 Participants in the RAFI-MFI -CPU Outreach program in Tiolas, San Joaquin, Iloilo.
Lao Tsu said that if you give a hungry man a fish, you feed him for a day, but if you teach him how to fish, you feed him for a lifetime.
This is precisely what the Ramon Aboitiz Foundation, Inc. (RAFI MFI) was doing last Saturday, July 16, 2022, during their Sustainable Livelihood Training program that was held in Tiolas, San Joaquin through the University Community Engagement Service Learning Center (CESL) headed by Dir. Levi de Los Santos, in collaboration with the Dr. Lucio C. Tan College of Hospitality Management.
The company is renowned for assisting people in creating a stable means of subsistence that could enable them to launch small businesses and generate income. The said initiative gave CHM Ambassador and Ambassadress (CHMAA) and Student Council members the chance to participate. The students had taken a two-day training where they learned how to make a variety of foods to assist the potential entrepreneurs under the supervision of Dr. Myrna Luceno who served as a resource speaker during the conduct.
They created a variety of Puto cheese, which are tasty and simple to make Filipino steamed cakes. It differs from a standard puto in that it offers healthy alternatives utilizing varied vegetables found in the locality. In addition, embotido was introduced, a traditional Filipino main meal. However, Milkfish or Bangus is the main component instead of pork and with the addition of camote as extender. This process is very meticulous since they needed to learn how to debone the milkfish.
The students had the opportunity to interact with these aspiring entrepreneurs throughout the entire day's activity. It was a unique and wonderful experience where Dr. Luceño and Dr. Hisuan are in charge of the demonstration during the food presentation and the students' together with Prof. Denie Erwin Tan serves as assistants, helping the participants measure the ingredients and follow the recipe. When everything was finished, Dr. Armando Hisuan Jr. discussed the product's cost so they would have a general concept of pricing.
Being an assistant to these budding entrepreneurs has changed the moods of each and every one of us. The day was expected to be exhausting given that we traveled early in the morning and it was an all-day activity. Since they are engaged in the game and are highly participative, we have already developed relationships with them, and it is wonderful to work with them. According to Kent R'lau Labating, the Vice President of CHMAA "I'm so honored and grateful to be part of the outreach program last Saturday (July 16, 2022) at Tiolas, San Joaquin, Iloilo. We had so much fun. It's tiring, but the most fulfilling part was really working with the organization called "RAFI-MFI" on how to help our mothers earn an income daily in order to support their households."
We sincerely appreciate the CESL, CHM and RAFI MFI for giving us the chance to participate in the program. It enabled us to understand that it is preferable to support them in realizing their dream of starting a small business than to meet their immediate needs and participating in their achievement was a truly wonderful chance.
We will continue to do the same outreach program in many municipalities over the upcoming few weeks; last Saturday was just the beginning of it. This makes us eager to help these would-be mothers once more.