By Cyrus A. Natividad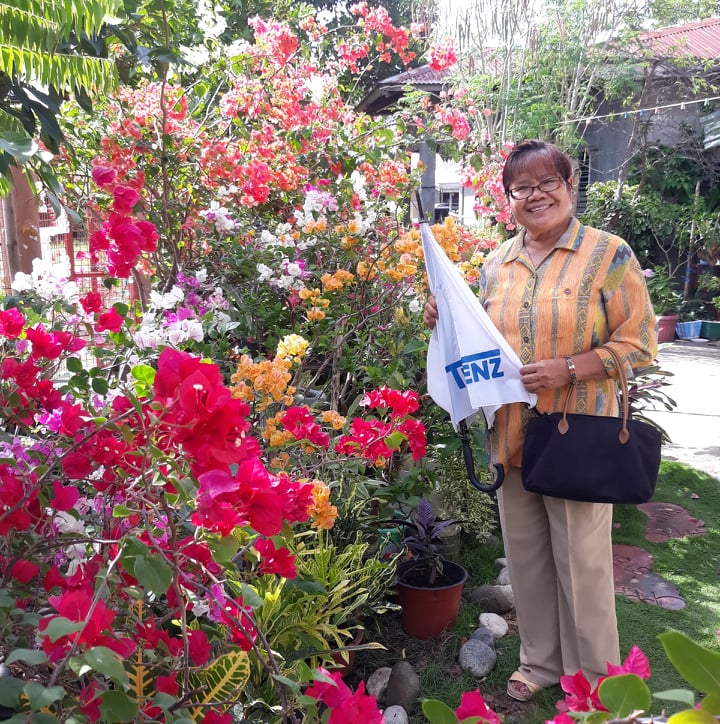 Trinidad Sorongon in her garden.
For Miss Trinidad Sorongon, a long-time employee of Central Philippine University, sports enthusiast, and farm entrepreneur, she finds reward in her gratefulness. "I thought I would just 'rest upon my laurels', but I thank God for giving me a fruitful, peaceful and enjoyable life after retiring from employment in CPU", said the 69-year-old President of the CPU Staff Retirees Association (STAR) and the Chairperson of the CPU Employees Credit Cooperative.
She added that "Now I even actively enjoy working in my orchard – with fruit-bearing trees; green and leafy vegetable patch and a beautiful flower garden which I personally manage with exotic plants – what almost everybody has been doing during the pandemic. The beautiful piece of land which she acquired during her employment at CPU is located in Tigbauan, Iloilo. The genial 'Trenz' also fondly called 'Neneng' said, "I am now reaping the fruits of my labor. I call them rewards from God for my patience, perseverance, and determination", she explained.
Sorongon graduated from Central Philippine University with a Bachelor of Science in Commerce major in Accounting in 1973. She was a Volleyball Scholar from her first year until she graduated (she is still President of CPU Varsity Friends Forever – CPU-VFF) until now. Her employment with CPU started in 1978 as a Bookkeeper (General Ledger). She served as Credit Manager from 2003 until 2009.
She became an Alumni/Student Coordinator and had the privilege to travel to different High Schools nationwide promoting CPU not only in Western Visayas but also in Cebu, Davao, Manila, Palawan, and Mindanao among other areas.
She was also assigned in different offices in CPU, as Sports Coordinator, Building and Maintenance Coordinator- Maintenance Dept. with 15 staff and 100 plus Janitorial Work Student. She recalls, "My last assignment before I retired was at the Lifestyle Learning Center of CPU. I thanked God for giving me such journey at work and a lot of blessings then."
Sorongon is a very friendly lady whose passion seemed to be working and helping people.  She is an active member and former President of the Rotary Club of Jaro Centraline. She may be living this simple life on the farm – in her hometown in Barosong, Tigbauan, but she is currently the President of the Iloilo 'Senyor' Citizen in Barosong and in general, Secretary of the Tigbauan 'Senyor' Citizen Association. She is an active officer of their Church in Barosong.
"I was molded morally and spiritually by Central Philippine University, I am very much thankful to the Lord for giving me a comfortable home, a car, and a productive piece of land, what more can I ask for," she said.
Trinidad' Trenz' Sorongon was born on May 27, 1952 in Barosong, Tigbauan, Iloilo to her late parents Gregorio Tayo Sorongon and Teresa Tisca Sorongon.
She reminds us of 1 Thessalonians 5:18 – "In everything give thanks: for this is the will of God in Christ Jesus concerning you."