By Cyrus A. Natividad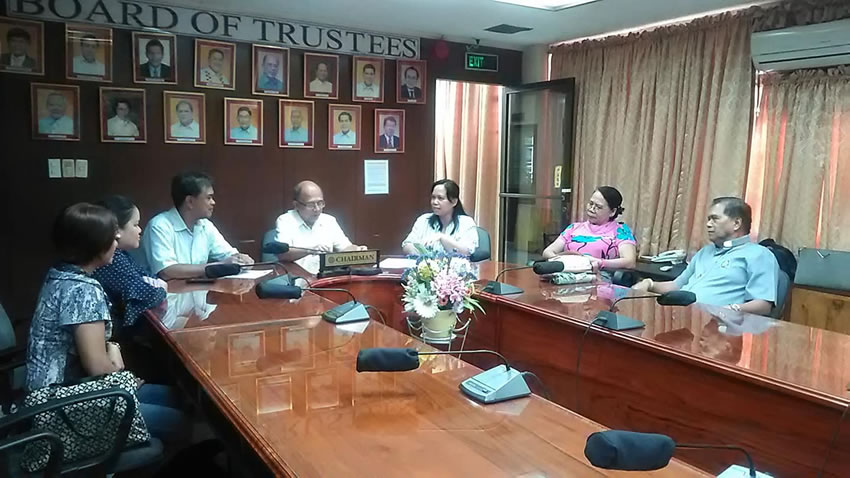 CPU President, Dr. Teodoro C. Robles and  Community Engagement and Service Learning Center Director, Mr. Levi O. De Los Santos together with Durebang Empowering the Marginalized, Incorporated (DEMInc.) representatives.
Central Philippine University (CPU) signed a Memorandum of Agreement with Durebang Empowering the Marginalized, Incorporated (DEMInc.). The MOA was signed by University President Dr. Teodoro C. Robles on behalf of CPU, and Diadem Rose Camba Jontarciego, on behalf of DEMInc. Both parties agreed to work together on social transformation, aimed at helping and improving the lives of the less fortunate.
Through the Community Engagement and Service Learning Center (CESLC), the outreach arm of the University, CPU will work in partnership with DEMInc. in extending social welfare programs to poor communities. On the other hand, DEMInc., as a social welfare agency, will collaborate with CPU as partner in advocating and carrying services that are relevant and responsive to the needs of poor people in the communities.
The partnership will identify and define common areas of concerns and the scope of appropriate services needed to be implemented under the partnership and collaboration efforts for the good of its beneficiaries.
Both partners agreed to undertake and implement CPU CESLC's training program, technical assistance, and advisory services training in DEMInc., particularly in Ungka, Pavia, Iloilo. CPU CESLC's Training Programs specifically centers on the community's need for values re-orientation (including spiritual growth activities), children's rights and welfare, family counselling, and self enhancement activities for women and children. CESLC also promotes the spirit of volunteerism and offers opportunities for academic social research and related development projects.
In signing the MOA, both parties are committed to playing their roles: CPU to provide services within the expertise of the different colleges and units of the University as needed by the community; DEMInc to deploy personnel for the direct community organizing work and program implementation in the identified service areas, and provide services like seminars and trainings within the expertise of the organization upon request of the partner institution. DEMInc will also assist CPU CESLC's faculty, staff and students while they are in the community conducting activities/programs related to the undertaking.
The Memorandum of Agreement will be effective for three years and subject for renewal.