By Edwin C. Laru-an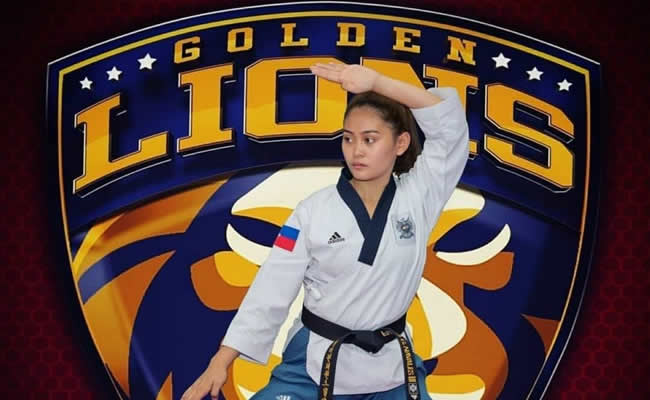 At 18 years old, Navales got her blackbelt and began competing in Krorugi (sparring) in her entire college years.
The Philippine Taekwondo Association appointed CPU Golden Lions Taekwondo coach Florame Navales as Chairperson – R6B Regional Pomsae Council of the Philippine Taekwondo association for a term of 2 years.
According to Navales, her taekwondo career started during the 2005 and 2007 Palarong Pambansa representing Region 10. At 18 years of age, she got her blackbelt and began competing in Krorugi (sparring) in her entire college years. She shifted into Poomsae when she started coaching.
Navales, a graduate of Bachelor in Arts Major in Political science and Public Administration from Central Philippine University last 2014, represented the Golden Lions in ILOPRISAA, National PRISAA, and UNIGAMES. The following year, she joined Coach Alan Diasnes as a coach of the CPU Golden Lions.
Navales loves the art of Poomsae, and joined in Poomsae seminars under the National Poomsae Coaches of Philippine Taekwondo and also the Regional Poomsae. From 2016 to 2018 she was a member of the Philippine National Poomsae Team-Training Pool. As a member of the Philippine National Team, she represented the country in World Taekwondo Hanmadang in Korea in 2016 and won the silver medal in creative freestyle team Poomsae. It was her first-ever international medal. She later trained players that became Philippine National Team members and represented the country namely, Alfie Diasnes, Cindy Joy Diasnes, and Sophia Marie Tungala.
While coaching, she continues to compete in the Senior Division. She competed twice in the United States in 2017 and 2018, in Korea in July 2019.
Navales is an awardee of the Most Outstanding Woman TOWIL by the Iloilo City Government in 2018. She was also awarded as Best Coach in Thailand last October 2019.
"It's both an honor and a responsibility to continue my service to our association, to CPU, my Alma Mater, and to the youth of today. My desire is to let them experience the gift and advantages of being in sports. At this stage of my life, I am happy that I am able to do the thing that I love," said Navales.