By Rusieljs G. Lunasco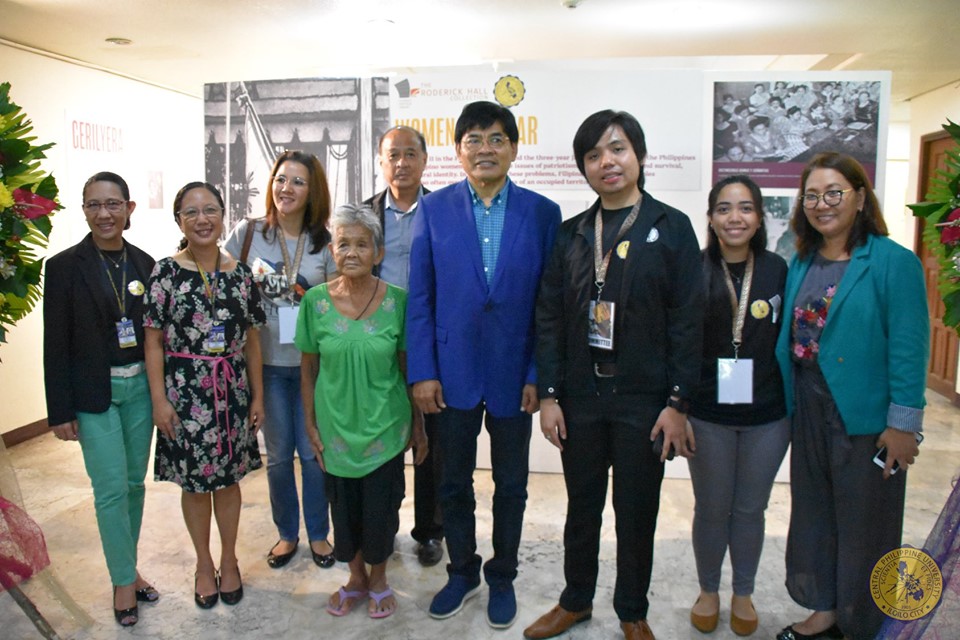 (from left) Vice-President for Finance and Administration Dr. Florence Bogacia, Vice-President for Student Affairs Prof. Esther Romarate, Ms. Desiree Cua-Benipayo,  Salvacion "Sichang" Sequio (adopted daughter of Lourdes Divinagracia), Board of Trustees Chairman Atty. Von Lovel Bedona, Ayala Foundation Associate Manager Mr. Simon De Leon,  Ms. Louise Marquez of Filipinas Heritage Library and CPU Libraries Director Ma. Cynthia Peleña.
Central Philippine University and the Filipinas Heritage Library under the Ayala Foundation unveiled "Women and War: An exhibition on women workers, warriors, and survivors of World War II" with an opening reception on November 12, 2019, at Henry Luce III Library.
Featured in the exhibit are guerillas, spies, artists, writers and comfort women who played significant roles during the war. Among some of the women from Iloilo included in the exhibit were Lourdes "Yay Oding" Divinagracia who was known as Iloilo's last surviving comfort woman, Maria Sirilan and Encarnacion Lavente who served as Nursing Aides in Camp Tiring, Cabatuan.
In her opening remarks, Vice President for Finance and Administration Dr. Florence P. Bogacia stressed the importance of knowing our history and remembering the sacrifices of our countrymen who suffered during the war. She also thanked the Filipinas Heritage Library for continuously working with Central Philippine University Henry Luce III Library, specifically, in the digitization of some of its archives.
Present during the event were CPU officials and family members of some of the women who were featured in the exhibit. Representatives from the Ayala Foundation headed by Associate Manager Simon de Leon also graced the exhibit opening.
Women and War is open to the public and will run until December 12.