By Cyrus A. Natividad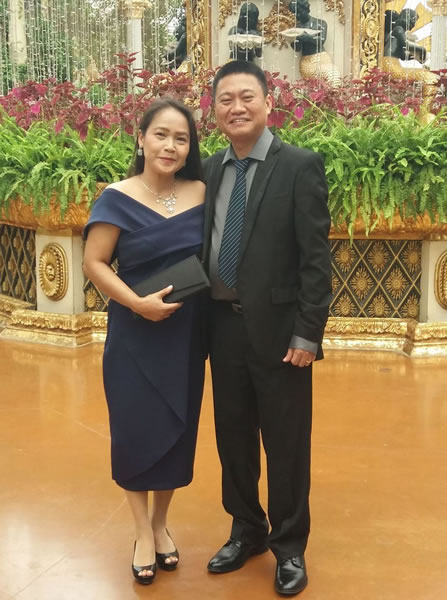 Atty. Roy M. Villa with his wife, Arlene Lamis Villa.
Centralian Lawyer Atty. Roy Morales Villa is full of pride with the results of the Bar Examination of the graduates of the CPU College of Law. The passing rate of the Centralians in the last Bar examination was its highest in its own history.
Villa, a Practising Lawyer, who finished his AB Political Science Degree in CPU (Batch 1990) first of all said, "Passing the bar exam is a matter of individual conviction." He added that, "whether or not the last Bar was 'technology driven (online), it should be inherent in the student who wants to pass, to study well before the exam."
"Our circle of Centralian lawyers believe that CPU is an institution in Western Visayas which has successfully produced lawyers for a long time. It has an excellent course in teaching students, in the College of Law in particular – even during pandemic times," Villa said.
Villa shares his 'R.A.P' to elucidate the short secret he used, to pass the bar exam during his time. Sounding like knocking down the wall, he said, "RAP actually means Reading, Analysis and Presentation. Reading your lessons as much as possible is logically very helpful. The Analysis of cases is very important because it brings you to a conclusion which will provide the right answer. In fact, your analysis predicates your third requirement – Presentation."
The 52-year old Centralian lawyer has twenty four years in law practice since 1999. He took his Bachelor of Laws in Colegio de la Purisima Concepcion College of Law and at San Beda Graduate School of Laws for his units in Master of Laws. For several government corporations, agencies and private clients, Villa has engaged as Corporate Legal Counsel, Arbitrator, and Legal Consultant and Corporate Secretary. He was Municipal Vice-Mayor of the Municipality of Pilar, Capiz in 2004-2007.
Villa has been a Commissioner on Bar Discipline at the Integrated Bar of the Philippines from 2017-2019. He was a College Instructor at Central Philippine University from 1998 to 2000, and at Filamer Christian University in Roxas City from 1993 to 1997.
Atty. Roy Morales Villa is a partner in Villa & Alimodian-Ramos Law Offices.