Briones is ACSCU Keynote Speaker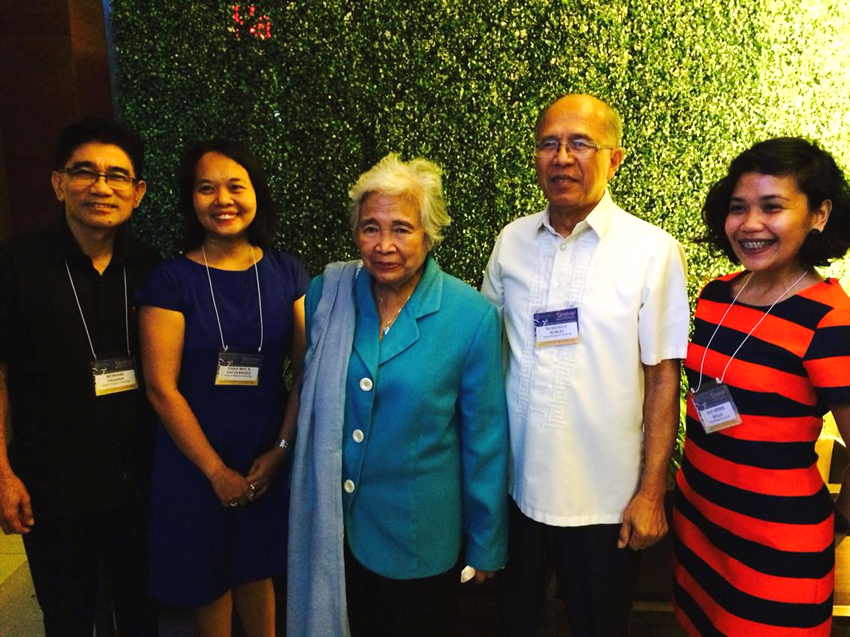 Dr. Leonor M. Briones was the keynote speaker during the 57th ACSCU Annual convention in Cagayan de Oro City. In photo: Dr. Leonor M. Briones together with CPU President, Dr. Teodoro C. Robles, Dean, CPU College of Theology Rev. Bernabe Pagara, Prof. Anna Mae Zerrudo, OIC, CPU International Programs and Prof. Kay Arden Gallo.
Dr. Leonor Magtolis Briones is the keynote speaker at the Association of Christian Schools, Colleges and Universities (ACSCU) convention in Cagayan De Oro City on May 15, 2018. The ACSCU regularly gather to support each other and to discuss problems in education.
Briones recognized the roles of Christian Schools in Philippine Education, stating that church-instituted schools were established a lot earlier than public schools. She went on to explain that it is the faith of people that have made them to set up schools and they recognized this as part of their faithfulness to God. The early missions of foreigners contributed much to the institution of schools and universities.
She reminded participants who are stakeholders and administrators of the colleges and universities not to be competitors but to unite to face the challenges in Christian Schools. She added, "Public and private schools should be complementary."
In particular, Briones confronted issues in the development of K-12. As former Chairman of the Board of Trustees of Silliman University, Briones recalled how she saw a staggering loss of income of 40 million in a small university and yet considered how important the K-12 program is to the educational development in the country. Briones likened the existence with K-12 to the biblical story of Joseph who predicted a seven years of prosperity and seven years of suffering; only, it would be the reverse with K-12. She acknowledged the free tuition fee program in universities and colleges was implemented as a result of the five years of sacrifice in implementing the K-12 program.
Furthermore, she urged teachers that "what we teach in schools should be the truth. To be free, we need to teach teachers to seek the truth." Adding, "Seek ye the truth and the truth shall make you free."
Dr. Briones is a woman of faith and public service. She is Secretary of the Department of Education and honorary Centralian conferred with the Doctorate Degree in Public Administration, honoris causa by Central Philippine University. She obtained her Bachelor in Business Administration Degree, magna cum laude, from Silliman University and Masters in Public Administration degree from the University of the Philippines-Diliman, College Honors awardee. She obtained her post-graduate diploma in Development Administration, Major in Public Enterprises, with distinction,from Leeds University in England, United Kingdom; Certificate in Policy for Public Enterprise from the Harvard Institute for Institution Development, Harvard University, Massachussetts, USA; and Certificate for Innovations in Governance from the John F. Kennedy School of Government, Harvard University.