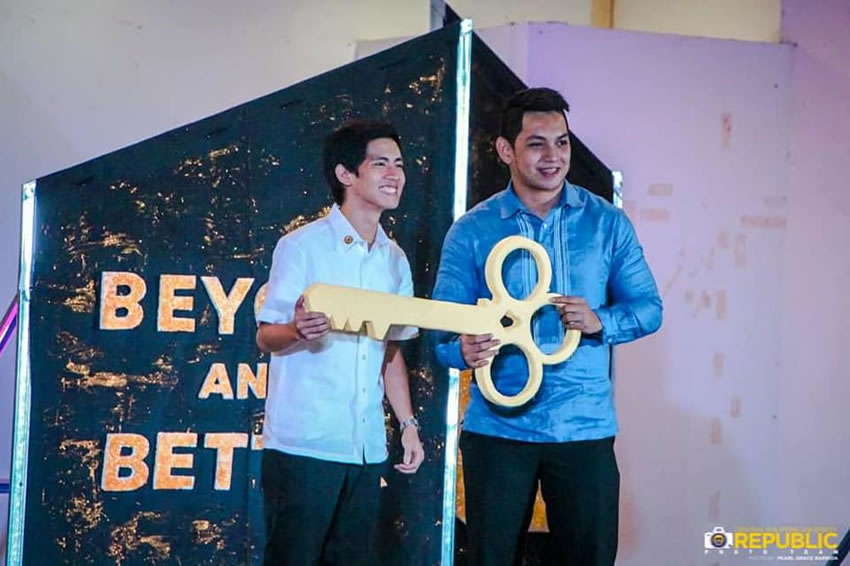 2018-2019 CPUR President, JM Suelo formally accepts the Key of Responsibility from 2017-2018 CPUR President, Jan Christian Española.
The newly elected President John Michael Suelo (more popularly known as JM) of the CPU Student Republic hails from the province of Capiz and is the only son of Mr. Efren Suelo and Mrs. Lorelie Suelo. He is currently a second year Law student. He earned his Bachelor of Arts and Sciences degree from Central Philippine University.
His first political engagement with CPU is as governor of the College of Arts and Sciences Student Council in 2011. He was spokesperson of the Law Students before running for the CPUR Presidency as standard bearer of the Reform Party. Student politics aside, JM was Mr. CPUR (2ndRunner Up) in the Search for Mr. CPU in 2015.
The athletic campus personality maintains his healthy outlook with a healthy lifestyle. One of his regular activities when not in the classroom is body building or working out at the CPU Lifestyle Learning Center. Not only his active outlook on life but more importantly his intelligence may have inspired his fellow students to vote for him. During the campaign, he spelled out his capability to govern using his acro-name: S-trengthen the checks and balances during his watch, U-phold the rule of law, E-mpower the students, L-ead by example, and O-perate intelligently.
Suelo is proud to be "President" at age 23.