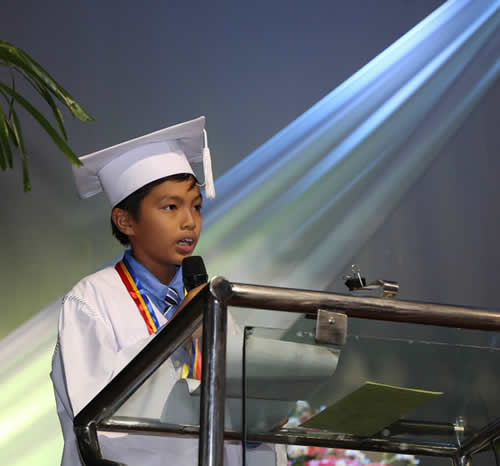 Francis Immanuel O. Fuentespina, with high honors, encourages the graduates to trust in the timing and purpose of God for their lives.
Immanuel O. Fuentespina is a Ten Outstanding Elementary School Pupils of Iloilo Awardee, 2018. This speech was delivered during the awarding ceremony at Diamond Jubilee Hall, Mabini St., Iloilo City last March 16, 2018
According to Pele, one of the greatest football players who ever lived, "Success is no accident. It is hard work, perseverance, learning, studying, sacrifice, and most of all, love of what you are doing or learning to do".
Good afternoon to everyone. I feel honored to be one of the Ten Outstanding Elementary School Pupils of Iloilo. Like the other awardees, I am very excited to receive the award and I feel proud to be part of the Outstanding Student Circle of Iloilo.
I would like to show my humble and sincere appreciation however, to the people who helped me in my accomplishments. Without them, and without their help, I would not be where I am today. I feel truly blessed. "Thank you" to my teachers who are very supportive. You are my source of knowledge. To mention some of them: Thank you Ma'am Saladar, my Grade VI-EXCEL adviser. Thank you for spending time with me before, during, and after the OSCI screenings. Thank you for always giving me the encouragement. To my subject teachers and other grade level advisers-thank you for supporting me and for letting me join different activities and competitions. To our CPU Elementary School Principal, Ma'am Janet P. Jaco, thank you for encouraging me to join the TOESP and for being proud of my achievements. To CPU, my Alma Mater, for giving us EXCEL or Exemplary Education for Life. To my football varsity team family, thank you for the support, and for giving me some time off during some of our practice games. Thank you Lion's Club International for making me part of the family. I enjoy our Saturday outreach activities. I only have simple words to say to my family, but what you did for me is always special. Mama, Papa, my siblings, Ida and BenJ, thank you for all your efforts, your energy, financial help, and prayers. You have made many sacrifices just to provide me with needed support. Salamat gid to the rest of my family. I know that you are more proud of my achievements than I am. To Mama Alice for always praying for us—you are our strongest supporter. Most of all, I thank the Lord God Almighty. Without Him and His perfect will, everything would not be possible. He is the source of all that is good. I praise Him and I thank Him for who I am.
To all the other awardees, congratulations!
To OSCI and the organizers, thank you for this award. This will be one of my most unforgettable experiences. May this activity inspire more elementary pupils to strive hard and excel in whatever they do.
I hope that we will serve as role models to others—by studying well, and by being a source of inspiration to those around us.
God bless us all and to God be the highest glory.