By Cyrus A. Natividad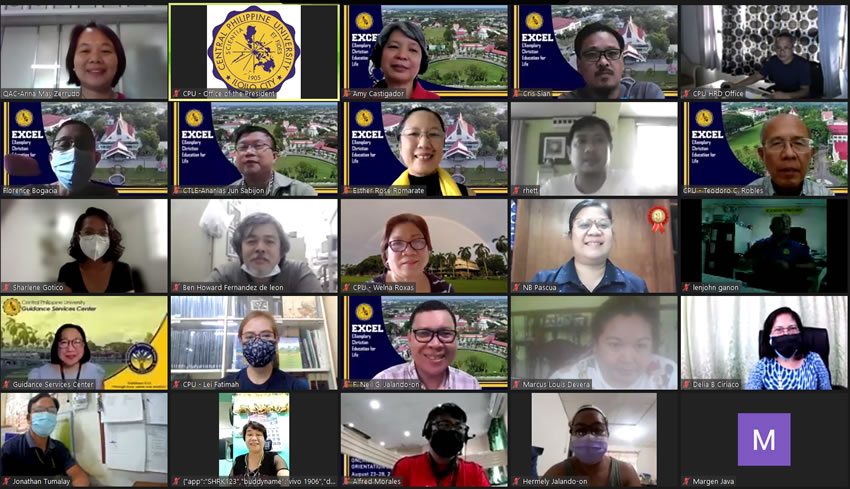 QAC Acting Director, Dr. Ana May A. Yap-Zerrudo, heads the consultation meetings with the heads of the University.
Central Philippine University has an effective and adequate Quality Management System brought about by its standard as an autonomous university and as ISO Certified organization. At Quality Assurance Center (QAC) in CPU, steps and procedures in quality control are organized and coordinated.
The QAC coordinates effectively with different offices in the University, in order to accomplish and meet the requirements of the different certifying bodies. As an ISO Certified University, it is expected to provide superior quality services integrated with Christian values, academic excellence, the highest level of professionalism, and quality considerations in every aspect of the operation.
Starting this School Year 2021-2022, the Acting Director of CPU Quality Assurance Center is Dr. Anna May A. Yap-Zerrudo. She is a graduate of Doctor of Education, major in Administration and Supervision (Ed.D) of CPU (2019). She finished her Master in Management (MMPM) from UP Visayas in April 2002 and her Bachelor of Arts major in English- CUM LAUDE – March 1998 from WVSU. She also graduated with Bachelor of Laws (Llb) from CPU in 2007.
Zerrudo started with her position as Acting Director for Quality Assurance Center on August 1 this school year and is aware of the big task ahead. She said, "I seek advice from those before me and from the senior members in the academic community. I value every information that I get from them because I know that what I learn from them will help me deliver what is expected of us in QAC." She added that "Improvements on the existing systems are regularly discussed in management reviews."
Through the series of consultations with the Office for Institutional Advancement and the CPU Office of Communications, QAC is able to document the issues and concerns of the faculty, staff, and students. "These are discussed to address potential risks and to be aware of potential opportunities," Zerrudo said.
The COVID-19 pandemic is unprecedented and discussions with the University's stakeholders are necessary, for QAC to gather inputs that could be integrated into the systems.
For Zerrudo, she is entrusted with a position that requires wisdom and strength. She didn't think of the position as an honor or privilege. She rather said, "I think of it as a responsibility, and that the office I represent must be able to contribute for the greater good. I depend on God to cope with the challenges and busy schedules."
Dr. Zerrudo has worked in different administrative functions in the University: as Acting Director for the Office of International Relations and Cooperation, and Assistant Director, Transnational Programs Central Philippine University, among others. She has written several textbooks and research papers for the University.