By Francis Neil G. Jalando-on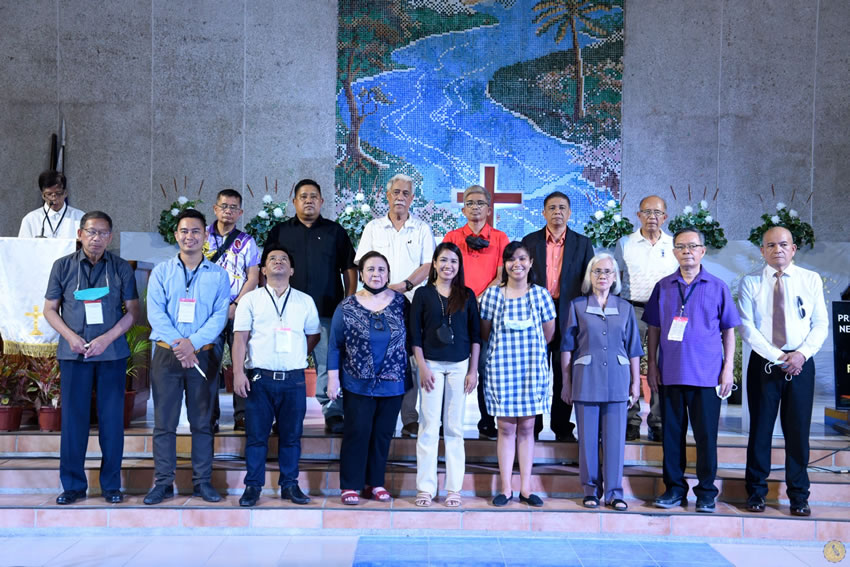 The 15 members of the CPBC Board of Trustees were installed into office by Rev. Dr. Nathaniel M. Fabula.
The 7th Biennial Assembly of the Convention of Philippine Baptist Churches was held at Central Philippine University last May 17 to 18, 2022. There were more than 1,000 delegates that registered – most of them were at the campus, and some were at the churches and homes participating online.
The assembly tackled the theme: "Church Mission in the time of Pandemic and Beyond" with Biblical texts coming from Jeremiah 29:11, Romans 8:38-39 and John 14:27.
The CPBC elected its new 15 members of the Board of Trustees. After their election, the incoming CPBC Board of Trustees elected the President and Vice President. The incoming CPBC President is Rev. Elizer Geromiano, a Bachelor of Theology and Master Divinity graduate of CPU. He is currently the pastor of Christ Believers' Fellowship of Iloilo (CBFI). He was previously the President of the Convention Baptist Ministers Association. The incoming Vice President is Mrs. Sharon Rose Buensuceso-Enabe, a Bachelor of Science in Nursing graduate, cum laude of CPU, and was chosen as the Alton Bigelow Alma Mater Awardee – the highest award that CPU gives to a graduate. She was also the one who wrote the lyrics of CPU Grand Alumni Homecoming song in 2020,"One Song, One Voice, One Spirit."
The following are the newly elected member of the CPBC Board of Trustees:
1. Rev. Danilo Borlado
2. Dr. Teodoro Robles
3. Rev. Jesse Magno
4. Rev. Edwin Madlangbayan
5. Rev. Elizer Geromiano
6. Pastor Mirvin Cañete
7. Ms. Raphah Cortel
8. Mr. Valentine Jamelo
9. Rev. Dodjie Gumata
10. Dr. Rosalene Madero
11. Atty. Maltie Militar
12. Ms. Amy Grant Castillo
13. Mrs. Sharon Rose Enabe
14. Mr. Fred Edillor
15. Mr. Jimmy Lacson
The outgoing General Secretary, Rev. Dr. Jerson B. Narciso, former Chaplain of CPU, also turned-over the mantle of leadership to the incoming General Secretary, Rev. Melvin M. Mangana, the former CPU Chaplain, Director of Student Affairs, and University Church Pastor. Rev. Narciso will now go back to CPU as a full-time faculty.
The assembly also listened to Centralian speakers like Rev. Dr. Nestor D. Bunda and Rev. Manuel Ramon de la Fuente.