By Francis Neil G. Jalando-on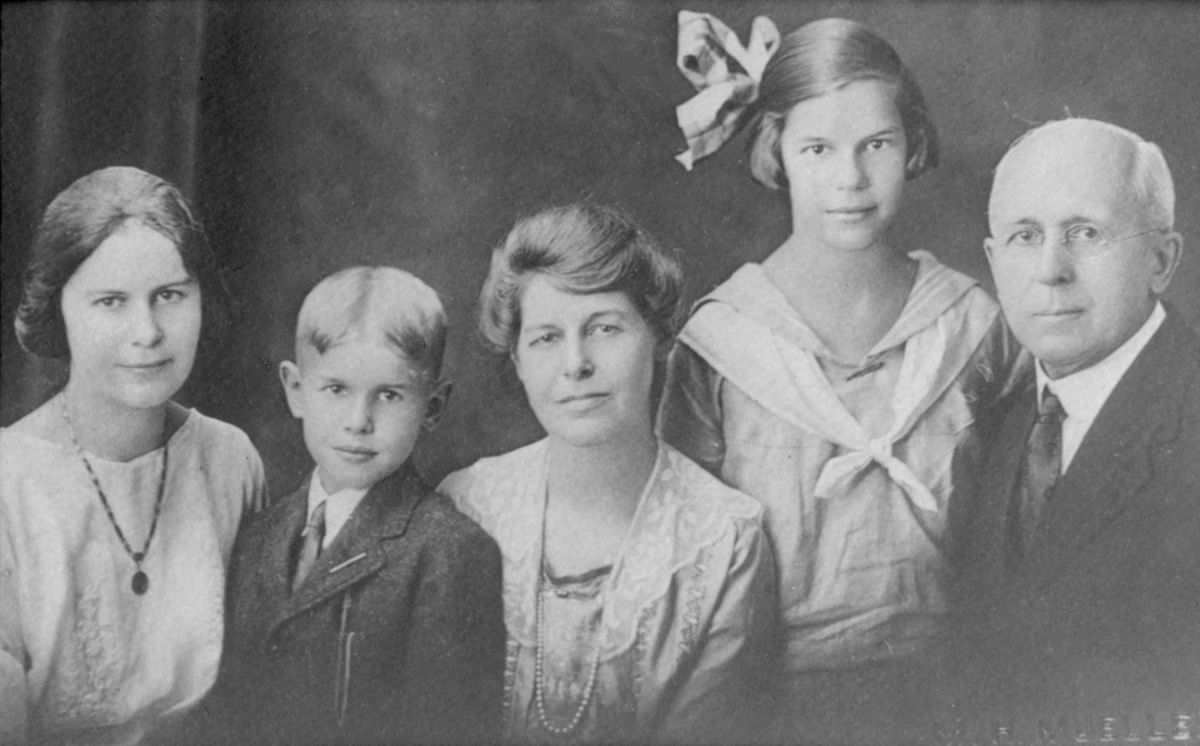 The Valentine family devoted their time, talent and treasure to serve God by serving Centralians. 
Every Valentine's Day I would remember the love story of Rev. William Orison Valentine and Ina Jane Van Allen.
Rev. Valentine was a graduate of the Colgate Theological Seminary in New York. He answered the call of God to become a missionary and joined the American Baptist Foreign Mission Society (ABFMS). In 1895, he was sent to Rangoon, Burma, and then to Mandalay where he became principal of the Baptist Mission High School for Boys. In his eighth year in Burma he suffered a severe sunstroke and returned to America for treatment.
He was disappointed that he could not continue the mission work due to his condition. However, soon his disappointment turned into joy when he met a beautiful nurse in the hospital. He fell in love with Ina Jane Van Allen. It is a love story that reminds us that God works in mysterious ways. The couple got married in 1903 and planned to do mission work. They were sent by ABFMS to Iloilo City.
In 1905, Rev. William O. Valentine, became the principal of two newly-opened schools, the Jaro Industrial School and the Bible School. Jaro Industrial School started as an elementary vocational school for boys who worked for their board and tuition. The first batch consisted of 20 boys.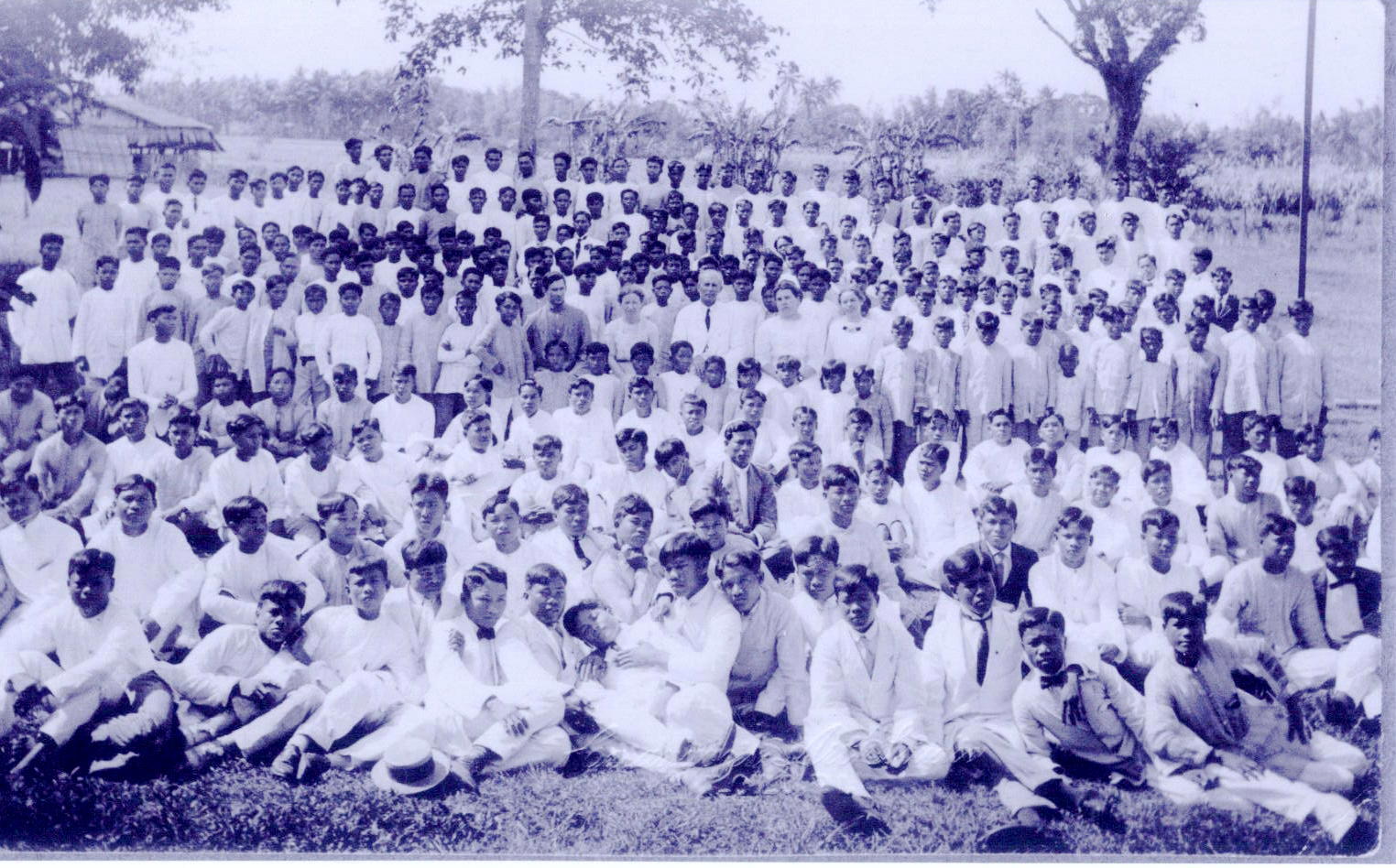 Early students of Jaro Industrial School with Rev. William Valentine and Mrs. Ina Valentine at the center.
Rev. Valentine recounted that "it was decided that in this new school, no boy, no matter how rich, should be admitted who was not willing to work for his food… All must work for their food. The original purpose of the school was to provide opportunity for poor Filipino boys to receive a good Christian industrial education by working their way through school. Actual work experience and earnest study of the Bible were the core of the curriculum."
By 1907 the enrolment of the school reached 300. The boys were working in the farm and in various trades. Rev. and Mrs. Valentine were hands-on in the school affairs. Mrs. Ina Jane Valentine taught some subjects, worked as a nurse of the school, and at the same time cared for the three Valentine children born in Iloilo between 1904 and 1913.
Rev. Valentine worked hard to have the school incorporated and recognized by the government. His objectives were reached in 1913, the year when the school began to also admit female students. In 1915, the first two years of high school were opened and by 1921, the first batch of high school students graduated.
In 1914, Valentine returned to America with his family for further studies at Valparaiso University, where he received a degree in education, and at the University of Chicago, where he presented a master's thesis in the department of practical theology. His thesis entitled "Moral and Religious Values of Industrial Education," recounted the success of work-study schooling at Jaro and other schools in Burma, South Africa, and India which had developed a similar philosophy of institutional self-support through the work of students.
With the completion of his studies in 1916, Valentine received a new appointment as provincial missionary for Negros Occidental, Philippines. He and his family went to Bacolod and became the pastor of Bacolod Evangelical Church.
He was instrumental in building a new mission house to replace the smaller chapel and he encouraged Filipino Baptist pastors to preach at Sunday services. He also established dormitories for boys and girls who attended public schools. These students received a Christian education at the mission house.
Because of his passion for Christian education, Rev. Valentine set about not only to establish new churches but also private schools in Bacolod and throughout the province like the Ilog Private Academy in the southern part of Negros Occidental. Mrs. Valentine taught kindergarten in the Bacolod school. The school and the church grew in quality and quantity during the eleven years that Rev. and Mrs. Valentine served there.
In February 1928, tragedy struck. Rev. Valentine died in Bacolod of malaria complicated by a heart disease. He was buried at the American Cemetery in Jaro, Iloilo City. Mrs. Valentine returned to America and bought a home offered by the Baptist Mission Society in Granville, Ohio, across the street from Denison University where all three Valentine children studied. She died in 1979 at the age of 100.
Soon after Rev. Valentine died, the Negros Kasapulanan of Baptist Churches and the Bacolod Evangelical Church renamed the mission house in Bacolod as the Valentine Hall. In this Valentine Hall, two Baptist institutions were born. In 1948, Baptist leaders in Negros met and decided to establish a college to be housed in the Valentine Hall. This college was named as the West Negros College, now West Negros University. In 1950, the Bible Institute under the Department of Christian Education of the West Negros College became a separate institution and was renamed as the Valentine Memorial Academy. This Bible School is now known as the Convention Baptist Bible College.
The Lord indeed works in mysterious ways. Even though Rev. Valentine passed away, his legacy gave birth to two successful learning institutions in Bacolod City and thereby, his legacy lives on.
Back in Iloilo, the Central Philippine College also decided to rename the then Administration Building as Valentine Hall, in honor of its first principal. Later, when the annex building was completed near the Valentine Hall, it came to be named as the New Valentine Building. Soon after, a new tradition was started. Every Foundation Day on October 1, University officials come to the American Cemetery to lay a wreath of flowers on the tomb of Rev. Valentine and other American Baptist missionaries.
In 1969, CPU conferred a posthumous doctoral degree upon Rev. Valentine. He was accorded a Doctor of Pedagogy, honoris causa. When CPU celebrated its 100 years on Oct. 1, 2005, a bronze bust of Rev. Dr. William O. Valentine was unveiled during the Foundation Day ceremony to honor the life and ministry of the first principal of CPU.
More than 113 years ago, God authored the love story of Rev. William Valentine and Mrs. Ina Jane Valentine. Their love for each other extended to their ministry in the school and the church. Theirs was a love without borders. All Centralians and members of the Convention of Philippine Baptist Churches are recipients of God's love through this couple.
God has authored love stories in the Bible, and will continue to do so throughout the ages. All we have to do is submit our relationship to God and be ready for God will do something wonderful through our lives.