By Keziah G. Huelar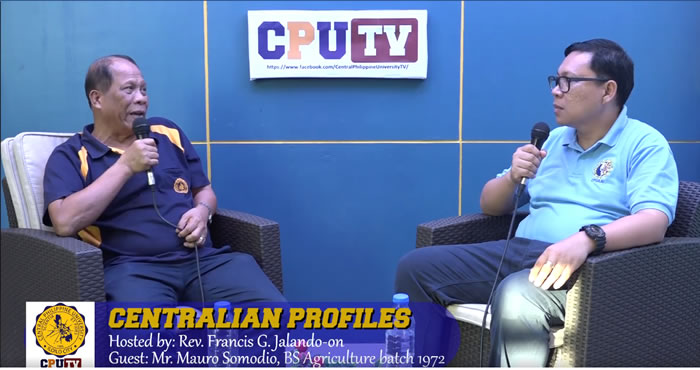 Showcasing the best of Central, Mr. Mauro Somodio has been dubbed as the "The Great Advertiser of CPU" by students from Papua New Guinea and the Solomon Islands whom he convinced to the study in the university.
Mr. Somodio is a graduate of the CPU Bachelor of Science in Agriculture. As the Vice President of the Australasia Chapter of the CPUFOAA, Mr. Somodio has been consistently showcasing CPU to the people of Solomon Islands and Papua New Guinea. As an officer of the Central Philippine University Federation of Overseas Alumni Association (CPUFOAA) Mr. Somodio has not only been promoting Centralian activities in their respective regions but he has also been encouraging enrollment of foreign students by endorsing CPU as an academic institution of excellence.
Promoting CPU to the people of Solomon Island, Mr. Somodio shares that he and his wife, Cecilia Somodio went to Papua New Guinea last June 2013 for a holiday. In their return to Australia they met Levi Wayne Delemani and his four friends – all from Solomon Islands. Delemani and his friends were planning to study in the Philippines. Mr. Somodio and his wife encouraged them to study in CPU. "CPU education is world class so I encouraged them to study there. I left my business card with him and his brother Mr. Kristen William. They contacted me to apply at CPU with his other friends and classmates.  In 2015, there were about five of them who accepted to study at CPU.  However, at that time CPU was not listed as priority list of NTU or Solomon Island Government Scholars, so these students went to other Pacific Island universities."
During his visit to Papua New Guinea, Mr. Somodio knowing that there will be a meeting of the community leader brought CPU brochures in order to promote the university. "When I was in Papua New Guinea, I stayed in one of the local hotels and I brought with me CPU brochures. At that time, there was a regional meeting of community leaders, so I got the opportunity to talk [to them about CPU]."
When asked about his personal journey as a Centralian, Mr. Somodio recalls the meeting Dr. Bernabe Cocjin, a CPU Professor and the former president of West Visayas State University at the University of the Philippines in Los Baños back when he attended a national convention.
Dr. Cocjin's kindness and help greatly touched Mr. Somodio. "I was carrying a lot of things for a demonstration competition. All of a sudden, a man tapped me and the back and said – do you want me to help you carry your things? [That moment really moved me]." ­
The said meeting with Dr. Cocjin was Mr. Somodio's first encounter with the Central Spirit. Before they parted ways, the former gave him a handwritten note to look for the Dr. Andresito A. Millamena.
Upon arriving at CPU, he approached a man to ask him where he can find Dr. Millamena to his surprise the person he was talking to was Dr. Millamena himself. Mr. Somodio recalls the encounter as divine intervention – that indeed God wanted him to study in CPU.
Dr. Millamena eventually referred Mr. Somodio to the Work Students Office. He maintained his scholarship as work student up until he finished his degree. Three years after graduation, he attended a post-graduate study in agriculture at the Oregon State University.
He held a supervisory job at the San Miguel Corporation Poultry Farm in the Philippines for a while.  Immigrating to Australia in 1986, he started as assistant postal officer in Melbourne, became an employment officer, migrant liaison officer, and lately as advertisement representative for Filcom Publishing in Queensland, Australia.
As long-time President of the Filipino-Australian Foundation of Queensland and of the Kahirup Society of Queensland, Mr. Somodio had been very successful in highlighting the cultural heritage and cultural values of Filipinos in the multicultural society of Australia.  His commendations from the Department of Immigration and Cultural Affairs of Australia speak of his invaluable contributions to the alleviation of ethnic tensions leading to greater cohesion and harmony among people from different backgrounds.
Through his leadership and inspiration, the Filipino-Australian Foundation of Queensland and the Kahirup Society of Queensland, Mr. Somodio had been regularly sending delegations to the Philippines every January.  At Central Philippine University, particularly, these organizations have so far given scholarship support to 59 poor but deserving students from six provinces in Western Visayas.   He also arranged the visit of Pres. Juanito M. Acanto to nine (9) universities in Australia in 2000, leading to establishment of Memoranda of Cooperation between CPU and some of these institutions.
Fast forward to 2019, Mr. Somodio is part of the active pool of alumni that keeps the Central Spirit renowned throughout the globe.
To further promote CPU in the international community, Mr. Somodio encourages the CPU faculty and staff to look for opportunities of studying outside the country. According to him, attending post graduate courses will encourage foreign enrollment. "As an alumnus I witnessed the growth of CPU. I believe that if our faculty and staff will be given opportunities to travel outside the country attending post-graduate courses in their field of specialties we can encourage more international enrollment. We also have to market our seminars. The conferences, seminars, workshops organized by CPU have high international standards. If we market them in the region, more partnership programs between universities especially in South East Asia and Pacific Islands including Australia and New Zealand will be established."
His support and promotion of Central is overwhelming and his fervent efforts to make CPU known throughout Australia, Papua New Guinea and other countries throughout the globe is a tell-tale of his great love for the university.