By Yolanda "Yoly" Peñacerrada-Jain, HS 1968, BSN 1973, President CPUAA Midwest USA Chapter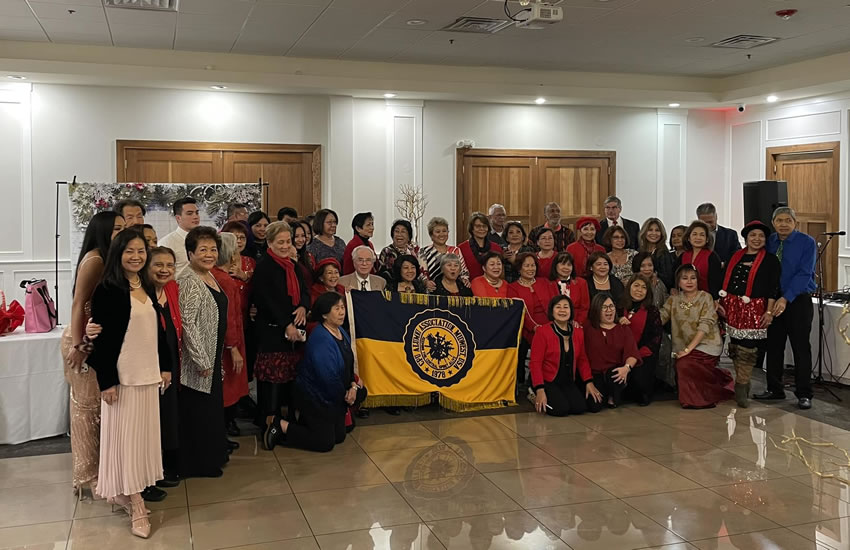 The CPU AA Midwest USA Chapter held their Christmas Party at Lone Tree Manor Banquet Hall, in Niles, Illinois with 70 attendees.
On August 27, 2022, the CPUAA Midwest USA Chapter held its Annual Picnic at the beautiful and serene Blackwell Forest Preserve, in Warrenville, Illinois. We were so blessed to have Atty. Peter Irving Corvera as our invited guest. He was the Chairman of the CPU Board of Trustees from 2012-2016 and from 2020 to 2022 and happens to be the youngest to have served as such. He came with his wife, Mae and their son, Seth. Some of their HS classmates also came to join us in the picnic as part of their HS class reunion activities! Atty. Corvera is the Chairman of the Search Committee for the CPU President to serve after Dr. Ted Robles' term expires on October 31, 2023.
We were also blessed to have Mrs. Derla Guzon Erwin as our Devotional Speaker. She was a professor at the College of Arts & Sciences at CPU many years ago! She was also a professor at the Oral Roberts University in Tulsa, Oklahoma where she retired and now resides. She spoke with humor and presented the Gospel in a unique manner that only Ms. Derla can do! God's name was glorified with Mrs. Erwin's Gospel presentation which was accompanied by her witty remarks!
We had so much fun with games, fellowship, worship and plenty of food and of course the lechon! There were a lot of first time attendees, classmates of Atty. Corvera, from all over the US and from around the Chicago area!
Our Chapter Christmas party was held last December 3 at the newly renovated Lone Tree Manor Banquet Hall, in Niles, Illinois with 70 attendees. Everyone came decked out in Christmas attires and in festive mood and "we can feel the Christmas and Central Spirit in the air!"
It was truly a very special Christmas celebration of the Birthday of the King of Kings and the Lord of Lords! The food was delicious, the games were fun, the program and worship were very meaningful and everyone had a Great Time! The dance floor was busy with the alumni, family and friends dancing and enjoying the music of DJ Ren!
There were a lot of first time attendees and the winner of the class with the most attendees is the BSN Class 1975 with 10 members present. The oldest alumna present graduated with BSC major in Business Administration Class of 1953 and Bachelor of Science in Elementary Education Class of 1955, Mrs. Serena Brana Cordero Crasco, while her daughter, Pressian Crasco Tejero (BSN 1991) was one of the youngest Alumni.
We were entertained by our two beautiful and multitalented daughters of our two alumnae namely Nina Mae Vidal Howard, daughter of Toniet Flores Vidal, BSN Class 1967 and Kayla Tejero, daughter of Pressian Tejero, BSN 1991! They both rendered beautiful songs to the delight of the audience! We had a surprise interpretative dance number by Jean Betalac, BSN Class 1991, which was enjoyed by all!
During the party, we were honored by the presence of the past Presidents of our chapter:
Perla Guillergan Londres Waters
Melinda Portante Boice
Fe Palabrica Magalit
Joel Juarez was represented by his son Jerome Juarez and daughter Jennine Juarez Rendon
Flora Guillergan Cudiamat
May Bayona Celiz Rogers
We also had a candlelight ceremony in memory of loved ones who have gone before us this year.
The worship part of our party was the reading of the Christmas story interspersed with singing of Christmas carols and hymns.
As part of our Annual God's Grace offering we collected $1,000.00 to be given to the Feeding Program for the Work Students at CPU! We praise God for this opportunity to help our fellow Centralians who are less fortunate.
It was truly a very meaningful time to celebrate the birthday of Jesus, The Reason for This Season! Merry Christmas and a Happy, Healthy and Prosperous New Year 2023!