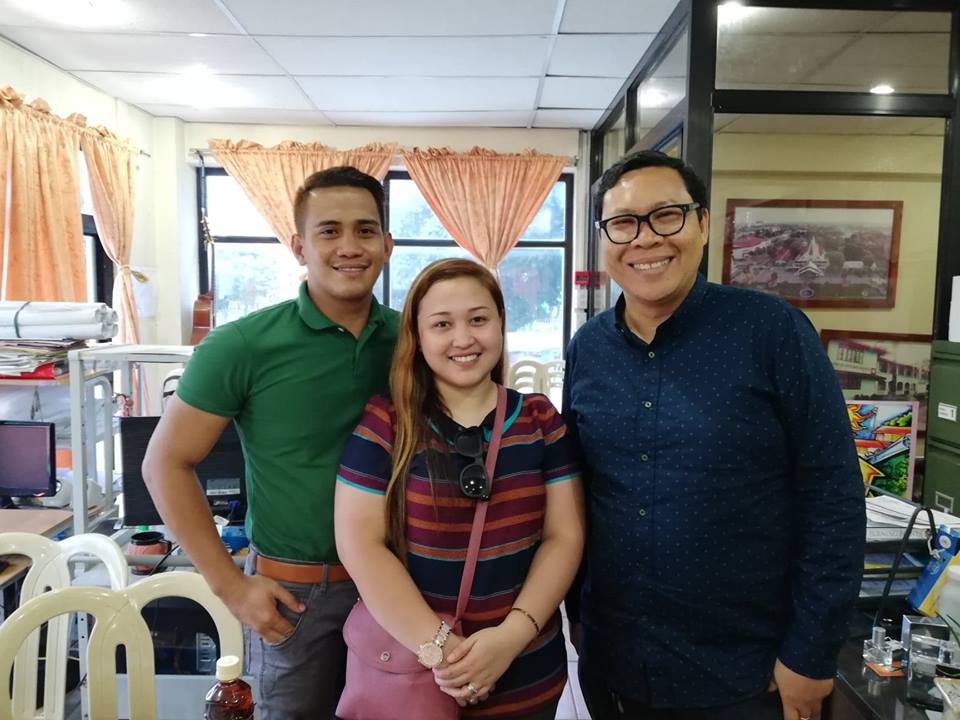 Rymer G. Gengoni and his wife Laurie G. Gengoni together with Rev. Francis Neil G. Jalando-on, Director, CPU Office of Communications.
A blank canvass speaks of a billion possibilities—countless probable strokes and unlimited conceivable shades of color. The process of creating a masterpiece requires the mastery of making infinite choices until finally something of artistic value is born.
More often than not, the task of choosing is easy for the artist, for he has already seen the final output in his mind. The challenge now is choosing among the options, separating intentional output from the incidental mimicry.
For Rymer G. Gengoni and his wife Laurie G. Gengoni, being an artist is not only a decision but also a free expression of one's desire to introduce something beautiful to the world. Having graduated from the Central Philippine University Bachelor of Science in Advertising program in 2009, Rymer and Laurie use their artistic skills not only to produce memorable aesthetics, but to give art value.
Rymer is currently a currency and medallion illustrator while Laurie is a minting machine operator and 3D artist engraver, both at the Bangko Sentral ng Pilipinas. Their works range from designing commemorative coins to presidential medals, medallions, and others.
When asked how their passion for art started, Rymer shares that he developed an interest in digital arts during his stay in CPU. Formerly a commerce student, Rymer shifted to software engineering then finally advertising. Laurie, on the other hand, had no plans to take up advertising. She initially wanted to take architecture or fine arts but being a CPU High School alumna, Laurie decided to stay in the university and take up advertising.
Rymer and Laurie relate that apart from the high standard of education offered by CPU, it was the promotion of Christian values that made them choose the university. According to Rymer, CPU taught him to persevere and to have faith in God: "During my stay in CPU, I learned how to depend on God. There were many hardships along the way but I persevered."
 Laurie explains that her stay in the university taught her to chase quality over quantity: "In CPU, our professors taught us to always be excellent in our work and to be tedious with the details. It's not about how much output you've [produced] but the quality of your output that matters. It's about presenting the artwork in an eloquent way."
One of their favorite memories from CPU, apart from the programs and club events, is their friendship with five other advertising students. The seven of them were known as "Sevendipity" –  Alexis Gequilasao, Sheila Mae Estares, Dabbie Basero, Scarleen Yvette Bautista and Bernea Jesseluz Gadayan.
All seven of them have shared their highs and lows with each other, creating a strong bond of camaraderie under the Central Spirit. They still share their milestones, one of them being the wedding of Rymer and Laurie last August 24, 2018.
The encouragement of friends and family played a crucial role in the success of not only Rymer and Laurie's marriage but in their professional career as well.
After graduation, Rymer worked at a studio and a cable station. It wasn't until 2010 when he decided to go to Manila and seek out new opportunities. When he applied for the position in BSP, Rymer shares that he applied with other students coming from more prestigious schools. Although he was not expecting to get the position, Rymer knew that the skills he developed in CPU could rival any competition. In 2013, Laurie was also employed by BSP.
Both Rymer and Laurie share the same heart for their work. According to Rymer, they give their best at any given task: "What we are doing is our passion. We are in love with our work."
When asked how they handle the pressures of their job, Laurie recounts that every time she is about to start on the molding and engraving of any medal or coin, she first prays to God for guidance: "I always pray before I start designing. It's the drill for me. I ask God to guide me and to give me wisdom on how to do my work."
 Apart from their love for art, Rymer and Laurie also share the love that they have for each other. They were in a dating relationship for almost 11 years before they decided to get married. Rymer shares that during their college days, Laurie was always known as the simple and quiet girl in their group. He, on the other hand, was the class clown. In the words of Rymer, "Opposites attract."
It was their strong foundation of friendship, the acceptance of their family, and ultimately, their faith in God that made them steadfast in their love for each other. Laurie explains that their love story is a journey of accepting and bringing out the best in each other: "We love each other's imperfections and we celebrate each other's victories. We always communicate with each other, even if we have the same workplace, we always make an effort to have quality time with each other."
When asked about their advice to Centralians, who want to pursue not only a good career but a God-centered relationship, Laurie counsels that it is important to constantly pray and to stubbornly pursue their passion: "Always ask God for guidance. We are all in our own journey and it's important to love what God gave you."
 Rymer, on his part, says that it starts with loving God: "Love God first and foremost. Love yourself, love the people around you. Everything is planned by God and when you seek Him, He will direct you to the right career path and the right person. We must believe in our faith and in the wisdom and guidance of God. Always remember to be grateful to God and to the people around you."