By Cyrus A. Natividad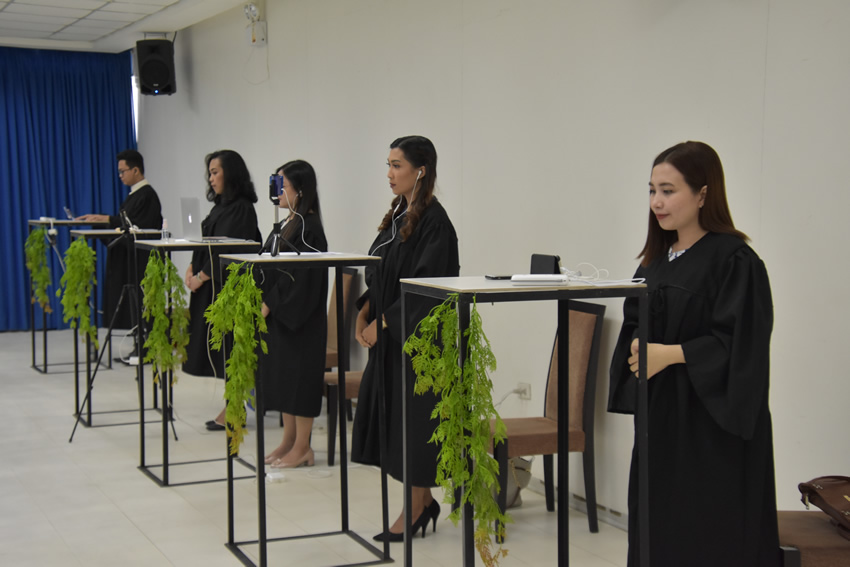 Centralian bar passers took their oath simultaneously with other new lawyers from the country.

Eight Centralian Bar Passers who took the Bar last November 2019 were inducted by the Supreme Court, in a special En Banc Session via the first-ever Virtual Oath-taking at 2:00 PM on Thursday, June 25, 2020. The Centralian Bar Passers took their oath at the 4th floor of the Henry Luce III Library – simultaneously with the other new lawyers of other Universities nationwide. The special Supreme Court ceremony was received live on widescreen through a video conferencing.
Chief Justice Diosdado M. Peralta called the session to order. Associate Justice Jose C. Reyes delivered an invocation after playing the National anthem and the singing of the Supreme Court Hymn.
The Recognition of Examiners and Petition for Admission to the Bar of the Successful 2019 Bar Candidates were read by Hon. Estela M. Perlas-Bernabe, Chairperson 2019 Committee on Bar Examinations. She also acknowledged the Deans of different law schools in the country.
In delivering a Resolution to the Court, Chief Justice Peralta told the new lawyers "When you take your Oath, you need to invoke the Divine Being."
The new lawyers in their robes interfaced through their smartphone as the SC Clerk of Court Atty. Edgar O.  Aricheta administered the Lawyer's Oath.
Associate Justice Marvic Mario Victor F. Leonen, delivered his address to the new lawyers. He reminded the Bar Candidates that "Man proposes while God disposes." He also encouraged them to be humble before God in asking Him to also become a Supreme Court Justice."
Board of Trustees Chairman Atty. Von Lovel D. Bedona and University President, Dr. Teodoro C. Robles were present during the video conference.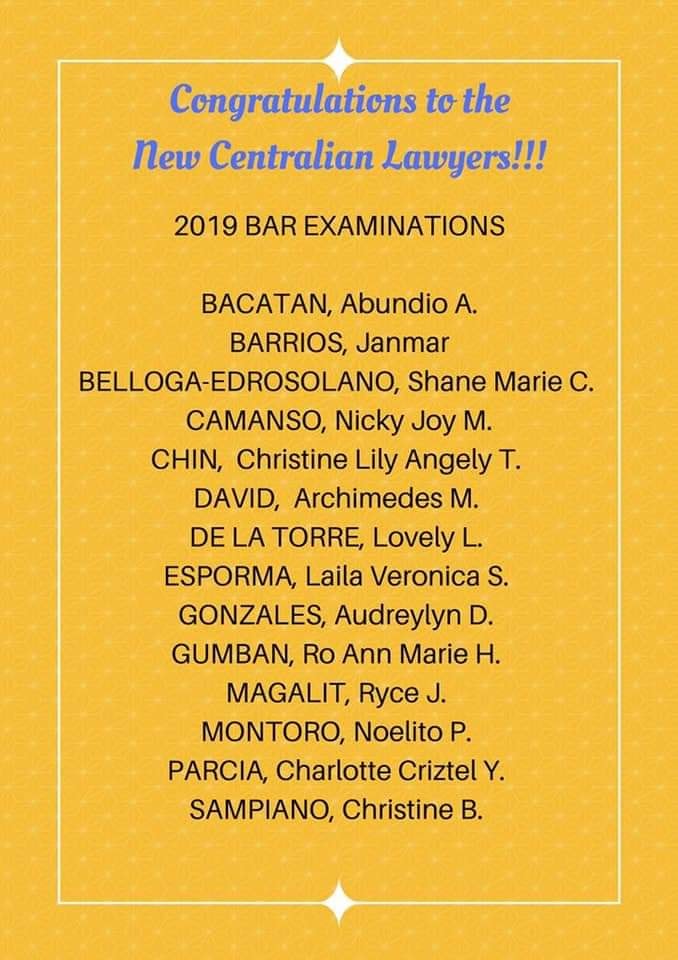 The following are the new Centralian lawyers:
BACATAN, ABUNDIO A.
BARRIOS, JANMAR
BELLOGA-EDROSOLANO, SHANE MARIE C.
CAMANSO, NICKY JOY M.
CHIN, CHRISTINE LILY ANGELY T.
DAVID, ARCHIMEDES M.
DE LA TORRE, LOVELY L.
ESPORMA, LAILA VERONICA S.
GONZALES AUDREYLYN D.
GUMBAN, RO ANN MARIE H.
MAGALIT, RYCE J.
MONTORO, NOELITO P.
PARTIA, CHARLOTTE CRIZTEL Y.
SAMPIANO, CRISTINE B.