By Edwin C. Laru-an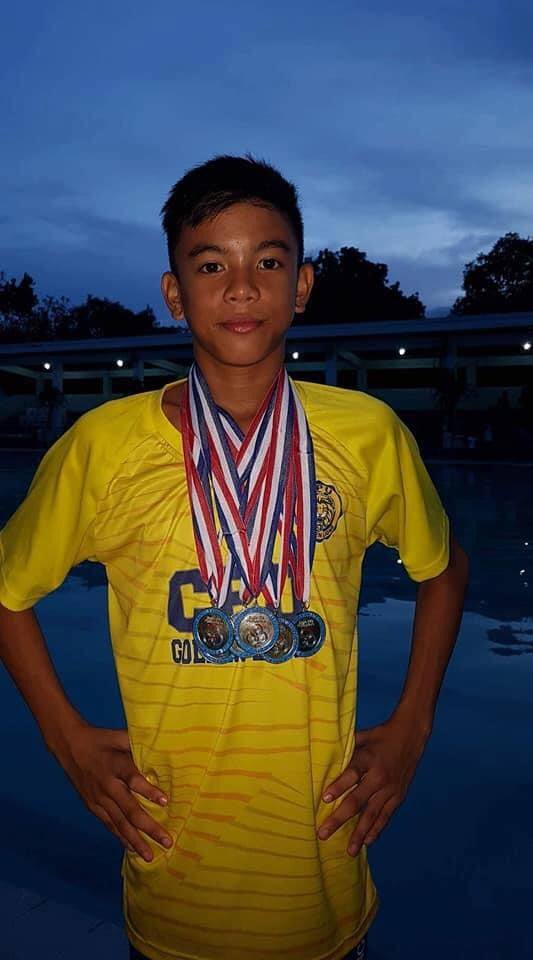 Mateo was the most bemedalled athlete of the 2019 Iloilo PRISAA Meet.
Our featured athlete for this week comes from the Swimming Secondary Boy's Team.
Name: Mateo Sion A. Palero
Nickname: Mateo or Sion
Height: 5′ 7"
Grade/year: Grade 7 – Andrew
Team: Swimming Secondary Boys
Coach: Liza Vito
Hometown: Puerto Princesa City, Palawan
Present Home: Jibao-an, Pavia, Iloilo
Achievements:
Grade 5:
• ILOPRISAA 2018 4EVENTS Gold
• Integrated meet 2018 4Events Gold,
• WVRAA 2019, 4Events Bronze Roxas City, Capiz
• Participant PAMBANSA 2019, Davao City
Grade 6:
• ILOPRISAA 2019 7 Events Gold (Most Be-medalled Athlete)
• Integrated Meet 2019 5 Events Gold 2 Events Silver
• VRAA 2020, Kalibo, Aklan Delegate
Principle in Life:
"I can do all things through Christ who strengthens me"
What can you say as a player of CPU Golden Lions?
It is a great privilege to be part of CPU Golden Lions. My coaches help me a lot to improve my swimming skills especially when I first came and joined the team. Most of all, I'm so thankful to God and to the CPU Golden Lions for granting me a full-athlete scholarship.
I will be forever grateful for all the help, training, patience, and time that CPU has given to me as an athlete of CPU Golden Lions. In return, I will give my best and willingly give my time to be trained so that someday I will be a great swimmer.
Why did you Choose CPU?
I chose CPU because of the high standard of education. CPU really supports their Student-Athletes and educate them to be a better person.