by Cyrus A. Natividad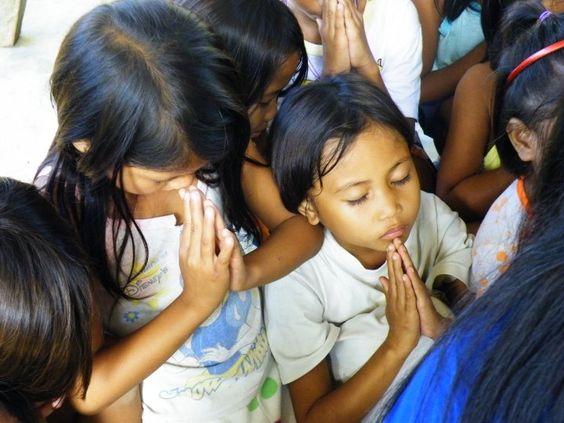 Children praying during a gathering. photo by Gina Sario
Right now, millions of people around the world are suffering from the effects of anxiety, stress, and depression brought about by the present pandemic.
The COVID-19 updates are brought to us every morning, noon and night time — seven days a week, and now on its 3rd month are occupying most of our thoughts. Nonetheless, we have longer times to thank and reflect on God. Thank you, Lord for providing us our needs.
Exercise, healthy foods and a balanced diet can help improve our health. But what about the feeling of uncertainty? According to research, self-compassion is needed.
We should have self-compassion before we can help others. We would like to help a friend, someone who is in pain, one who is deeply affected by a situation but we have to help ourselves first.
Three things are important in order to have self-compassion:
First: Forget fear. Remember our Saviour, Redeemer, and Protector. "God is our refuge and strength. A very present help in trouble" (Psalms 46:1).
Second: Be mindful. Feel the present experience. How do you survive? How are you getting stronger? How are you sustained? Romans 12:2 says "… be transformed by the renewing of your mind.
Third: Accept everything that is happening. Do not deny it. "God changes the times and the seasons, He removes kings and raises up kings" (Daniel 2:21).
In times of crisis, when uncertainty strikes, one must be objective. He or she must be ready with a perspective in mind, of what is to come. Good mental health is a foundation of strength, resiliency, and resourcefulness that we will need in order to plan ahead.
On top of these, one needs to be kind to himself. Motivation instead of self- criticism can help avoid destroying one's self-defense. Self-criticism more often than not results in one's predisposition of what can happen to the self — causing one to be susceptible or affected by a particular condition. It is bad for a person's well-being if not properly put into context.
The need for protection in times of uncertainty lies in one's trust and self-confidence. We can only have this with faith in Christ, our God of compassion.