By Prof. Sarex D. Dipol, Jr. and Ms. Joan S. Castor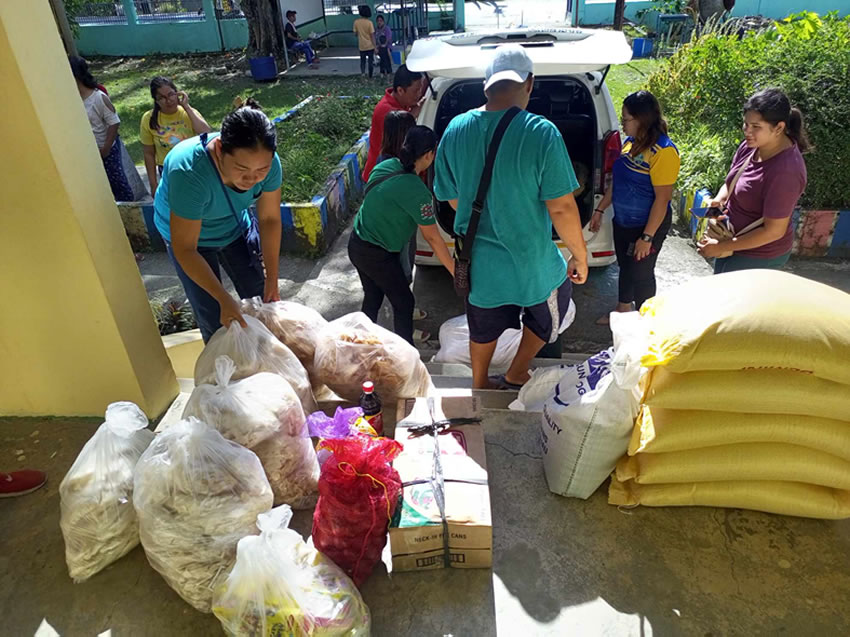 Parents, teachers, and volunteers helped in the distribution of feeding supplies for elementary students at Tapikan Elementary School, Municipality of San Joaquin, Iloilo.
Central Philippine University is committed to addressing various dilemmas and challenges faced by youth in current times. Specifically, malnutrition, poor academic performance, and an increasing number of school dropouts are among the dilemmas and challenges faced by the youth in some municipalities in the province of Iloilo.
The university with the support from the alumni created "PROJECT ETC", a non-profit organization that provides bigger opportunities to schoolchildren in developing areas of the world and their families through its core values of education, technology, and community. The program believes that education is one of the greatest tools for positive change in children and in communities.
Founders Ann and Loy Seisa and their children, Tristan and Andrea, are huge advocates of technology and the need to expand technology to other areas of the world. PROJECT ETC would not be able to achieve its humanitarian goals without the support of the community, building positive relationships with community leaders, parents, and school officials in order to understand their exact needs and make resolutions together.
Project ETC had supported over 4,000 schoolchildren by providing a daily feeding program, bags, uniforms, raincoats, slippers, and school supplies. Project ETC has engaged in partnership with Central Philippine University through its Community Engagement and Service Learning Center (CESLC) to assist in the procurement and repacking of feeding and school supplies for efficient delivery and distribution to adopted schools.
Currently, the program is implemented at Tapikan Elementary School in the municipality of San Joaquin and Zaragoza Elementary School in the municipality of Balasan, both in the province of Iloilo. These elementary schools are considered Geographically Isolated and Disadvantaged Areas (GIDA), which means students or communities don't have enough access to child welfare services and programs offered by the government. Due to Project ETC's feeding program and school supplies, test scores have soared, absenteeism has been minimized, and malnutrition has been eliminated.
Those public elementary schools receiving feeding program supplies from the university will also receive school uniforms and school supplies this coming University Outreach Day, dated December 5, 2023 (Tuesday).
The Project ETC this year started on November 6, 2023 (Monday), and four hundred fifty three (453) elementary students are recipients of this program.