By Cyrus A. Natividad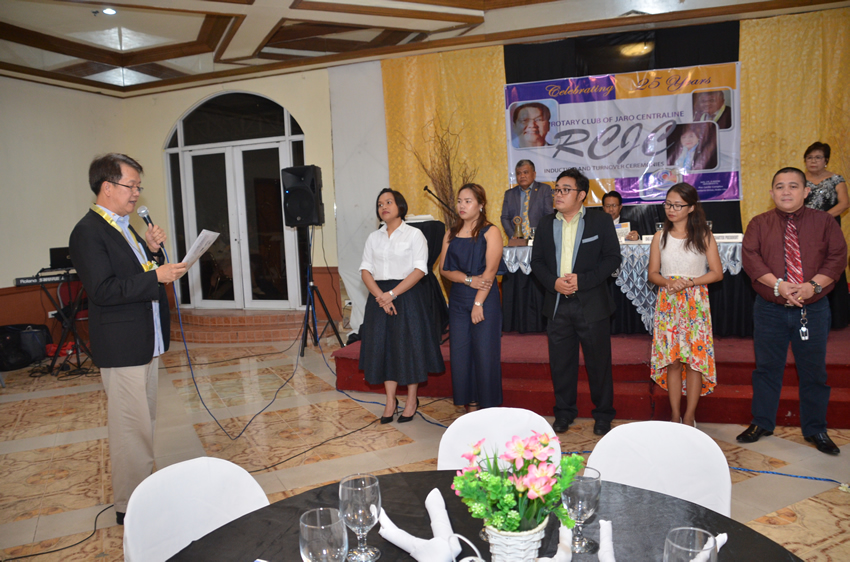 RCJC welcoming its new members.
The 25th "Year of Service" celebration of the CPU Alumni Association Special Chapter-The Rotary Club of Jaro Centraline (RCJC) was held last Sunday evening, July 29, 2018, at Gerardo's, The Castle Hotel on Bonifacio Drive, Iloilo City. It was attended by the officers of the club and other notable people in Iloilo City. Both the Rotarians and Rotaractors (Youth Chapter of RCJC) consider the event as a historic assembly of RCJC's past presidents.
Seated at the presidential table was Rotary District 3850 Governor, Mr. Lindon See Diet, the guest speaker and inducting officer at the event; Current CPU Alumni Association President, Engr. Isagani J. Jabuena; Charter President, Dr. Andresito Millamena; Outgoing RCJC President Jude Marsh R. Grande; and Incoming President RCJC President, Mrs. Evelyn Rose A. Catilo (see related article).
President Grande, R.I. (Rotary International) of 2017-2018, banged the gavel and called the event into order. The program started at 6:00 PM, with Centralian, Pastor Jec Dan Borlado, leading the invocation. Dr. Lorna T. Grande, Dean, CPU College of Business and Accountancy, acknowledged the Rotarians and guests.
Dinner was then served. All the while, the affair was being shown live on widescreen TV, courtesy of the CPU Office of Communications, which provided coverage of the program with Mr. Dionisio Coronado and his team from CPUTV.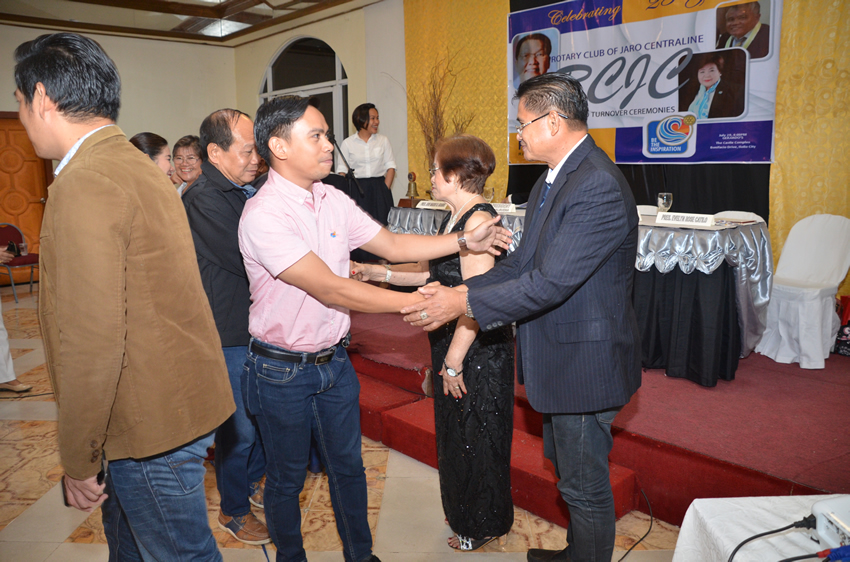 A night of camaraderie and of the Central Spirit – RCJC members greet each other.
A brief history of the Rotary Club was read by the RCJC Charter President shortly after dinner was served: The Rotary Club of Jaro Centraline was founded by Dr. Andresito "Nonong" Millamena, also a member the CPUAAI Board of Trustees and CPU Corporation, in 1993. He served as Club President from 1993 to 1994.
Some of the Centralian past Presidents have also served at Central Philippine University in different departments and offices. Among them are the late CPU BOT Chairman Narciso "Narcing" Maravilla who served as RCJC President from 1997 to 1998; Ricardo "Ric Patricio, Planning Officer, Office of CPU President) and RCJC President from 2004-2005; Alma "Tita Doc" Frondoza, Asst. Dean of the College of Medicine and served as Chapter President of RCJC from 2005 to 2006; and Dr. Fely P. Chin, former Vice President for Academic Affairs and who served RCJC from 2006 to 2007; Novy Lagradilla, CPU Alumni Association Liaison Officer and served as Chapter President from 2008 to 2009; Freddie "Butch" Salvania, Franklin Hall Dormitory Coordinator and served as RCJC President from 2010 to 2011; Johnny "JV" Villanueva, faculty and served from 2012 to 2013; and Jude Marsh R. Grande, Engineering faculty, 2017 to 2018, and served as RCJC President.
It was a "Night of the Presidents" as the past presidents of RCJC, since it was founded in 1993, were invited to the affair and were awarded with personalized gold medals by new RCJC President Catilo.
The newly inducted officers of the RCJC are: Evelyn Rose Catilo, President; Trinidad "Trenz" Sorongon, President Elect; Jude Marsh Grande, Secretary; Rotarian Lorna T. Grande, Treasurer; Cyrus A. Natividad, Chairman for Public Image; Lyds Grio, Director for Membership; and Budz Senorio, Chairman, Rotary Foundation.
In his message, President Grande promised to do more, having been elected as the current Club Secretary. Under his leadership, RCJC was able to initiate and sustain a feeding program to the indigents and youth of Barangay Tirador in Janiuay, donate desks to selected schools, launch youth and sports program with which he was able to mobilize a Fun Run in support of Central Philippine University's Alumni Homecoming in 2017, and other various socio-civic projects.
President Evelyn Rose Catilo delivered her inaugural speech with a commitment to extend more to the needy and do her best to make RCJC a worthy cause. Mrs. Catilo selflessly facilitated, among others, a gift-giving activity to indigent communities at Christmas and medical missions intended to support senior citizen in selected communities.
The Inducting Officer DG See Diet who has been visiting Rotary Clubs in Iloilo City admired the cooperation of the Rotary Club of Jaro Centraline and CPU Alumni Association, Inc. He expressed gratitude to Central Philippine University for the support it has been giving to RCJC.
Engr. Isagani J. Jalbuena, CPUAAI President, delivered his message of support to the Rotary Club of Jaro Centraline, "As a Special Chapter of Central Philippine University Alumni Association, your club is assured of support and cooperation on any activities and partnerships during my leadership."
The program was hosted by Miss Camelle Frances M. Romero, Administrative Officer, CPU Office of the President.