By Wenn I. Ricaforte, BSED-S, Summa Cum Laude
Delivered during the 94th Graduation of University Colleges, CPU on July 24, 2022 (second batch) at the Rose Memorial Auditorium.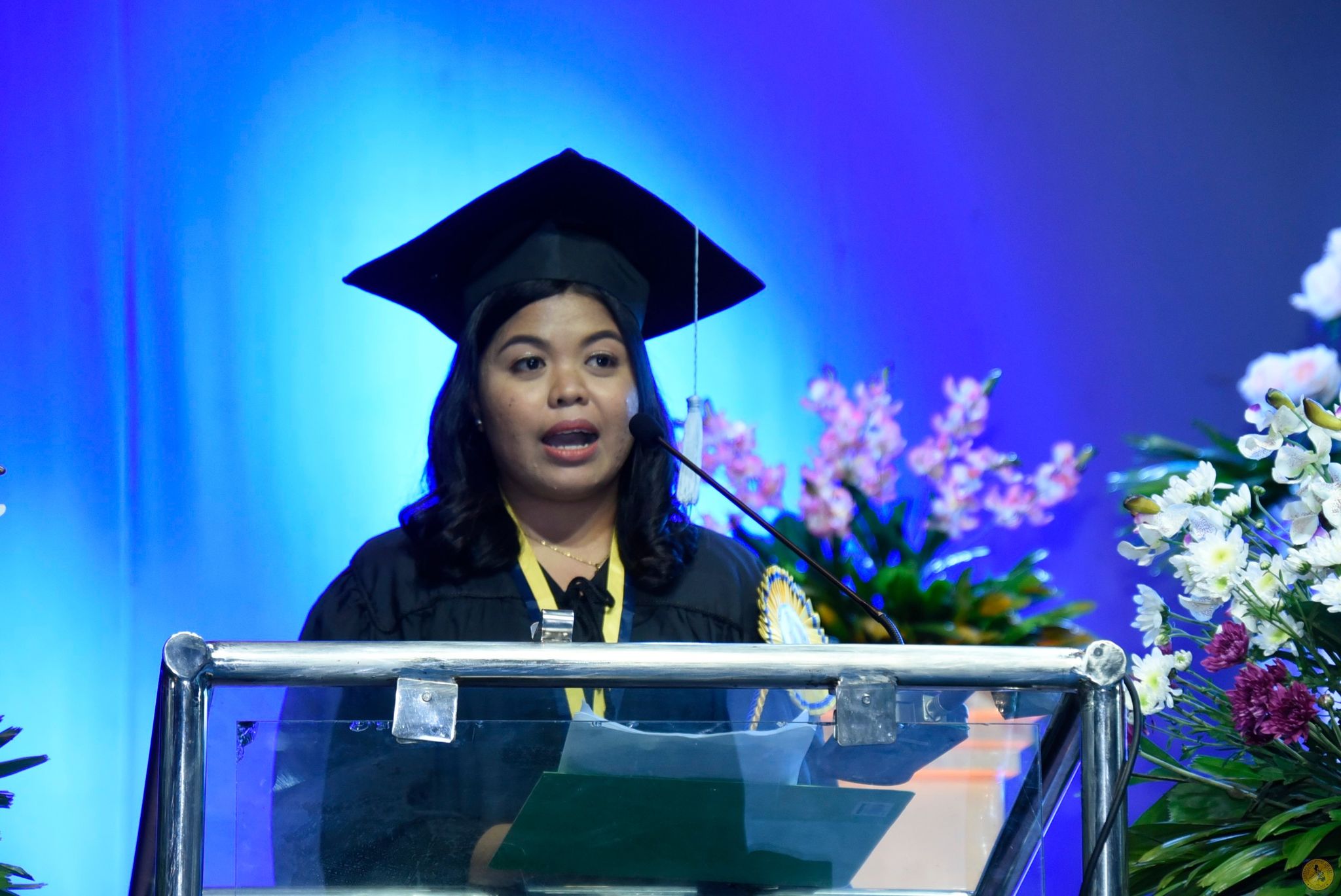 Wenn I. Ricaforte, BSED-S, Summa Cum Laude, delivers the response on behalf of the graduates – second batch.
Life is a wonderful journey. A course that you set and determine by the choices you make each day. Eleanor Roosevelt once said, "The future belongs to those who believe in the beauty of their dreams".
Thank you Atty. Salex Alibogha for the motivational speech, and also thank you to the commencement committee for the privilege of speaking on behalf of the graduates today. Chairperson of the Board of Trustees, Dr. Elmer Q. Pedregosa, University President, Dr. Teodoro C. Robles, distinguished administrators, esteemed teachers, beloved parents, honored guests, and fellow graduates of Batch 2022, good afternoon.
Let me introduce myself to you first, I am Wenn Irabon Ricaforte from Kinalangay Viejo, Malinao, Aklan. I am the eldest of the three siblings. I am a daughter of a licensed midwife and an ordinary farmer na if may bagyo, mababawasan ang kita and if sobrang init naman, mababawasan din. A member of an ordinary Filipino family that gives importance to education, a graduate of Kinalangay Viejo Integrated School, a humble barrio school.
That is why studying here in Iloilo was a very difficult decision not just for me but for my family as well. Malayo sa pamilya, may kamahalan ang tuition, at baka hindi ko kayanin. From a mere barrio school to Central Philippine University. But every time I think of my parent's sacrifices, it gives me enough motivation to continue. Kahit na, ni minsan, hindi naman hiningi sakin ng mga magulang ko na magka award at medals. Ang hiningi lang nila ay mag aral ako ng mabuti at ginawa ko lang din yon.
Allow me to tell you a secret, I was also motivated to work hard for my dreams because I have this realization that "Life is indeed short". I have to make the most out of it. If the life expectancy of a normal Filipino is 71 years, that's only 25, 915 days or 621, 960 hours or 37, 317, 600 minutes or 2, 239, 056, 000 seconds…. I said to myself, can I still afford to waste a single second? I was thinking of my parents, how many more years do I have to spend with them? Will I still be able to give them the comfort they deserve? Indeed, time wasted can never be regained… Now, as I am standing here, I am thinking of how many young people out there do not think about the value of time and the importance of giving their best shot in everything that they do…
My fellow graduates, I am not here to brag about anything. I am not here to tell everyone that I am a Summa Cum Laude. I am here to encourage all of you, that if you really put your heart into it, if you look at the sacrifices of your parents, if you see their tireless efforts to send us to school, then, that will already be enough for us to do our best as their children. And you being here today prove that you are successful at recognizing your parent's sacrifices.
As for me, anak man ako ng isang magsasaka, anak man ako ng isang midwife, graduate man ako ng hindi kilalang high school, pero here I am standing before you. Nakayanan ang college! It simply means that, kung kaya ko, kung kaya ng mga magulang ko, kakayanin ninyo, kakayanin natin, at kakayanin din ng iba.
I might be a Summa Cum Laude but the honor is not mine, hindi tayo ang bida sa araw na ito, kundi ang ating mga magulang. This medal is not for me but for my parents, for without them, I will never be who I a/*m, and I will never be here today. So graduates, after this, please also take time to give your parents a tight hug and say thank you. It's because they deserve it. They truly deserve it from us. This time, dear graduates, can we give our parents a big round of applause?
At this point, let me take this opportunity to express my deep gratitude to the following people who have helped and supported me through the years. I will not be me without them. Allow me to speak in my native dialect.
Sa akong tatay ag nanay, nga ginaubra gid ro tanan para eang masuportahan ag maiprovide ro akong mga kinahang ean sa akong pag eskuyla, kamo ru dahilan it akong paghimakas ag pagpursigi sa pagtuon. Abo guid nga saeamat!
To my teachers from elementary to college, thank you so much Ma'ams and Sirs. Thank you for all the knowledge, guidance, protection and dreams that you had instilled in me. I am and will forever be indebted to you.
To DOST, the scholarship you entrusted me was my ticket to the realization of my dreams. Please continue in giving hopes and chances to deserving students to study and reach their dreams for themselves and for their families. Thank you so much.
To Central Philippine University, thank you for your excellent, high-calibre faculty members, for your amiable office staff and administrators. Thank you for being my home for the past 4years and for honing me to uphold the Centralian values.
To my board mates, classmates, and friends; the times we shared together through the ups and downs of our college lives will forever be etched in my heart. Ang mga late night ice creams and food hunting naton ang nagapabugtaw sa akon kung hell week sa school. Madamo guid nga salamat.
Most importantly, to my God who is the source of all the knowledge and wisdom, my Alpha and my Omega, my beginning and my ending. Thank you for giving me the gift of life, talent, and intelligence among other beautiful things. I also appreciate that you have given me the best parents, families, teachers, and friends. All for your greater glory Dear God. (tingin sa taas and point)
Fellow graduates, this is not the end but the beginning of a new chapter of our lives. As we leave this university, may we always remember to uphold the Central spirit to lead us onward.
Congratulations batch 2022!
Maraming salamat and for the last time, I am Wenn Irabon Ricaforte, a graduate of a barrio school, from an ordinary family, Suma Cum Laude, Bachelor of Secondary Education Major in Science Central Philippine University Class of 2022.
Bloom wherever you are planted! God be glorified through our lives!