by Mrs. Novi B. Pascua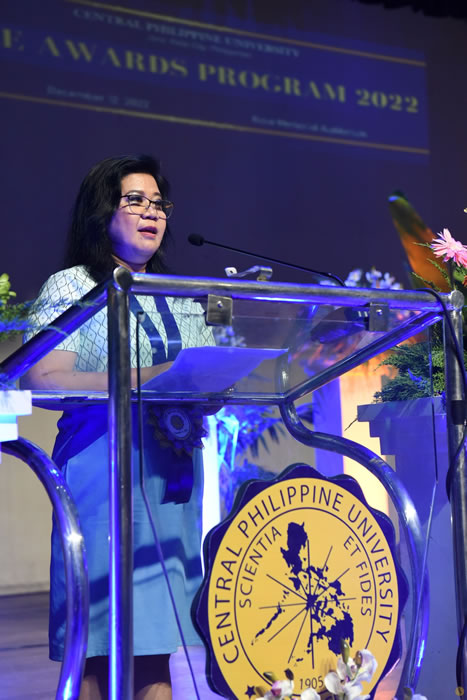 Mrs. Novi B. Pascua gave a response on behalf of the Staff Long Service Awardees.
A very pleasant day to our hardworking President, Dr. Teodoro C. Robles, and to our very efficient VPs: Dr, Irving Domingo Rio, Dr. Florence P. Bogacia, and Dr. Esther Rose A. Romarate. Also, to our HR Director, Prof. Rodel C. Palomar, and to everyone who are present here right now.
I am greatly honored and privileged to deliver a response in behalf of all the staff awardees for this year's Faculty and Staff Service Award Ceremony.
Working at Central Philippine University is more than just a dream come true for me. It is an answer to my prayer.
When I was a student, I was fascinated by the beauty of the campus. The beautiful flowers of a fire tree that has carpeted the ground near Gate 2. The very clean Half-moon drive, nga bisan isa ka panit sang dulce, wala ka sang makita. Basta pagsulod mo sa gate sang CPU daw ara ka sa iban nga lugar. I never felt the stress of a busy street. Pero subong, traffic is just around the corner.
One thing more is the CEW—during our time, we call it "Christian Emphasis Week". This is where I found love in Jesus Christ. I was nurtured by "Scientia et Fides", mentally and spiritually. These were the reasons why I prayed to God to let me work here at Central.
Several months after graduation, I was instructed to go to the office of Engr. Antonio Cadullo. The Lord connected me to people who made a way for me to receive what I have prayed for. God heard my prayer four (4) years ago. He kept it in His heart and granted it to me in His own time. Sa CPU-ANEC, I had the chance to travel—sa dagat kag sa kabukiran. That was fun!
Pero tungod ang budget namon halin sa gobyerno, there were times nga indi kami ma swelduhan in 3 months… in 6 months. Bisan daku pa ang amon sweldo, that was not fun! Gutom yan! So, I thought, "Para kanino ba ako bumabangon?" I still have to help my parents because I have four (4) siblings nga dapat makatapos man sang ila pag eskwela.
A friend, whom I fondly call, Manang Tess, she is like a sister to me, told me, "Ma pray kita nga maka sulod ka gid sa CPU. Bisan gamay lang ang sweldo pero every month, sigurado nga baton mo." Then one day, excited sya nga nagbalita sa akon. "May hiring na ang CPU. Himo ta application letter mo kag resume."
To cut the long story short, after I went through the required hiring process, I was hired as a Secretary to the Personnel Officer. As a secretary for 7 years, I learned to enhance my interpersonal relationship skills. Kay sa Personnel Office, I was working with the faculty and staff, from the people in the grassroots to the management. Ang hambal ni Ma'am Arriola, treat each one of them with respect. Answer the phone properly. Organize your files kay ang data nga ginapangayo dapat mahatag within a day or two.
When Ma'am Arriola retired, Manang Linda Pagunsan, invited me to transfer to the Registrar's Office, under Ma'am Ruth Fernandez. Which I did and they accepted me there. I served in several capacities at the Registrar's Office. This is where I was trained to be keen on details. Kay mabalik gid ang imo obra kun kulang sang comma, apostrophe, or period. Indi na kaluwas sa eagle-eye ni Ma'am Ruth Fernandez.
Then another opportunity came for me to transfer to the audit office which requires me to be keen on details. To ensure that we achieve compliance to ISO standard requirements. Let me say thank you to my two (2) mentors: Prof. Darril Pamocol and Dr. Reynaldo Dusaran.
Looking back, God has planned everything in my life. He made sure that I am equipped and ready for each task, for every office and situation. I am excited for what God has in store for me for the remaining years of my work-life here at Central Philippine University. I am expectantly looking forward to it.
Twenty-five (25) years in service is no joke. I've been through a lot of ups and downs in my personal life which affected my work-life balance. During my "deep in the valley experiences", I found friends and family within the CPU community who supported me spiritually, emotionally, mentally, and even financially. And I thank God for them.
I cannot mention each one of you kay basi maubos ang oras ta. But, please allow me to take this opportunity to say a "special thank you" to President Ted Robles and Ma'am Angel who looked for the best doctors in Manila to perform bone surgeries for my daughter. My family and I will forever be grateful for all the help.
In closing, let us remember that God is at work in our life and through our life in more ways than we can imagine. Even though we may not see how what we do benefits others, know that God has chosen to act through us, our skills, and experiences for the good of others.
Hebrews 6:10 (ERV) says, "God is fair, and He will remember all the work you have done. He will remember that you showed your love to Him by helping His people and that you continue to help them."
God bless you all and may you have a meaningful Christmas season this year.