By Keziah G. Huelar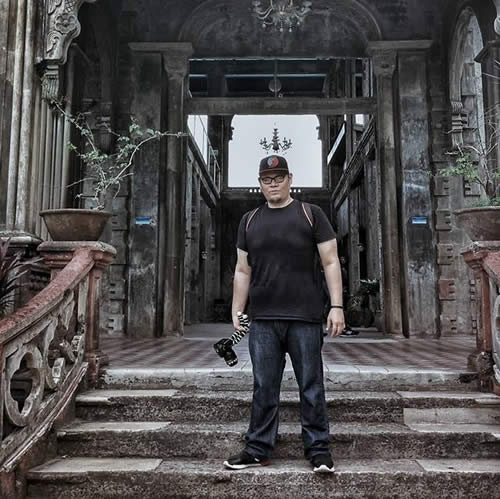 Passion and creativity – Pastor Val Rianne Billiones aims to share his faith through the platform of social media. Photo Credit: Val Rianne Billiones
It was a scenic moment—the waves crashed to and fro at Malamawi White Beach in Isabela City, Basilan. The sea expressed its shalom, a greeting where the rumors of conflict are drowned between the white sandy beach and the clear blue water. And for the man behind the camera capturing the moment, such wonder can only be witnessed through the lens of faith.
Val Rianne Billiones is a 2016 CPU graduate of Bachelor of Science in Advertising. Pursuing his passion in the digital arts, Rianne became a vlogger whose works showcase the beauty of the country and its resilient people. Rianne's love and appreciation for aesthetics stemmed not only from his academic training; rather, it is the testimony of his faith that convinced him that God has made all things beautiful in their own time and purpose.
With 1,000+ subscribers on YouTube, Rianne talks not only about culture, places and food. He also uses the power of social media to minister to others.
When asked why he chose CPU for his college education, Rianne shares that it was CPU's dedication to glorify God in an academic setting that convinced him to study there: "CPU has that primary emphasis of Exemplary Christian Education for Life, which really attracted me as a firm believer that Christ should always be in the center of every aspect of our lives. It has produced a lot of leaders and influential people in society today and has the best training and facility that I need for my chosen career path."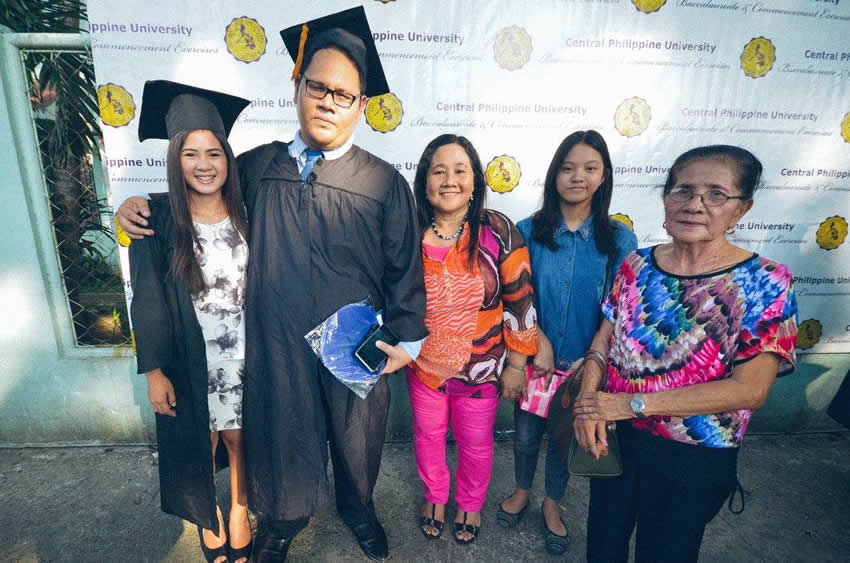 Val Riannes Billiones together with his family and girlfriend during their 2016 graduation.
According to him, he chose to study advertising to create a positive message and ultimately, to share the Word of God in new media platform, "Advertising is a science which deals with methods of how to present a certain message, a cause, a product, or anything tangible for it to be remembered and stay on "top of mind" of the market you intend it to reach with the goal of having them to respond by buying into it or patronizing it, converting it to sales or change of behavior, lifestyle, values, etc. Having this in mind, I chose advertising because I believe I really need to scientifically learn how to broadcast positive messages and messages of hope for this world to hear. Most importantly, I need to learn creative and technically sound ways to spread the answer to man's ultimate need, and that is Jesus".
Talking about his stay in CPU, Rianne shares that the university taught him three things: love for God—the ultimate foundation of any human being and excellence in everything you do as you represent Christ in it and the value of people, accepting them, and loving them just as Christ loves them, and leading them to find their true purpose in life: "CPU served as my training ground or a laboratory for the real world. The values I have learned on campus helped me a lot to face the challenges of the real world while the knowledge and skills I have acquired professionally helped me to excel in my field and become an effective communicator."
Sharing his testimony, Rianne talked about his calling to be a pastor. At the age 17, he felt that God was leading him to serve the Church as a minister but it was until he turned 19 when he pursued God's mandate for his life. He served as the youth pastor of the Full Gospel Global Community Church while he was a student. After graduating, Rianne answered the call for missions and moved to Zamboanga to pioneer a church.
Leaving behind the comforts of home was no easy task but his love for the Lord overcame his doubts. According to him, there was no greater joy than to fully commit oneself to the Lord and to trust in His perfect plans. Though not perfect, God's grace covers all imperfection when one does His will. "The vision that God has given me is to reach lives and to spread the message of hope and purpose," Rianne adds.
Upon arriving in Zamboanga, Rianne experienced homesickness and found difficulty in adjusting to the language and culture. However, after persistent prayer and learning, he was able to cope: "I conquered my homesickness by reminding myself of the purpose and reason that I am in my place of ministry and denying myself and looking forward to the task that God has given me. I strived a little bit harder to fit in and learn the language and culture, immersing myself in the community and loving the people more."
As for his message to young people, Rianne encourages them to take heart and pursue their calling in the Lord: "Have a deep understanding and realization that God created you for a purpose. Nobody in this world is created by accident and every one of us has a unique talent, skill, or ability that was bestowed unto us by Him. Discover your purpose by linking to the author of life—God. We can only discover our purpose when we link to the one who designed us. He will reveal our own purpose and guide us where to apply it and use it. I believe for every talent, skill, and ability that we have, there is a specific place/person to which/whom we should apply our talent, etc. Live out your purpose and you will slowly see yourself fulfill your destiny. As we have known where we will apply our purpose, we should bloom where we are planted and use it to the fullest. In this way we can find joy and see our destiny slowly being fulfilled."
Follow Pastor Rianne on his social media accounts:
Twitter:           @valrianne13
Instagram:       @valrianne13
Facebook:        Val Rianne Billones