By Cyrus Natividad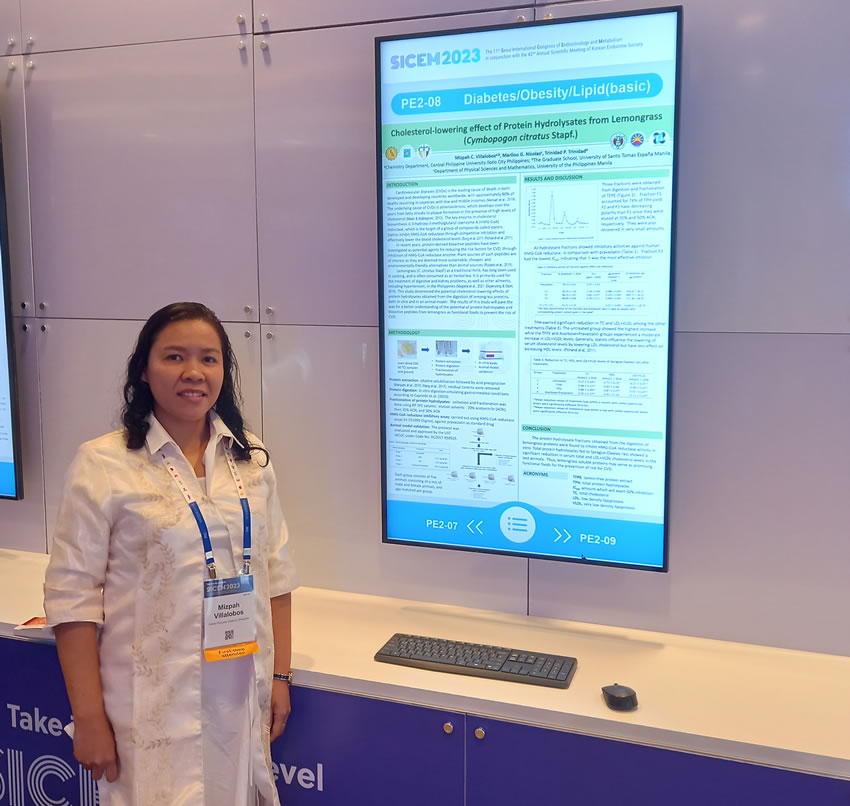 Prof. Mizpah C. Villalobos, Chairperson, Chemistry Department College of Arts and Sciences, CPU.
Prof. Mizpah C. Villalobos, chairperson of the Chemistry Department, College of Arts and Sciences, presented a portion of her PhD dissertation research through a poster exhibit at the 11th Seoul International Congress on Endocrinology and Metabolism (SICEM 2023) last October 26-28, 2023 at the Lotte World Hotel in Seoul, South Korea. Her poster is on the cholesterol-lowering effect of protein hydrolysates obtained from lemongrass, which is close to that of the standard drug pravastatin, tested both invitro and in an animal model.
The statin drugs, e.g. pravastatin, simvastatin andatorvastatin, are commonly prescribed to lower blood cholesterol levels. Her poster was classified under the Diabetes/Obesity/Lipid (Basic) research category.
SICEM 2023 is hosted by the Korean Endocrinology Society. With the theme "Take it to the next level," plenary lectures were delivered by experts from around the world on the field of diabetes, adrenal, thyroid, and basic endocrine research. SICEM2023 provided a platform among endocrinologists, healthcare practitioners and scientists for exchange of discussions, insights, and dissemination of the latest advancement in research and patient care.