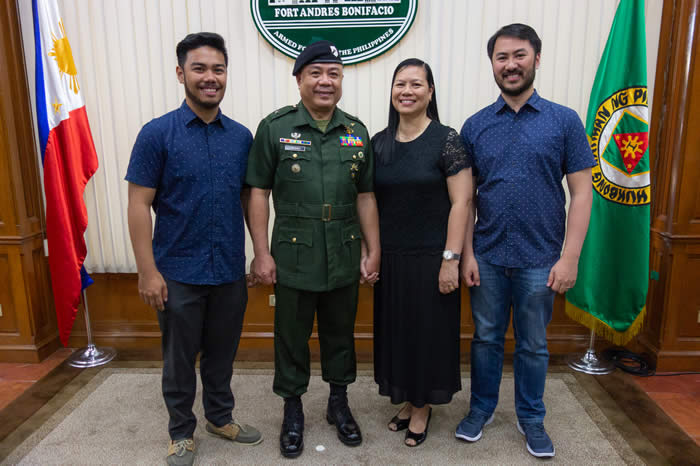 Brig. Gen. Ezra James Palomero Enriquez with his wife Deneel Pulido-Enriquez and sons: Mark James  and Joshua James.
President Rodrigo Roa Duterte recently promoted Ezra James Palomero Enriquez, (CAV) MNSA to the rank of Brigadier General effective March 4, 2019. BGen Enriquez is currently the Commander of the 2nd Mechanized Infantry Brigade, Mechanized Infantry Division, Philippine Army, based in Lanao del Norte. He hails from Cateel, Davao Oriental and Badiangan, Iloilo, and is a graduate of the Philippine Military Academy Class of 1988. He is a graduate of the Central Philippine University Development High School (CPUDHS) batch 1981.
He is happily married to Deneel Pulido-Enriquez, his classmate in the CPUDHS '81 and AB English '86 of the CPU College of Arts and Sciences. Deneel is the youngest daughter of Dr. Agustin A. Pulido, former President of CPU from 1971 to 1996 and former President of Silliman University, and Dr. Dorothy Bermejo-Pulido, former director of the Iloilo Mission Hospital.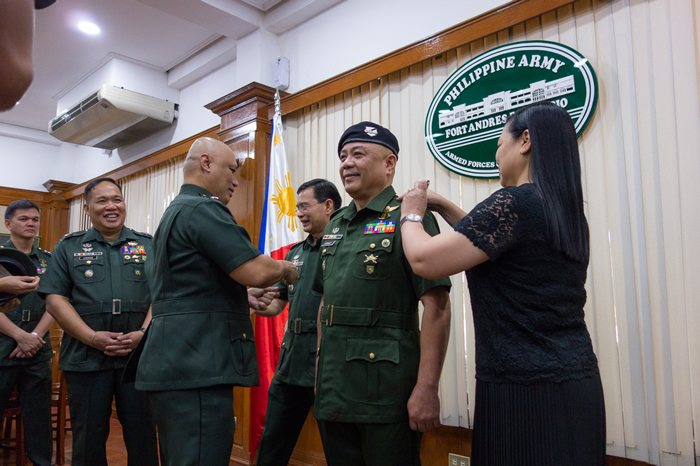 Brig. Gen. Ezra James Palomero Enriquez dedicates his life in service of the country and for the glory of God.
BGen. Enriquez and his wife are blessed with two sons, Mark James who is married to Dr. Fiona Bianca Velasco-Enriquez and Joshua James. He is a graduate of the MBA for Executives from Southwestern University, Cebu City and Master of Management in Defence Studies from the University of Canberra, Australia. He is also a graduate of the Advanced Management Program from the National Defense University in Washington D.C., USA.
He served as the Chief of Staff of the United Nations Disengagement Observer Force (UNDOF) and was the National Contingent Commander of the 7th Philippine Contigent to the Golan Heights in the Israel-Syria border in 2014. He was also directly involved during the Marawi Crisis in 2017, serving as the Task Group Commander and Deputy Commander of Task Group Bakal, providing armor support to the Philippine Army units fighting the Maute-ISIS.
BGen Enriquez had undergone the following military courses: Basic Airborne Course (1988), Special Operations Team Training (1988), Air Intelligence Officer Course (1993), Armor Officer Basic (1994) and Advance (1999) Courses, Command and Staff Course (2005) at the Australian Command and Staff College. He is a trained pilot and a Private Pilot License holder.
BGen Enriquez is a recipient of 2 Distinguished Service Star awards, about 60 military medals, badges and ribbons and about 50 Letters of Commendation for his combat and administrative accomplishments and achievements. His latest Distinguished Service Star was conferred to him by former President Benigno Simeon Cojuangco Aquino III last October 1, 2014 in Malacañang Palace for his outstanding service rendered in the UN Peacekeeping Mission in the Golan Heights. He was also a recipient of the Order of Lapu-Lapu (Kamagi) Medal which was personally awarded by President Rodrigo Roa Duterte on the occasion of the 12th Activation Anniversary of the Mechanized Infantry Division last September 20, 2018. The award is for his outstanding participation in the successful liberation of Marawi from the Maute-ISIS elements.