By Cyrus a. Natividad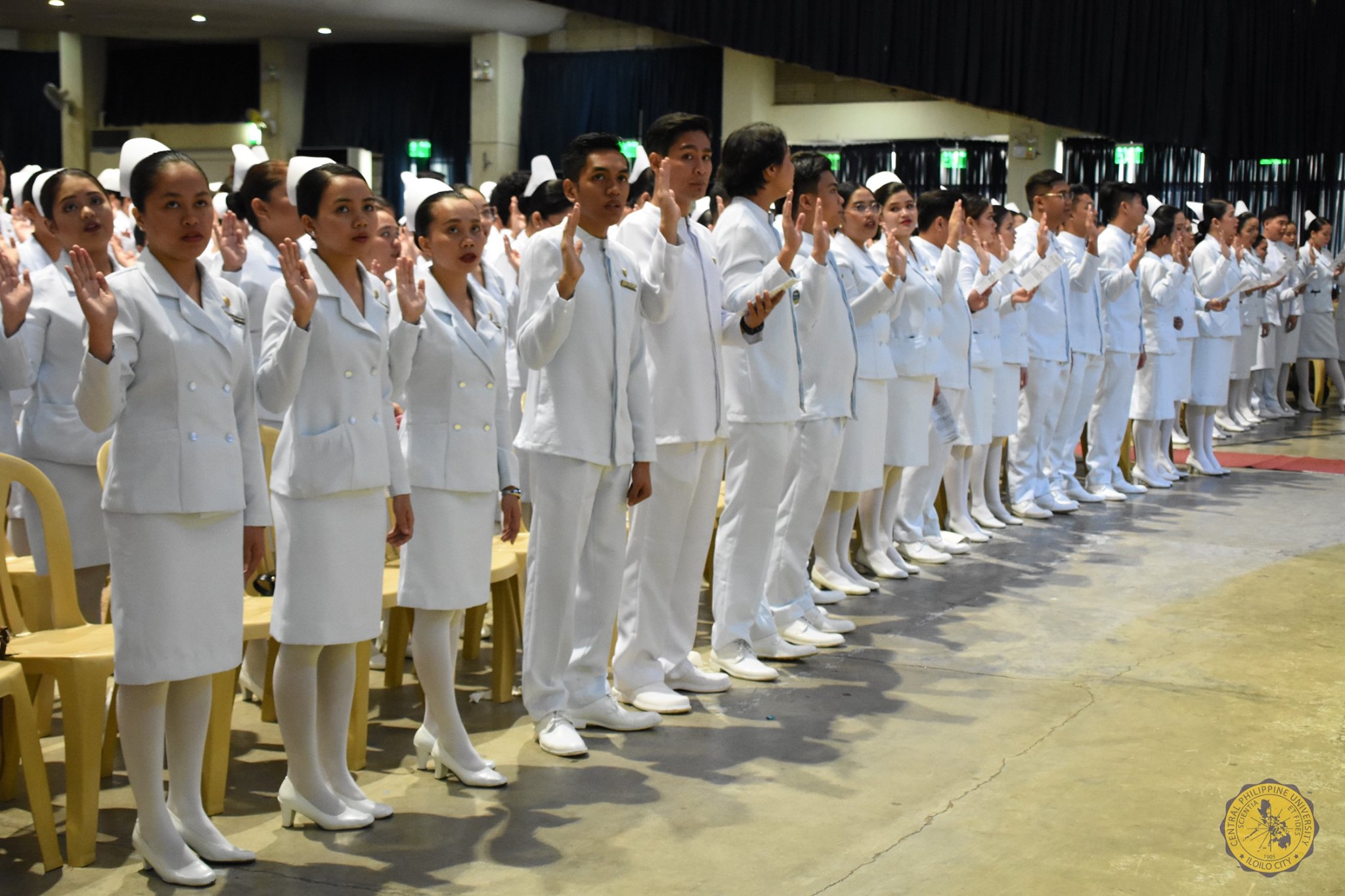 470 new nurses from Western Visayas took oath in a ceremony spearheaded by PRC Region VI.
The Oath-Taking Rites of new nurses for Western Visayas was held at Central Philippine University on December 20, 2019, at the Rose Memorial Auditorium. The Professional Regulation Commission, through the PRC Regional Office 6, and the Professional Regulatory Board of Nursing, in collaboration with the Philippine Nurses Association-Iloilo Chapter chose the venue for the oath-taking. Most of the new Nurses and their parents who are from Western Visayas, as well as officials of the different nursing schools in Region 6, preferred to attend the ceremony here in Iloilo City instead of Manila.
Dr. Teodoro C. Robles, CPU President welcomed the participants to Central Philippine University. He congratulated the new Nurses for passing the board exams, telling them that "this is the first step to your professional career."
Centralian Romel B. Balisang, LPT, MPA, OIC Director of PRC Regional Office 6 introduced the guest speaker. He also expressed gratitude for being a CPU alumnus. "On a personal note, I am thankful and proud of being a Centralian, he said. "It is because CPU ranked number 8 among the best performing nursing schools in the Philippines; garnering a passing rate of 95.42%. The Philippine Regulatory Commission in our area is proud of Central Philippine University as well", he added.
Hon. Glenda S. Arquiza, PhD, Chairman, Professional Regulatory Board of Nursing, challenged the new nurses telling them that "Life is a journey", and they have to move up in their careers as Registered Nurses. "Your passing the Nursing Board Exam indicates the excellence of your school," Arquiza added.
7,627 out of 13,816 examinees passed the National Licensure Examination for Nurses held on November 28, 2019, in the cities of Manila, Baguio, Cagayan de Oro, Zamboanga, Cebu, Davao, Legazpi, Lucena, Pagadian, Tacloban, and Tuguegarao. 470 new Nurses took their oath at the Rose Memorial Auditorium.
The Presentation of New Professionals was done by the Respective Deans of Colleges of Nursing from Region VI (Western Visayas). The Oath-taking of New Professionals was conducted by PRC Chairman Arquiza. The presentation of Certificate of Recognition to a Top 8 Performing School was conducted by Dr. Arquiza and assisted by PRC OIC Director Romel Balisang.