By Demy P. Sonza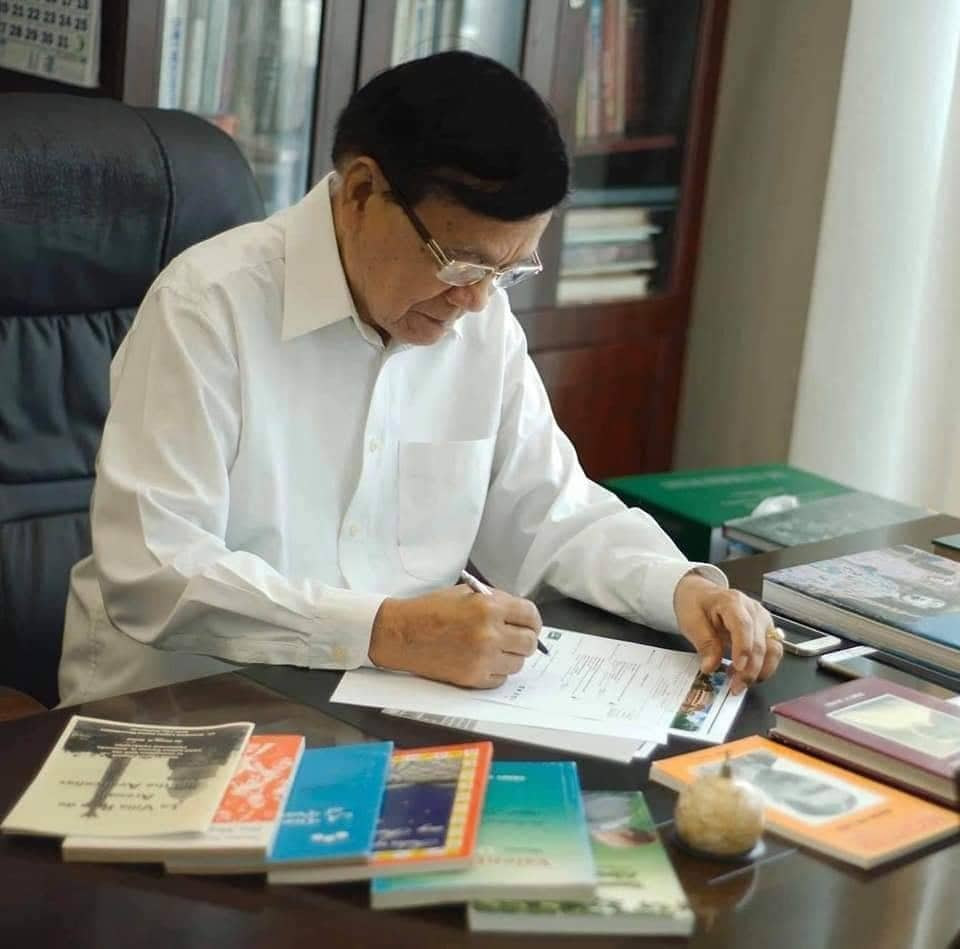 Demy P. Sonza exercises his talent in writing to give glory and honor to God.
THIS YEAR is my 70th anniversary as a writer. I praise and thank the Lord that I can give this testimony of how wonderfully good He has been to me. It was on November 15,1952, that my first article was published in the "Philippines Free Press." The title of the article is "The Mistreated Carabao." It was about a carabao that was pulling a bamboo sled (karosa) loaded with five or six sacks of palay on a rough trail. Whenever the carabao moved slowly, the man riding on its back whipped it with a bamboo twig.
I pitied the carabao and suggested to the man not to maltreat it. Somehow, the man listened to my suggestion. He did not thank me but he went down from the back of the animal. He walked beside the carabao and did not whip it anymore. I ended the article with a quotation, not from the Bible for I had not yet read the Bible up to that time. I think it was in my third year in high school that I read the quotation and memorized it.
The quotation said, "I expect to pass this world but once, any good therefore that I can do, or any kindness that I can show, to a fellow creature, let me do it now. Let me not defer or neglect it, for I shall not pass this way again…" Thanks to God, that statement became part of my philosophy in life — to do good and to be kind.
At that time, I was out of school, a quitter. I graduated from Sta. Barbara High School with honors in March that year, but failed to go to college. My parents did not have the money needed. But my parents did not give up their dream that I, the eldest of their ten children, should get a college education. They and I prayed fervently for God's help.
God's help came in September of that year, when Mr. Jose Gonzales, our high school principal, hired me as a casual laborer in his office. I told Mr. Gonzales that I wanted to improve my typewriting skill, and he allowed me to stay after office hours to use the typewriter. That was how I was able to write my articles for the Free Press and stories for "Hiligaynon" magazine.
My casual work at the principal's office ended in March 1953. But thank God, by His leading, Miss Lolita Umadhay, my physics teacher, told me about the work-study program of Central Philippine University, and urged me to apply as a work student at CPU.
Following the advice, I wrote to the president of CPU, telling him of my strong desire to work for my education. I mentioned that I knew how to write and had already published in the "Free Press." When President Almus O. Larsen received my letter, he referred it to Prof. Rex D. Drilon, a journalist and the public relations officer of CPU. At the time, Prof. Drilon was also the director of the Summer School. Incidentally, CPU became a university in 1952, so there was a large Summer School enrolment in 1953.
Prof. Drilon called for me and after knowing my circumstances, he recommended to Dr. Larsen that I be hired full-time to work under him during the Summer School. So, for two months I worked under Prof. Drilon who went out of his way, to teach me much about the art of writing. When School Year 1953-1954 opened in June, I was assigned to work at the office of "The Central Echo" and "The Centralite." I worked five hours a day and enrolled in the Bachelor of Arts course.
In 1954 I often got sick. Dr. Larsen suspected that I was malnourished, so he let me live in the Franklin Hall Boys Dormitory and eat at the Weston Hall Dining Room. The rooms in the boys' dorm were full except one. Nobody was staying in Room No. 13, because No. 13 was believed to bring bad luck. I stayed there and found out that 13 was a lucky number for me. It was in Room 13 of Franklin Hall that I wrote the poems that were published in my first book in 1955. The book, titled "The Stirred Pool," was published by CPU and Dr. Larsen himself wrote the "Introduction."
Two years later, I was appointed as a staff member in the Office of Public Relations and designated as adviser of student publications. It was around this time that I thank God for making my writings an instrument to bring me the woman of my life. A Christian young school teacher in Barotac Nuevo, Iloilo, named Gloria Jayaon, wrote to me saying that she admired my articles and poems. I wrote back to her and we became "pen pals" for several months and then met in person. In early 1962, I told her that I wanted to marry her but I had no money. Besides, I still had to help most of my siblings through college.
"I admire you for helping your siblings," Gloria said sincerely. "When we get married your siblings will become my siblings so we two will help them with their studies." So, we got married, and praise God, my wife was true to her words. The following year, 1963, I was elected president of the Iloilo Press and Radio Club. By then I had already authored three published books.
I stayed at CPU until 1964 when I was invited by Governor Rafael Palmares to manage the radio station that is now Radyo ng Bayan. I rosed in the provincial government to become the executive assistant of the governor. For several years following the imposition of Martial Law, Congress and the local legislative bodies were abolished. So, Iloilo had no vice governor and board members. Whenever Governor Conrado Norada was out of Iloilo he often made me officer-in-charge of the province. People were calling me "Little Governor."
I enjoyed my position in the Provincial Capitol. Yet, in 1977 God brought me back to CPU. That year, the Board of International Ministries in the United States offered to help CPU raise P1 million endowment fund with a matching grant of 4 to 1 from BIM. It meant that for every peso that CPU could raise, BJM would give a counterpart of four pesos. Dr. Billy Wireman, the BIM consultant, came to Iloilo and recommended that CPU should have an Office of Planning and Development whose director would coordinate the fund campaign. President Agustin Pulido and the CPU Board of Trustees agreed to invite me to serve as Planning and Development director.
At the time I was in Manila writing the History of the Philippine Navy. When I learned about CPU's invitation, I felt that it was the call of the Lord. So when I came back from Manila, and with the consent of Governor Norada who was himself a Centralian, I returned to serve my beloved Alma Mater. In the next several years CPU launched three major fund campaigns, raising millions of pesos. It was also during that time that Henry Luce III donated money to build the modern library building that bears his name on the CPU campus.
I left CPU again in 1988 when I ran and won as provincial board member in the first local elections after Martial Law. My reputation as a writer and historian stood well with the Ilonggo voters who reelected me in 1991. In 1995 I was elected vice governor and reelected in 1998. Although I was already the second-highest official in the province, my wife and I did not have a house of our own. To justify our continued stay in a cottage on campus, President Pulido issued to me an appointment as "Writer in Residence," without any compensation.
In 2001, I still had one more term for vice governor, but I got ambitious. I ran for governor and lost, to become "the best governor Iloilo never had." Yet, as the Bible says, "all things work together for good for those who love the Lord and are called according to His purpose." God did not allow me to become governor because he wanted me to lead Taytay sa Kauswagan, Inc. (TSKI), a microfinance corporation, and serve more people. In 2001 Opportunity International, a Christian funding body based in the US with partners in Europe, offered to help TSKI scale up and expand its operations. This help was followed by another assistance from the Fundacion Cooperacion de Espana (CODESPA).
Since I was no longer with the government, my colleagues in TSKI raised me from vice chairman to the position of chairman of the Board of Trustees in 2002. With foreign support, TSKI, which is a non-stock, non-profit Christian development institution, grew rapidly by God's grace. Within three years it opened branches in Southern Luzon, all over the Visayas, and some parts of Mindanao. Gradually, TSKI also organized wholly-owned subsidiary corporations that operated profitably to support the programs of the mother organization. At the height of its operations before the Covid 19 pandemic in 2019, TSKI had more than 300 branches across the country. Over the last 37 years, it has benefited millions of people through micro, medium, and small enterprises.
Early this year, for reasons of health, I gave up the chairmanship of TSKI and its subsidiaries. Thank God, despite huge problems and challenges, TSKI is still around to bring the love of Jesus Christ to our people, especially the poor. I praise God for giving me the opportunity to serve Him by serving our people and to use the talent that He endowed with me. Indeed, I can't thank the Lord enough for making me a writer. All told, I have more than twenty published books and several more awaiting publication. In 2018, a survey on the Internet showed that copies of my works are found in more than 150 major libraries in 19 countries, from New Zealand in the South to Norway in the North, from Japan in the East to Canada in the West.
And by God's grace, my parents lived long enough to see all their ten children go through college to become good citizens. Most importantly, the whole family became Christians. May I end by quoting the last stanza of one of my poems:
Writing is the talent given me by the Lord,
I have exercised it that God be honored.
My deepest longing and my most fervent prayer,
Is at the end of the day, these words I may hear:
"Well done, good and faithful servant, come and enter
Into the joy and the reward of the Master."
TO GOD BE ALL THE GLORY.