By Cyrus A. Natividad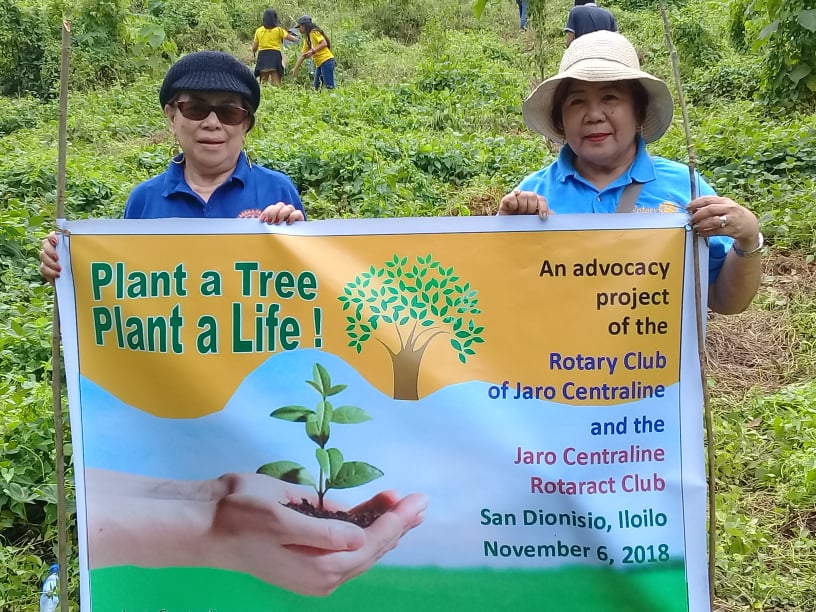 RCJC President Evelyn Rose A. Catilo (right) and RCJC Auditor Rtn Dolores Mendiola at the Tree Planting site in San Dionisio, Iloilo.
The CPU-Rotary Club of Jaro Centraline once again showed its commitment to serve. On Tuesday morning, November 6, CPU-RCJC, in partnership with the Community Environment and Natural Resources Office (CENRO-Sara Center), carried out a tree-planting activity in San Dionisio, Iloilo at Barangay Pangi. The youth organization, CPU-RCJC Rotaract, was also involved in the said activity. Seedlings were provided by the Department of Environment and Natural Resources.
The tree-planting activity is in response to the government's reforestation program. More than 800 hectares is dedicated for the project of reforesting and generating income for several community volunteers including the Pangi Active Community Development Association (PACDA).
DENR provided seedlings to the volunteers who will receive PhP 25.00 for every tree that grows in 10 months. The CPU-Rotary Club of Jaro Centraline waived the incentive and instead asked that it be awarded to PACDA.
The successful activity was fully supported by Mr. Rene Grande Abordo, Officer in Charge of CENRO Sara Area of Operation.
CPU- RCJC President Evelyn Rose Abordo Catilo promises more such programs and projects to be pursued this year. "The CPU-RCJC will have more community service activities since the partnership of our club and Central Philippine University has benefited many communities in Iloilo," Catilo said.
CPU-RCJC has been reaching out to recipient communities and organizations on projects such as medical and dental missions, education, and other advocacies.