By Cyrus A. Natividad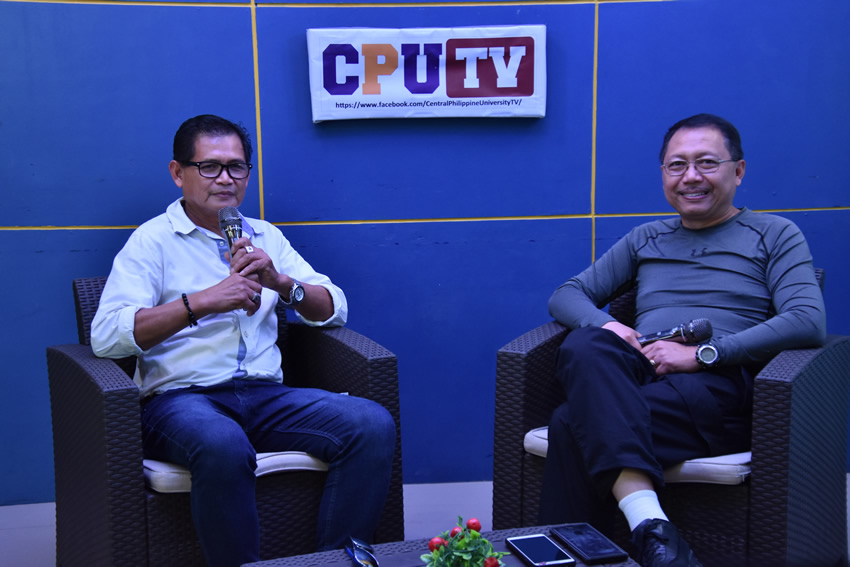 The author with Pinoy Gonzales during an episode of Looking Forward.
Centralians in Mass Media President Rufino Gonzales was guest in Looking Forward, a public affairs program on CPU TV, on February 27, 2020 edition. A businessman and media practitioner in Houston, Texas, 'Pinoy' as he is fondly called by fellow Centralians, is an essential link for CPU alumni here and abroad.
Gonzales had established his agency in the U.S. – where he sources out news and supplies the information to media outlets in the Philippines and other countries outside of the U.S. "Connectivity through technology is the fast vehicle of disseminating information from the U.S. to the Philippines and vice-versa," he said.
It was during big events such as the recently held Grand Alumni Homecoming at Central Philippine University that Gonzales used his trade to help provide visual updates to the alumni abroad who were not able to come home for the global events.  On the other hand, news on the U.S. and other global issues were shared by Gonzales to several media outlets in the Philippines.
As President of Centralians in Mass Media Alumni Association in CPU, Gonzales encouraged his members to further strengthen the links in information by cooperation with local media outlets with CPU and all Centralian Alumni Chapters Worldwide.
Gonzales is a Centralian who had studied in CPU from Kindergarten to College. He graduated from the CPU College of Agriculture in 1987.