By Cyrus A. Natividad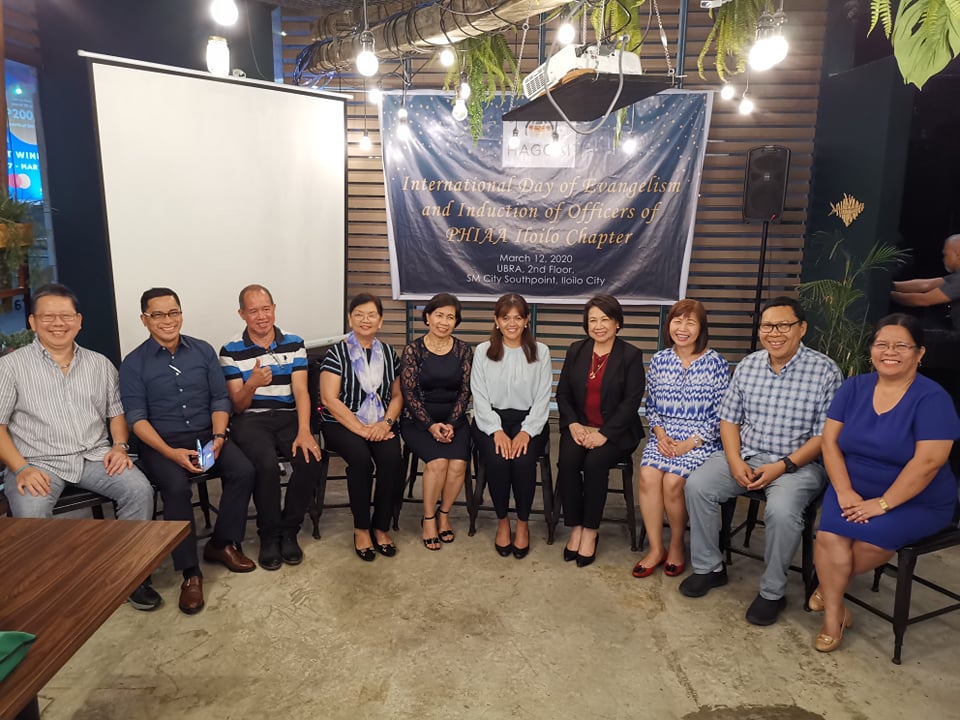 Haggai Institute Alumni Association- Iloilo Chapter Officers.
The Philippine Haggai Institute Alumni Association -Iloilo Chapter, whose members are mostly Centralians (including  the International, National and local executives) celebrated the International Day of Evangelism at the Ubra Shared Space and Café Lounge, SM Southpoint on Thursday evening, March 12, 2020. A short program was held and newly elected officers of the Iloilo Chapter were inducted as well.
The program started with the praise and worship through songs. Pastor Lovejoy Quimpo-Leysa, Haggai Leader led the invocation. PHIAA Iloilo Secretary Perla A. Suyo acknowledged the guests.
Updates on the Haggai Program and Activities were reported during the dinner: Susan Chomi, Regional Representative reported for the International events; Rowena M. Libo-on, PHIAA Auditor on the National Updates and Rev. Francis Neil Jalando-on, PHIAA Iloilo President (2015-2019) for the Local activities.

Members of Haggai Institute Alumni Association- Iloilo Chapter mostly composed of Centralians.
Haggai Leader and Convention of Philippine Baptist Churches (CPBC) General Secretary Rev. Jerson Narciso delivered an inspirational message which focused on the events before the death of Jesus Christ. The imminent death of Jesus revealed the attitude of Peter, James and John.  Rev. Narciso challenged the Haggai Alumni "not to have the attitude of the disciples in the Garden of Gethsemane who were sleeping while Jesus was praying." He added, that "as the coronavirus is spreading, let it be that we will not sleep on our jobs. May all Christians spread the Gospel."
Haggai Institute Regional Representative Chomi inducted the following officers for the year 2020:
President                     Atty. Gracious Espinosa
Vice President              Dr. Judith Jimeno
Secretary                      Dr. Perla A. Suyo
Treasurer                     Rev. Francis Neil G. Jalando-on
Prayer of Dedication was offered by Pastor Jemuel Harder in behalf of Pastor Mirvin Cañete.  PHIAA Iloilo President Gracious J. Espinosa made a response. She shared her plans and projects and proposed activity for the Chapter.
Vice President Jimeno delivered a closing remarks. The celebration ended at around 8:45 P.M.