By Francis Neil G. Jalando-on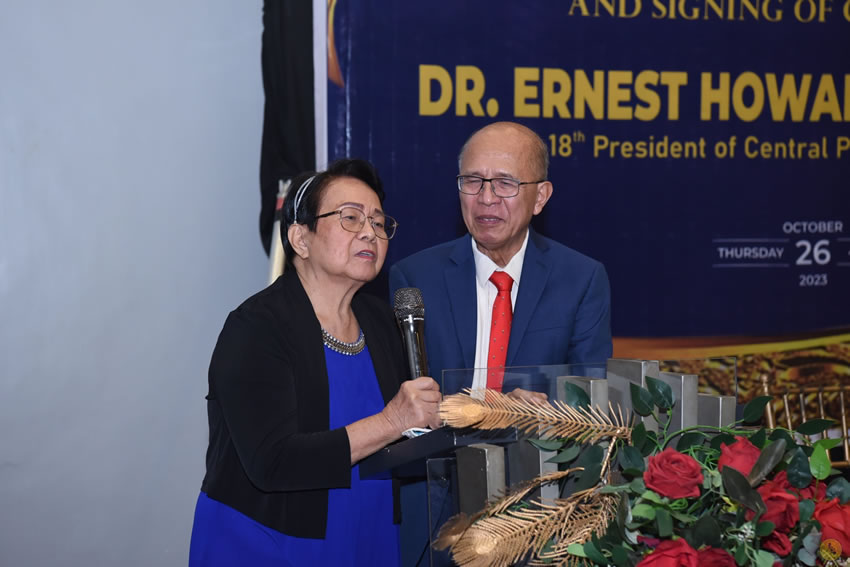 Dr. Teodoro and Mrs. Angel Robles jointly expressed their joy in donating the "Missionary Hall" to CPU.
A heartwarming moment unfolded during the contract signing ceremony for the incoming Central Philippine University (CPU) President, Rev. Dr. Ernest B. Dagohoy on October 26, 2023 at the Iloilo Convention Center. Dr. Teodoro C. Robles, the outgoing CPU President, along with his wife, Mrs. Angel Robles, made a significant contribution to the university by signing a deed of donation, officially donating their personal residential property known as the "Missionary Hall."
Dr. Robles, in a touching address, revealed the backstory of the donation, which was over a decade in the making. He recalled that more than 10 years ago, they thought they would stay for just five years. They found a place not just for a residence but a building that can be useful to CPU.
This donation consists of the "Missionary Hall" located near Gate 7 where the Robles couple will reside after October 31, 2023. Dr. Robles explained that they will live on the ground floor while renting out the upper levels. The income generated from these rentals, he explained, would ultimately become the property of CPU. Furthermore, he shared his vision for the property, stating, "When we are gone, CPU will own the property, and the income will be named the 'Ted and Angel Robles Professorial Chair.'" "You just have to wait," he kiddingly said.
Mrs. Angel Robles expressed her desire for the donated building to stand as a testament to the honor of missionaries, which inspired the name "Missionary Hall."
Following the heartfelt speeches and declarations, the official document signing took place. Atty. Peter Irving C. Corvera, Chairman of the CPU Board of Trustees, accepted the generous donation on behalf of the university. In his response, he emphasized the legal importance of the acceptance process, stating, "Any donation has to be accepted under the law. The donee has to accept." He then expressed deep gratitude on behalf of the university, saying, "We really would like to thank you for your exceptional generosity. We formally accept the donation."
The donation of the "Missionary Hall" by Dr. Teodoro C. Robles and Mrs. Angel Robles adds another remarkable chapter to CPU's history. This act of generosity will not only honor the legacy of the Robles family but also serve as a lasting reminder of the importance of missionaries in the university's rich heritage. It underscores the sense of community and dedication that continues to define Central Philippine University.