By Cyrus A. Natividad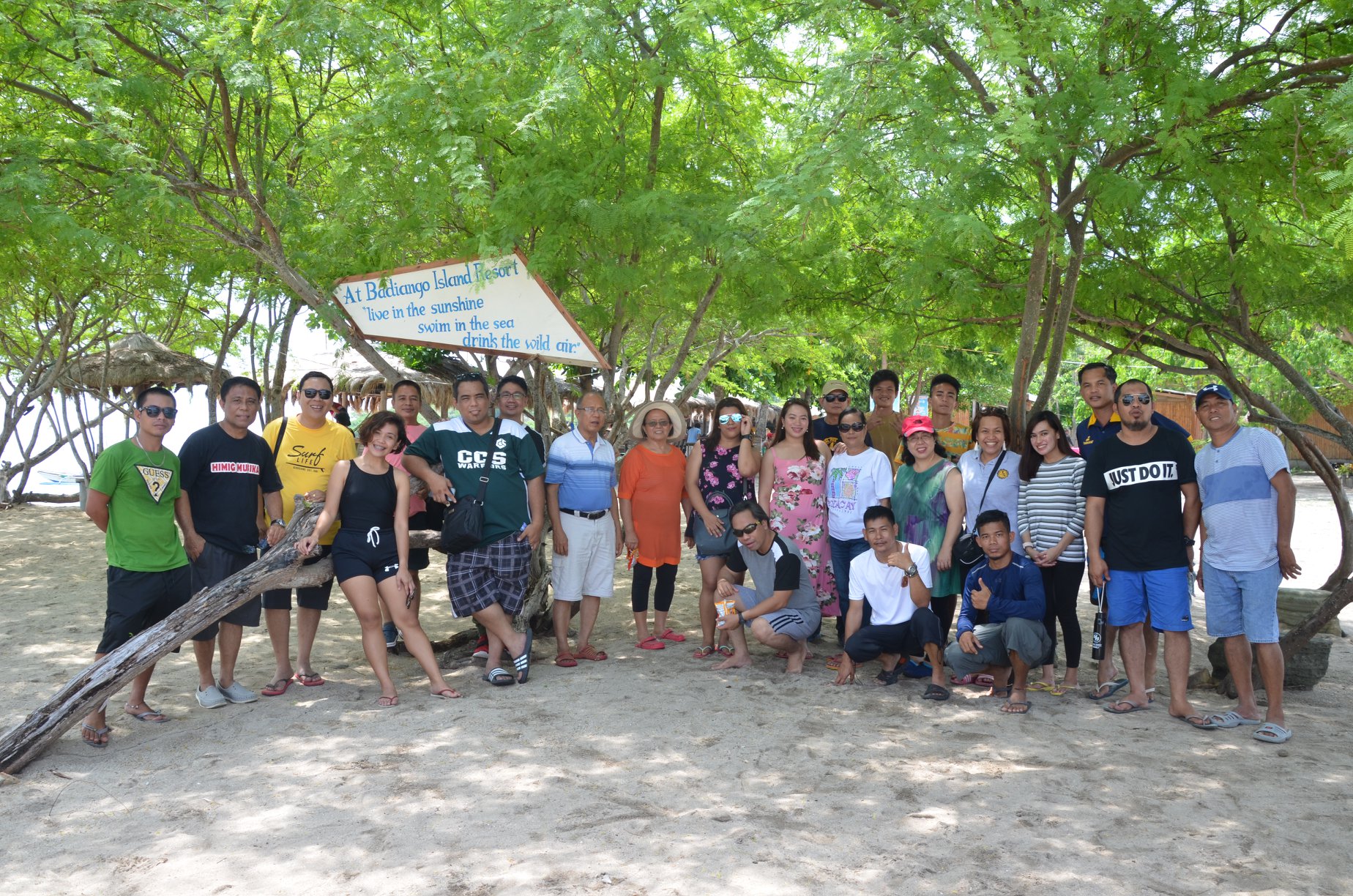 The staff of the departments under the President's Office at Badiango Island.
Finally the rain stopped and the service bus arrived; the staff from the President's Office came in earlier for the trip. Sir Ted and Ma'am Angel personally checked on each one and waited until everybody has confirmed to be on the trip. The CPU President during the last faculty and staff night reminded his employees to relax, energize and fellowship with one another whenever there is a chance. "The activities create positive attitude, provide energy and develop team building with the organization".
There were about twenty-five in the group including Sir Ted and Ma'am Angel. Pastor Alfred Morales and Jones Somosierra led in the singing of hymns as the bus started off on the road. The trip took about a couple of hours to reach the Municipality of Concepcion.
Concepcion is a coastal town in northern Iloilo and one of the fast developing tourist's destinations in Western Visayas.  On the way to Concepcion, panoramic view of the sea and the islands were just breathtaking.
At one time or another, CPU President Dr. Teodoro C. Robles with administrators, staff and CPU alumni groups brought foods, clothing and shelter materials to the victims of Typhoon Yolanda. The Municipality of Concepcion was among those declared in a state of calamity. Succeeding civic actions and medical missions from CPU followed. More and more relief goods and supplies were delivered from CPU. The events would lead the Central Philippine University Alumni Association and the Municipality of Concepcion to become allies and supporters of each other. "The 'concepcionanons' are thankful and will never forget the sympathy and support of Central Philippine University during that time of disaster", according to one of the Centralian alumni who hails from the town of Concepcion.
A chartered motored bangka brought the group to the Badiango Island Beach Resort. Afterwards, a Galilean worship service was led by Pastor Alfred – with Dr. Ted and Angel Robles, before proceeding to the beach. Everyone indulged in seafood served for lunch. Island-hopping and more pictures were taken before returning to the mainland of Concepcion.
Vice Mayor Millard Villanueva met with Dr. Robles at the coffee shop of Pan de Azucar Hotel where everyone stayed for the night. Villanueva who is now the Vice Mayor – elect of Concepcion engage everyone in conversation over brewed coffee and thanked them for the visit. He encouraged them to continue on with the strong alliance that CPU and the Municipality of Conception have founded. Villanueva is currently the Vice President of the Concepcion Centralian Alumni Association. The group was treated to dinner by Dr. Ted and Angel Robles at their place in Concepcion.
Everyone started early for the trip back to Iloilo City the next day.