By Lester Edwin J. Ruiz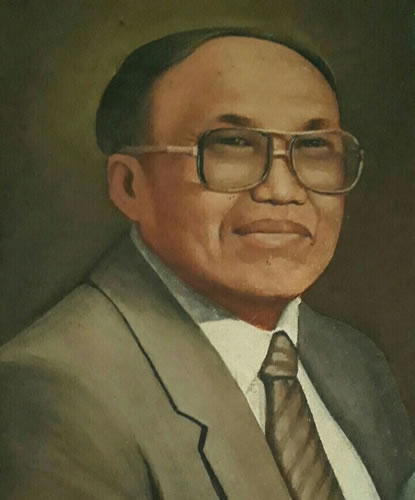 Remembering Rev. Dr. Juan Ancheta, "Manoy Johnny" – a man of faith, a beloved Centralian.
Rev. Dr. Juan Ancheta, "Manoy Johnny," died on August 1, 2018. He was a good man, a kind man, a generous man, a humble man, a man with a vision and a mission that he lived fully and well. A man who never stopped giving of his life and of his resources to those in need.
CPU has lost one of its best. He will be remembered lovingly, kindly, and with respect by many.
Perhaps, his last public message to his "Fellow Centralians" was a letter he sent on July 6, 2018 to the 10th CPUFOAAI Global Reunion in Chicago. It is more than a letter to Centralians, however. It is a message of goodwill, conviction, and hope for anyone who has the eyes and ears to see and to hear what this good man has to say to his generation and the generations that come after him.
He will be missed and will be long remembered with both joy and sadness, but always with gratitude for a life well lived, and a legacy worth continuing.
We thank his family for sharing him with the world that he loved so much, and served so well.


The Celis-Ancheta and Pagsuberon-Cruz Hall of the CPU College of Theology Building is a testimony of Manoy Johnny's generosity and above all his prayer that CPU may produce godly men and women who will preach the Gospel to the different corners of the globe.
Allow me to share his letter with you:
120 Breed Avenue
San Leandro, California 94577
July 6, 2018
Dear Fellow Centralians,
My sincerest greetings to all of you on this 10th CPUFOAAI Global reunion.
My parents taught us, their children, to love God, to get a good education, and, to love and respect relatives and neighbors.
In high school, I had two friends; one had his parents pay for his tuition, but the other had a blind pastor pay part of his tuition fees. This friend helped the pastor in his work. One Sunday, my friend introduced me to his pastor who told me that, "a happy life depends largely on the individual's philosophy. But watch out and guard yourself against all kinds of greed. According to the Bible, Jesus says that "'A man's true life is not made up of the things he owns, no matter how rich he may be. Jesus concluded, this is how it is with those who pile up riches for themselves but are not rich in God's sight. For your heart will always be where your riches are.'"
I am cognizant that I was able to complete my college degree because of part-time work that was given to me by Central Philippine University. I cleaned the Kindergarten classrooms for four years. Without the part-time work, I doubt if I could have completed my theological education in four years. I am very grateful for the help CPU gave me.
I went to Berkeley Baptist Divinity School (now American Baptist Seminary of the West) on a work-study scholarship. I mopped the hallways of the dormitory, washed dishes in the school's refectory. The part-time job paid for my books, tuition, board, and lodging.
Looking back, I often wonder what my life would have been like had I not known the blind pastor (Rev. Hilario Castillo) who introduced me to Jesus Christ. What would my life be if I had not walked through the portals of Central Philippine University and Berkeley Baptist Divinity School? I do not know if I could have accomplished my dreams had it not been for these two institutions of learning.
CPU has provided education to many students who could not afford to pay for their tuition fees. CPU has extended help to many because of the generous people, alumni chapters, and donors who are supporting the programs of the university. I cannot think of other ways to express my gratitude to CPU and American Baptist Seminary of the West than to give some funds, however small, to support the programs of the two institutions that provided me not only with good theological education but also helped me to accomplish my parents' dream of having their children have a good education and love God.
In closing, I would like for all of you to have a good time reminiscing about your time at CPU and include in your conversations possibilities to assist CPU to be one of the best institutions of learning.
I am sorry I cannot be with you to celebrate the 10th Global Reunion of the alumni of Central Phillippine University, but, enjoy yourselves.
Blessings,
Rev. Dr. Juan F. Ancheta
Rev. Dr. Juan Ancheta, "Manoy Johnny," and family were the donors of the Celis-Ancheta Hall of the CPU College of Theology. Rev. Ancheta will always be remembered by the many people he had served and touched by his life, and especially for his generosity and support to the continuing education for pastors program of the College of Theology through the annual Ancheta Lectures.
*Note: Rev. Dr. Lester Edwin J. Ruiz delivered the letter during the 10th CPU Global Reunion in Chicago, Illinois.