By Cyrus A. Natividad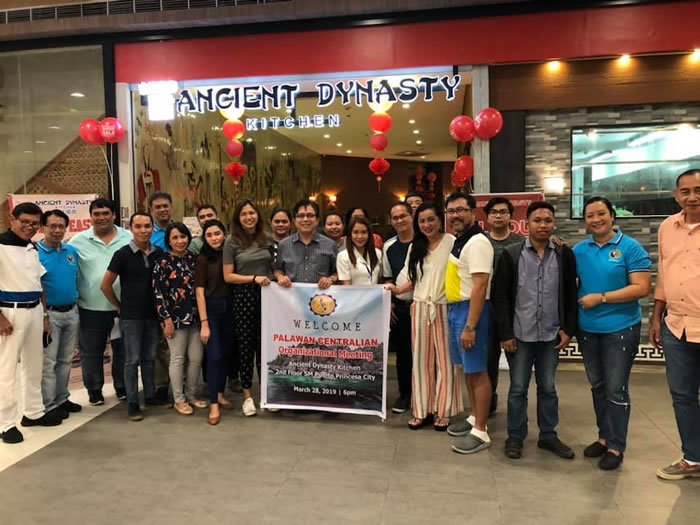 Centralian camaraderie –  the growing number of new alumni chapters is a strong testimony of  the Central Spirit. 
Central Philippine University Alumni Association has a new alumni chapter created during a Centralian Fellowship and Organizational Meeting on March 28, 2019 (Thursday) 6PM at the Ancient Dynasty Kitchen at SM City Puerto Princesa City, Palawan. The event was attended by twenty Palawan Centralians.
The said establishment of the new chapter was made possible through the initiative and efforts of Mr. Carl dela Peña, Chairperson, CPUAAI Membership Development Committee.
CPUAAI President Engineer Isagani Jalbuena was present, with CPUAAI Board Member and CPU Outreach Director Levi O. De Los Santos and Liaison Officer Tina Hortelano. Palawan Centralians Mr. Lara Ho and CPU Board Member Engr. Carl de la Pena welcomed everyone after an opening prayer by Pastor Dennis de los Reyes (CPU Bachelor of Theology 2003).
The Election and Induction of Officers was presided by CPUAAI President Jalbuena.
Following are the elected Palawan Centralian Officers:
President: Rev Harold Penacerada
Vice President: Engr. Carlo Plagata
Secretary: Mrs. Lut De Guzman
Treasurer: Janelyne Yu Lara
Auditor: Mr. Madeline Dajay
PRO: Mr. Rey Gloria
Business Manager: Pastor Dennis de los Reyes
Muse: Madel Thelia Lucena
Board of Directors:
Christopher Caipang
Francis Lara Ho
Joseph Dajay
Debbie Delos Reyes
Adviser: Engr. Benjamin Dofitas (Ret. Col.)
The move to organize the CPU AA-Palawan Chapter, the 159th CPU Alumni Chapter around the world was initiated by Mr. Carl De la Peña, member of the CPUAAI Board of Trustees and CPU Board of Trustees.