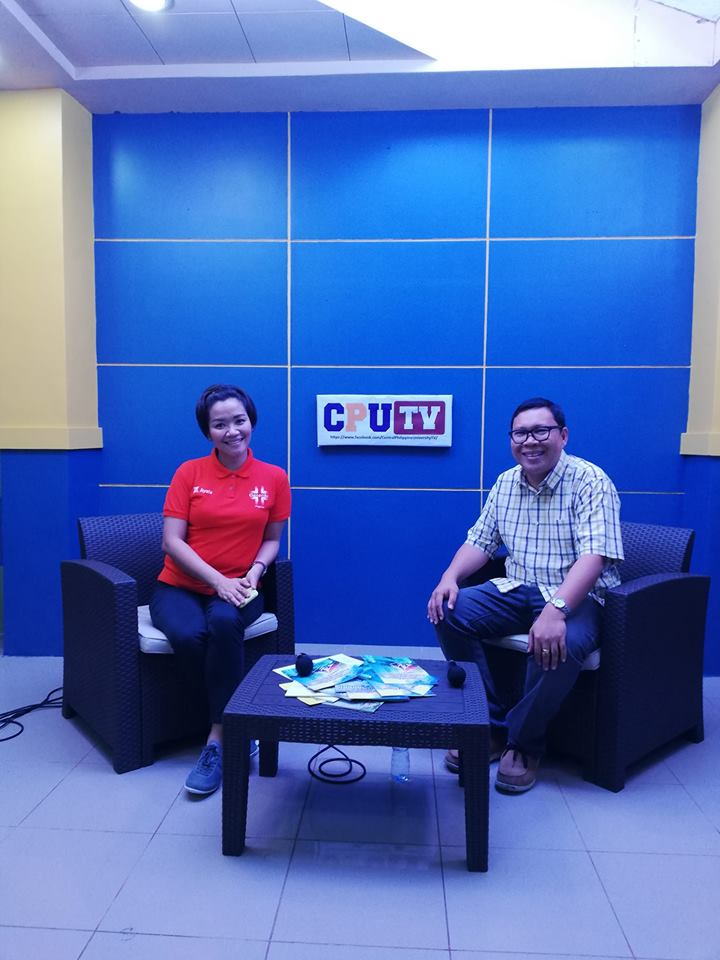 Allyn Margarejo Sta. Maria with Rev. Francis Neil G. Jalando-on, Director, CPU Office of Communications.
Allyn Margarejo Sta. Maria could still recall the very first time she stepped onto the volleyball court of the CPU Gym. She could still remember the cheers and shouts from spectators, the look of determination in the eyes of her fellow Centralian athletes, and the sweat and tears they poured to claim victory. These are lasting memories etched in passion and with faith.
Allyn currently works as the Marketing Head of Generika Drug Store which has over 750 pharmacies all over the country. Apart from her task to promote and establish Generika as a trusted brand, she is also the Team Manager of the Generika Ayala Lifesavers, a volleyball team franchised by Generika Drug Store. Allyn shares that the team is part of health and wellness advocacy of Mr. Ted Ferrer, President of Generika Drugstores.
She is a 2002 graduate of the CPU Bachelor of Arts in Psychology program. During her college days, she devoted herself to different passions such as student leadership, debates, and even beauty pageants. She was a CPU Republic official, a former Miss CPU High School, and subsequently chosen as Miss CPUR. However, according to Allyn, "Volleyball is my first love."
According to Allyn, her employment at Generika gave her the opportunity not only to make a living but to continue her passion for volleyball: "I wasn't really expecting that in my professional employment volleyball would still be part of my life. This is really a favor from God. All my passions intersect with my current job—only God could give me that kind of blessing."
Allyn shares that in CPU, her mentors have always encouraged her to excel and to develop her skills by engaging in various activities and competitions. It was also in CPU where her faith was developed into a habit of depending on God on her next endeavors: "In CPU, I found a wealth of experience to interface with people from all walks of life. CPU taught me to excel, to stand, dress and talk properly, and most importantly, to give back to the glory of the Lord."
Sharing her testimony, Allyn recounts how her faith helped her deal with the struggles and challenges along her way: "A philosopher once said that every man has a God-shaped void only God can fill."
As a mom and an advocate of wellness, Allyn emphasized the importance of physical as well as mental health. According to her it is important to take care of oneself: "Mental hygiene is really about knowing yourself, getting the right emotional support, being open to guidance. It's really about how well you know yourself and how you respond to your needs. Parents have a big role in the lives of their children. Educational systems cannot be substitutes for good parenting and nothing can substitute human interaction."
For her advice to aspiring Centralians who also want excel in their passions, Allyn says, "Keep working hard. It's all going to be worth it soon."