By Cyrus A. Natividad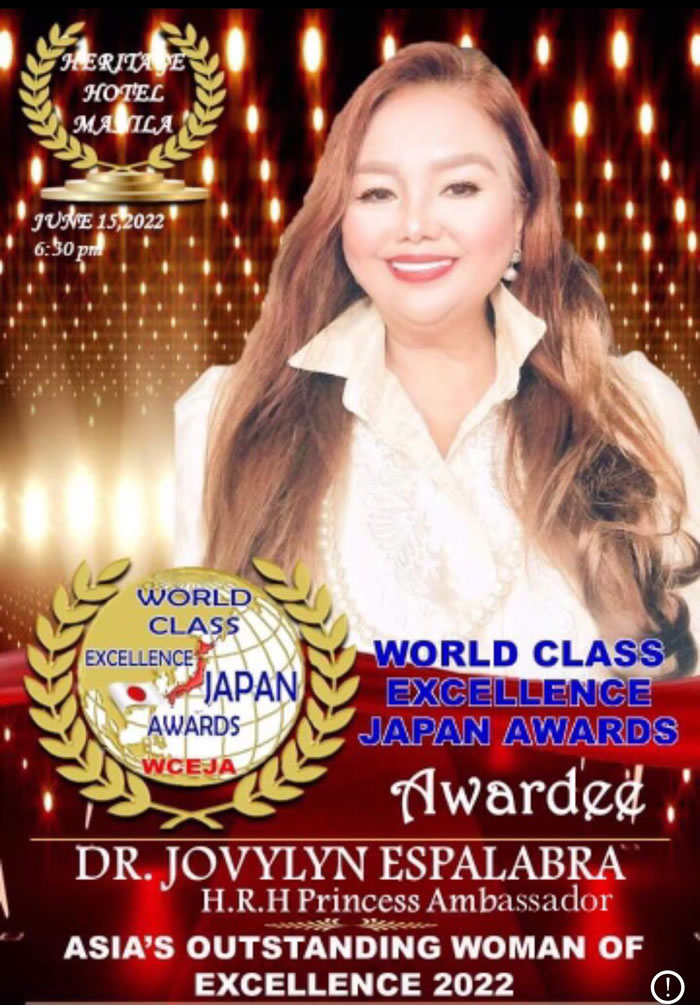 It was quite a long time since this Centralian alumna guested on the CPU TV Channel program Looking Forward. By this time, where she is at the peak of achievement she said, "God gave me the capability to do it because I believe that it is His real plan for me."
From her humble beginnings, Jovylyn Simoy Espalabra (Pol Sci Batch '84) explored the unlimited opportunities of the world, starting with a small kiosk near CPU. She was into selling cosmetics and novelties at that time. Having a pleasant personality and good communications skill, she gained many friends – apart from her former classmates.
Known as 'Doc Jo', Prof. Jovylyn Espalabra, MBA., D.Hum., D.Litt.,D.R.E., Ph.D, was called a "Woman of Substance by a U.N. Ambassador. She is designated Secretary General of UNESC-United Nations ECOSOC Special Consultative Status Social Development Committee; Global Consultant of United Nation International Welfare Foundation-USA.; Chief Advisor of Royal Nexus Organization in India, and Global Chairman of WAC People's Council, India.
To date, more worldwide appointments, designation and affiliations have been added to her name. She is a newly appointed International Advisor and Board Member of Yes You Can International in U.K.; Matron of Kingsland Foundation, Nigeria and World Director General, World United Colleges of Bishops- USA and Korea.
Some of her major recognitions and awards conferred by select reputable institutions and organizations across the globe are Honorary Doctorate Awards; "Doctor of Humanities" and "Doctor of Humane Letters" from Regent Evangelical College, "Honorary Doctorates in Humanities and Social Services," in Nigeria, Sweden, Serbia, India, Venezuela, Brazil, UK, USA and other countries," She was appointed Ambassador of Peace by various UN affiliated global organizations. She was awarded "Best Global Director 2022 and Best Global Educator 2022" by International Internship University (IIU) India; Honored as "Global Outstanding Transformational Leader" by YYCI-UK.
She was awarded as one of the Outstanding Women of the Philippines by the 6th Outstanding Men and Women of the Phils. 2022; "World Iconic Woman Leader of the Year by Asia's Golden Icon Awards 2022. Asia's Outstanding Woman of Excellence" by World Class Excellence Japan Awards 2022" Most Influential Filipina Icon and Empowered Woman of the Decade" by 4th Asia Pacific Luminare Awards." Most Empowered and Influential Woman of the Millennium by Gintong Parangal 2021. Top 20 Global Women Leaders 2022 by LOANI-London, UK. "Gawad Pinoy for Outstanding Entrepreneur and Humanitarian Awardee 2021" by Who's Who Awards.
Espalabra is Founder and Chairperson of Global Academy for Human Excellence (GAHE) and Council of Empowered Ladies International (CELI). She is an ambassador of peace, philanthropist and a human rights advocate. As a businesswoman, she is at present the CEO/President of Virgo Industrial Products Philippines, an export trading and packaging company.
Doc Jo is married to Troy D. Espalabra of Jaro, Iloilo City.