By Cyrus A. Natividad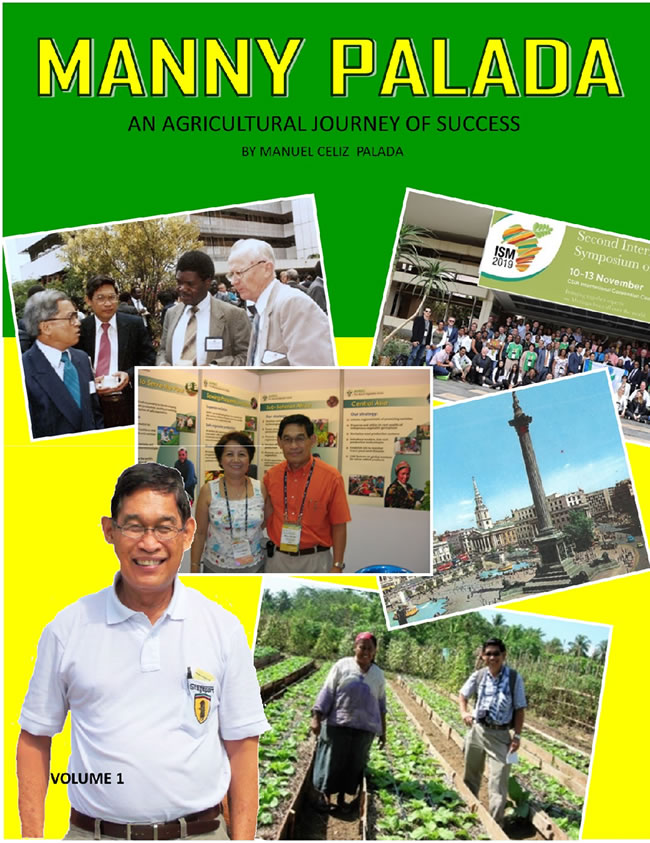 Dr. Manuel C. Palada, Distinguished Centralian and Member of the CPU Board of Trustees, will soon launch his new book, MANNY PALADA: An Agricultural Journey of Success. Palada has written this biography as a living legacy of his life and work in international agriculture; in gratefulness to God, with his Alma Mater Central Philippine University in preparing him for the journey to success – from the Philippines to the world!
Manny graduated with a Bachelor's degree in Agriculture major in Plant Science from Central Philippine University in 1966. Manny pursued his graduate study for a Master of Science degree in agronomy at the University of the Philippines in Los Banos (UPLB) under a scholarship granted by the International Rice Research Institute (IRRI). This program was part of the CPU Faculty Development Program where faculty members were given the opportunity and privilege to go on study leave. Manny was admitted at UP College of Agriculture Graduate Program on November 1968. As an IRRI Research scholar, Manny worked and studied under the guidance of Dr. Benito S. Vergara, Plant Physiologist. He conducted a Master's thesis on the subject: Survival of Rice Plants under Complete Submergence. While conducting his thesis research, Manny also took graduate courses in agronomy, soils, botany and horticulture at UPLB. Manny successfully completed the degree of Master of Science major in Agronomy in December 1970.
He also served CPU as faculty in the College of Agriculture. In 1976, after his stint in IRRI, Manny was able to get a Rockefeller Foundation Fellowship (scholarship) to enable him to pursue his Ph.D. degree at the University of Florida, Gainesville, Florida, USA. He was admitted as a graduate student in the College of Agriculture, Department of Horticulture during fall quarter 1976. To diversify and expand his discipline in agriculture, Manny studied horticultural science major in vegetable crops. His Ph.D. thesis was in the field of multiple cropping: An Evaluation of Four Vegetable Cropping Patterns for North Florida. He successfully completed his Ph.D. degree in Horticultural Science with major in Vegetable Crops in the spring semester 1980.
Manny is known as an international agriculturist. He has travelled to more than fifty countries around the world– assisting governments and farmers in rice and vegetables; as technology and promotions consultant. Dr. Palada is a World Bank agriculture consultant and the 2005 "Outstanding International Horticulturist" awardee of the American Society for Horticultural Science."
His journey began with perseverance and determination. He finished his college through the work –study program of CPU. He was declared a Distinguished Centralian by his Alma Mater, and on October 8, he will receive an Outstanding Alumnus Award from University of the Philippines Los Baños.
Dr. Palada was born on September 26, 1944 in Bacolod City. His parents are Rafael Paginado Palada, Sr. (father) and Gloria Celiz Palada (mother). Both are deceased. Manny is the sixth child of the 13 siblings in the family of 7 boys and 6 girls. His elder brothers were Rafael, Jr (Jun), Renato (Rene), Roberto (Bert), and Rudyard. All of the elder brothers are deceased. Manny's younger brothers are Randolph, Roy, and Nelson (youngest in the family, recently deceased). His older sister is Rebecca (Bec) and his younger sisters are Genoveva (deceased), Rosemary, Glorieta and July.
Manny is married to Elisa Hortelano (B.S Biology Class 1967) on December 21, 1970. They have a daughter named Daffodil, and son Ted Peter; with grandchildren Sebastian and Sophia.