By Prof. Sarex Dalida Dipol, Jr.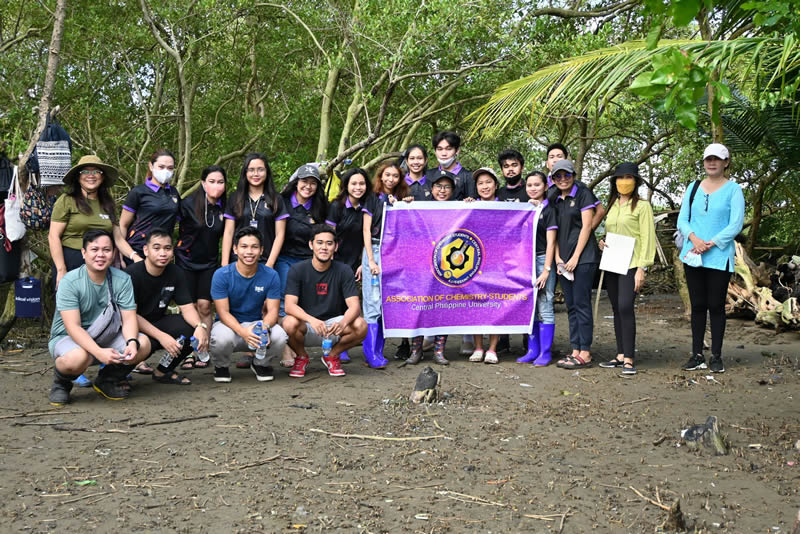 Students of CPU Life Science Department and Department of Chemistry during the Mangrove Tree Growing Activity.
Iloilo City is one of the highly urbanized cities in the country. This city is the haven of education, commerce and tourism- among others in Western Visayas. Even though the city is enjoying its robust economy, it is facing various environmental problems in areas of solid waste management, sanitation and pollution.
To address these environmental issues, various organizations, institutions; groups and individuals helped hand in hand to mitigate its effect on the city. The Department of Life Sciences and Department of Chemistry of Central Philippine University orchestrated the Mangrove Tree growing Activity in Brgy. Hinactacan, La Paz, Iloilo City on November 12, 2022.
The selected coastal community is conducive to mangrove growing activity. Although there is an existing growing mangroves in the area, the prevalence of human activities such as conversion to aquaculture, development of commercial buildings and continued expansions of human settlements are threats to the mangroves ecosystem.
Mangroves forest have numerous benefits to the environment to name a few; improve the water quality status by removing impurities, provide nursery to various marine organisms, secure nutrition and food security; protect coastal communities from soil erosion, storm surge, tides and waves.
The activity was participated by selected faculty members and students of the Department of Life Sciences, and the Department of Chemistry of the College of Arts and Sciences, school-based organizations such as CPU Biological Society, and Association of Chemistry Students, City Environment and Natural Resources Office (CENRO) Iloilo City, and Junior Chamber International (JCI) Iloilo.
Aside from mangrove growing activity, the participants also conducted coastal clean-up activity, and collected specimens for educational purposes. Furthermore, Brgy. Hinactacan mangrove area was chosen as an adopted mangrove area of the Department of Life Sciences and Department of Chemistry of the university.