By Via Marie Dumenden and Donna May Rivera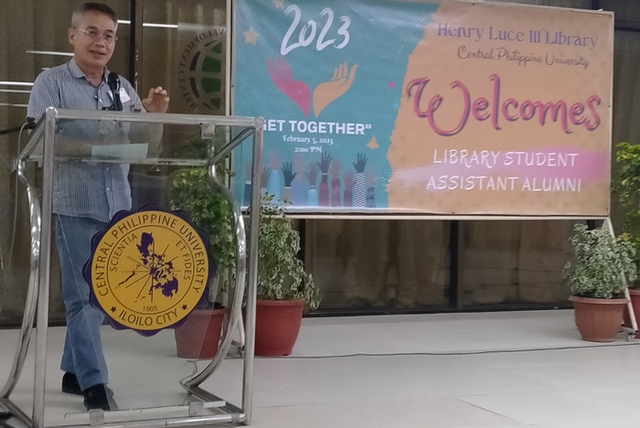 Engr. Rey Balogo, CPU LAAAI President, shared some words of encouragement.
On February 05, 2023, the Library Assistant Alumni Association, Inc. held its Alumni Get Together and Launching of Scholarship program at the Conference area of the Henry Luce III Library, Central Philippine University. The event was hosted and initiated by the LAAAI committee members. Apart from the Library Student Assistant (LSA) Alumni, the event was also attended by the librarians, staff, and current work students of the library.
The event started at 2 o'clock in the afternoon with the devotional led by Mrs. Leila V. Barker, batch 1975 alumnae, who was also the resource speaker of the event. During her speech, Mrs. Barker shared that she worked as a geriatric nurse and hospice care for 23 years in New York, thus, she pointed out five important things to say to our loved ones while they're still with us, those are: "1. I love you. 2. Am I forgiven? 3. I forgave you. 4 Thank you. 5. It's okay to go—this is to give them peace and we can also have peace."
The program proper started with Welcome Remarks from Engr. Eddie P. Cañuto, current member of the CPU Board of Trustees and also an LSA alumnus. Prof. Ma. Cynthia T. Peleña, Director of Libraries, acknowledged the generosity and continuous support of the alumni to the library, especially to the library student assistants.
University President Dr. Teodoro C. Robles also gave his appreciation to the Alumni for the constant support to the 11 current members of the LSA who are recipients of the Ilonggo Association of Victoria, Inc. – Australia grant-aid scholarship.
Engr. Rey Balogo, LAAAI President, encouraged his fellow alumni to share their unforgettable memories and experiences during their time in the library, experiences that helped them grow as individuals and brought them to where they are today. Their success served as an inspiration and encouragement to the younger ones that life may be tough for now but there will be glory in the end.
Of course, the get together won't be complete without the performance from the current LSA showcasing their skills in dancing.
The program ended with everyone enjoying the laughter and camaraderie exchanged with one another. This event has been both a blessing and a privilege as joy and treasured memories were once again shared and reminisced.