By Ana Mae Bantad-Cantel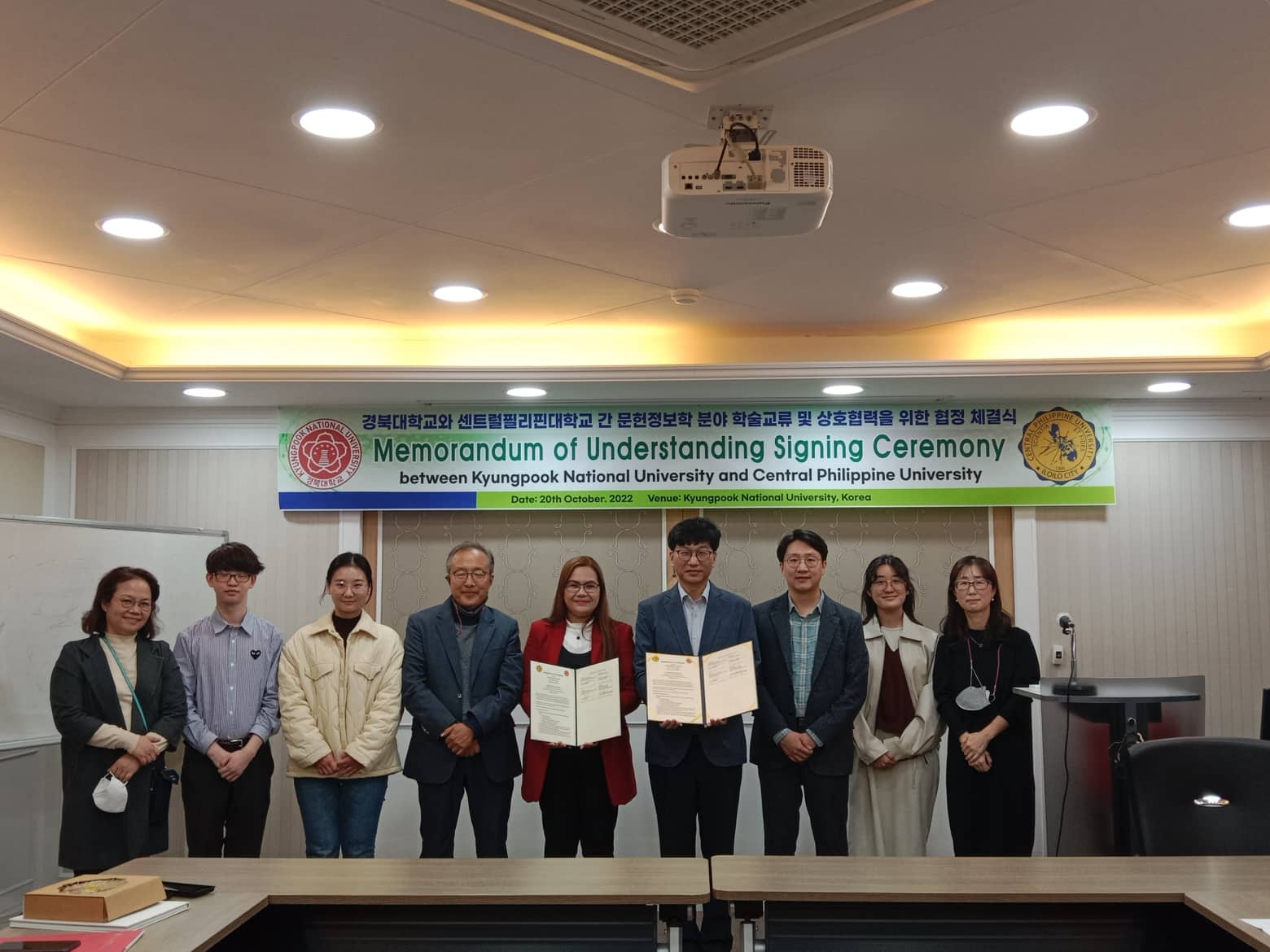 The MOU Signing Ceremony between KNU and CPU.
Central Philippine University (CPU), represented by Prof. Prof Ana Mae Cantel, RL, MLIS, who is the CPU LIS Program Coordinator, and Kyungpook National University (KNU) in Daegu, South Korea inked a Memorandum of Understanding (MOU) last October 20, 2022 at the KNU campus. Representing KNU were Dr. Jaehwang Choi, Director of the Department of LIS and Dr. Jongwook Lee, BK21 Project Team Leader also of the Department of LIS.
The MOU covers the following: exchange of Library and Information Science (LIS) students, faculty members, academic publications, and information, development of collaborative research, and the opportunity of joint educational programs promoting the advancement of the LIS curriculum.
KNU, which was established in 1946, is recognized for placing 54th in the world in the Times Higher Education (THE) Impact Rankings 2021 and number one in Korea in the QS Rankings and THE World University Rankings 2022. It has 34,867 students and strong links with over 67 international partner countries and over 500 universities globally. (https://en.knu.ac.kr/intro/about07.htm)
At the side of CPU, the partnership will expand the linkages of the LIS programs in the CPU College of Computer Studies (CCS) and the School of Graduate Studies (SGS). This partnership was made possible by the ardent support of the University administrators with the assistance of Prof. Kay Arden Q. Gallo, CPU's Acting Director of the Office of International Relations and Cooperation, Dr. Rowena M. Libo-on, SGS Dean, Prof. Ma. Christina A. Quijano, CCS Dean.
After the signing of the MOU, Prof. Cantel gave an overview of LIS education in the Philippines to KNU LIS students and faculty members. Together with her research paper co-author, Mrs. Jennifer Bode, Acquisition Librarian of the CPU Henry Luce III Library and a LIS faculty member, she will also present a paper at the 5th I-LISS International Conference 2022 on "The Era of Post-Pandemic: Data Curation and Literacy" which will be held on October 21-24, 2022 at the KNU.
The CPU programs in LIS, specifically MLIS and BLIS, are the pioneers in Region 6. The BLIS program has produced several board examination topnotchers and its graduates, together with those of the MLIS program, work in various types of libraries in the Philippines and abroad. These programs have also been made available to other countries through CPU's partnership with other organizations such as the Association for Theological Education in South East Asia. Community engagement projects such as those funded by the United Board for Christian Higher Education in Asia have also provided training to local government and school librarians.
For more information on the MLIS and BLIS programs of CPU, please contact us through ambcantel@gmail.com; contact Number: (+63) 9562380475 and local Number: (033) 3291971 and you may follow us through our LIS Programs Facebook account https://bit.ly/3SsWb4Q (Master in Library and Information Science).