By Cyrus A. Natividad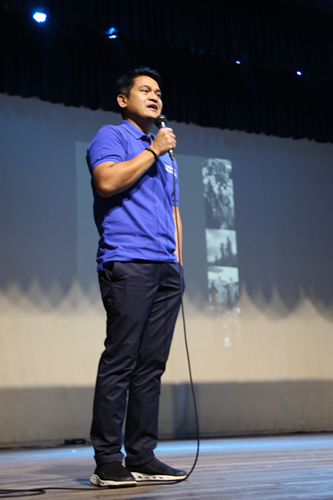 Jiggy Manicad shares the inspiration behind his stories to Centralians at the Rose Memorial Auditorium. 
The University Senior High School was privileged to hear the story of one of the country's outstanding broadcast journalists, Jiggy Manicad of GMA's 24 Oras. The lecture entitled Jiggy Manicad's Stories was held at the Rose Memorial Auditorium on Monday morning, October 8, 2018.
The storyteller shared the essentials of broadcast journalism through his narrative of his experiences in the field. His encounters in the field taught him how to climb the "ladder of success" through patience, perseverance, and dedication. One of his ultimate achievements is becoming a part of the team of reporters who climbed Mount Everest.
In his own life story, Manicad endured the hardships of being his own supporter for his education and a "hunter for opportunities" for his future.
After finishing high school, Manicad was uncertain about going to college because he knew that his family could not afford to send him to school. He worked, earning from his writing and other odd jobs. He had decided to enroll in a vocational course so he could quickly help his family. However, his friends prevailed upon him to take the journalism course in UP Los Baños instead.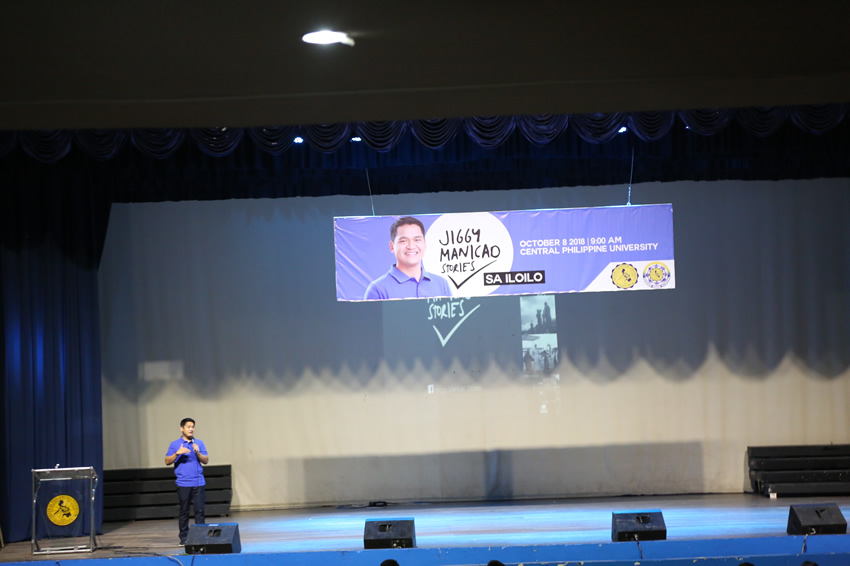 Manicad encourages Centralians to be storytellers.
So he could afford college, Manicad availed of UP's Socialized Tuition and Financial Assistance Program and worked part time writing for the College Editors Guild. Life, though, was not easy for Manicad even after college. Upon graduation he worked as a production assistant/driver. His first coverage work was with ABSCBN's Magandang Gabi Bayan.
Manicad worked on various tasks while he was with GMA. He first worked as a scriptwriter for GMA's Kapwa Ko Mahal Ko. His assignments included being a photographer, reporter, until he was given the job as newscaster.
All of what he learned and mastered in broadcast journalism is a result of working without complaining. His achievements were also a reward for volunteering his concepts and strategies and offering big ideas. In fact, the Mount Everest project was his idea.
The Kuratong Baleleng rubout, a combat mission in Basilan, the infamous Ozone Disco fire in Quezon City where among his first big stories. His development in investigative journalism was what made him a name in broadcast media. His tip: start with a big story. In an interview, he suggested that a reporter should ask the right questions, no matter how hard they may be and to capture the people's emotion with a strong video. He concludes that what really makes a story sensational is the truth behind the story.