By Cyrus A. Natividad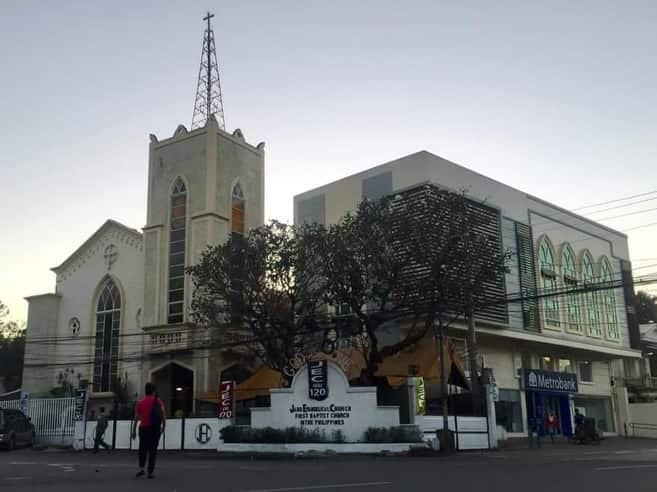 Jaro Evangelical Church facade.
The Jaro Evangelical Church, the First Baptist Church in the Philippines, celebrated its 120th Founding Anniversary on February 23, 2020, with the theme "Blest With 120 Years…Determined to Move Onward." The celebration started at 9:30 A.M. at Jaro Evangelical Church, after a short parade around E. Lopez, Jalandoni and Commission Civil Streets. The churchyard was draped with banners printed with the 120th year seals and colorful balloons. The grand celebration was attended by many members of JEC, and JEC daughter churches, most of whom are Centralians.
The Mid-morning Service started with the Focusing and Candle Lighting; the reading with conviction and singing with enthusiasm of the worshippers –in dedicating to and serving Jaro Evangelical Church. In affirming the family of God, a moment of silence was observed to bring into Fellowship members who have been "Promoted to Glory." Jaro Evangelical Church was greeted during the Anniversary celebration by her Daughter Churches from San Miguel Community Baptist Church, Tacas Evangelical Church, Sambag Baptist Church, Lapuz House Church and Pavia Riverside Chapel. The Anniversary Choir sang the Anthem of Solidarity "One Song, One Voice, One Spirit" by composer Sharon Rose Buensuceso-Enabe and Music by Timothy Buensuceso. This was the same song recognized as the CPU Grand Alumni Homecoming Theme Song. The Undergirding Scripture text was found 1st Corinthians 3:11.
The invited Speaker of the celebration is the current CPU Director for Communications, Rev. Francis Neil G. Jalando-on. He shared some historical information about the Holy Land. "These are proofs that everything written in the Bible is true", he said. He emphasized that "Jesus Christ's ministry on earth is evidenced by not just in what is written in the Bible but also in archaeological findings." A Pastor, writer and the author of volumes of the Seeds of Faith book, Rev. Jalando-on has been leading Christians and groups of believers into the Holy Land Pilgrimage in Israel.
There was enough prepared food for lunch at the churchyard. Everyone went home proud and happy for the 120th year of Jaro Evangelical Church.
Central Philippine University will always be connected to Jaro Evangelical Church. The first students of Jaro Industrial School would go to this church every Sunday to worship. The American Baptist Missionaries established not just churches but also schools and hospitals.
The first and oldest Baptist congregation in the Philippines is the Jaro Evangelical Church in Jaro, Iloilo City.  Rev. Dr. Eric Lund from Sweden, and Rev. Braulio Manikan, a Filipino from Aklan, arrived in Iloilo from Barcelona, Spain in 1900 and subsequently established preaching stations in Panay. The first Jaro Baptist Church, as it was then called, was a simple bamboo chapel in Castilla St. in Jaro, Iloilo City. JEC is a member church of the Convention of Philippine Baptist Churches.