By Cyrus A. Natividad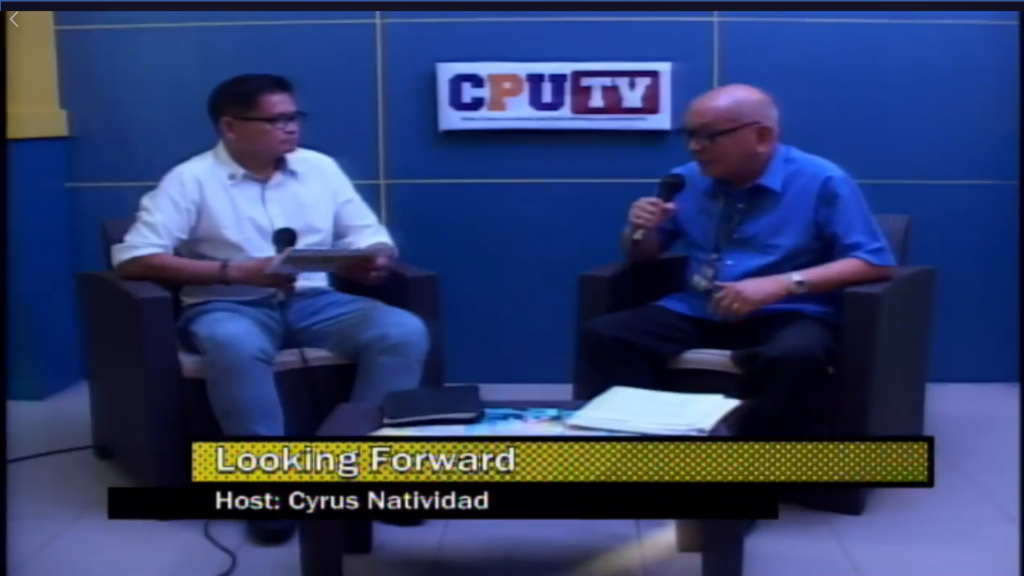 CPU Vice President for Student Affairs (VPSA), Rev. Joniel Howard H. Gico talks about his years of service in CPU.
CPU Vice President for Student Affairs (VPSA), Rev. Joniel Howard H. Gico, was a guest in Looking Forward, a program on CPUTV Facebook Channel, last Friday October19. The 30-minute interview included issues on the functions of the VPSA office, its achievements and programs for the students and the student organizations.
Gico's position as VP for Administration before his appointment as VP for Student Affairs effectively contributed to his efficient management of the affairs of students inside the campus, which include discipline, strategies, and parameters on student organizations and fraternities (qualifications and restrictions on student groups ) before they are certified as members of a standard student organization by the VPSA Office.
Gico was upbeat on the development and progress of students in the University, and that of the student organizations. He also talked on the achievements of the current CPU student republic (CPUR) to which he gave credit for the many achievements it has done for the students and the campus.
In support of CPUR, the VPSA provides certain policies that enable CPUR officials to make programs for the benefit of the campus and student organizations. The VPSA deems it important to support any and all qualified student organizations in relation to its programs and projects in the University.
Reverend Gico is a graduate of Mechanical Engineering from Central Philippine University in 1976 and has worked with La Carlota Sugar Central and San Miguel Corporation Packaging Division as shift engineer. He has been the president of the Convention Baptist Bible College – before coming back to serve Central Philippine University.
He is a continuing student taking up Doctor of Management with focus in Development Management at CPU. He is a graduate of Master of Theology from the Southeast Asia Graduate School of Theology (SEAGST) and Master of Divinity Major in Pastoral Ministry, College of Theology, Central Philippine University.
He is currently the Chairman of Iloilo Mission Hospital Construction Committee, a member of Iloilo Mission Hospital Corporation and Central Philippine University Corporation, among others.