By Col. Pedro C. Bedoña (RET)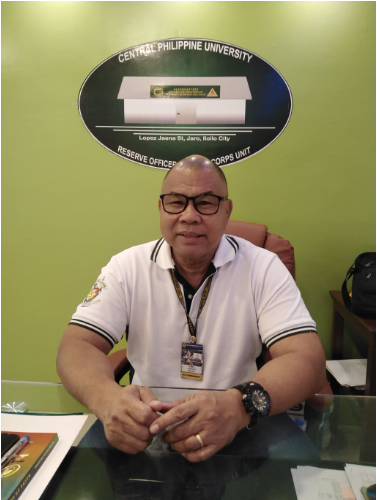 Col. Peter Bedoña (Ret), CPU ROTC Unit Commandant in his office at the CPU Headquarters.
As CPU ROTC Commandant, I would like to share insights and implementing guidelines on the NSTP-ROTC Component.
First, let us clarify the relationship between the National Service Training Program (NSTP) and the Reserve Officer's Training Corps (ROTC). The NSTP implementation, Republic Act 9163 signed by Former President Gloria Macapagal Arroyo on January 23, 2003, has ROTC as one of its three components, the other two, originally: Literacy Training Service (LTS) and Civic Welfare Training Service (CTWS).
Effective on the 1st Semester of Academic Year 2002-2003, all freshmen male and female students in the tertiary level were mandated to finish within one year any one of the three components as prerequisite for graduation from any baccalaureate degree course or from any two year technical/vocational course.
To distinguish the NSTP program from the ROTC, let us define the two components. The National Service Training Program (NSTP) – refers to the program aimed at enhancing civic consciousness and defense preparedness in the youth, by developing the ethics and patriotism while undergoing any of the three component programs, especially designed to enhance the youth's active contribution to the general welfare. The Reserve Officer's Training Corps (ROTC) – refers to the program component institutionalized under section 38 and 39, Republic Act 7077 designed to provide military training level students in order to motivate, train, organize and mobilize them for national defense preparedness.
The history of the ROTC Program started with the enactment of Commonwealth Act number 1, otherwise known as the National Defense Act of 1935 requiring the compulsory military training for all college students (through an executive order issued by President Manuel L. Quezon).
The National Defense Act was amended in 1990 by Presidential Decree 1706, the National Law which offered the three components of the National Service Program. In 1994, the traditional two-year program was expanded into ROTC program which provided for a mandatory Military Training for the first curriculum year (with option to pursue either Military Service (MS), Civic Welfare Service (CWS) or Law Enforcement Service (LES) on the second year.
Editor's Note: The author is currently CPU ROTC Commandant; a graduate of Civil Engineering, CPU Batch1985