By Jessalyn F. Fetalsana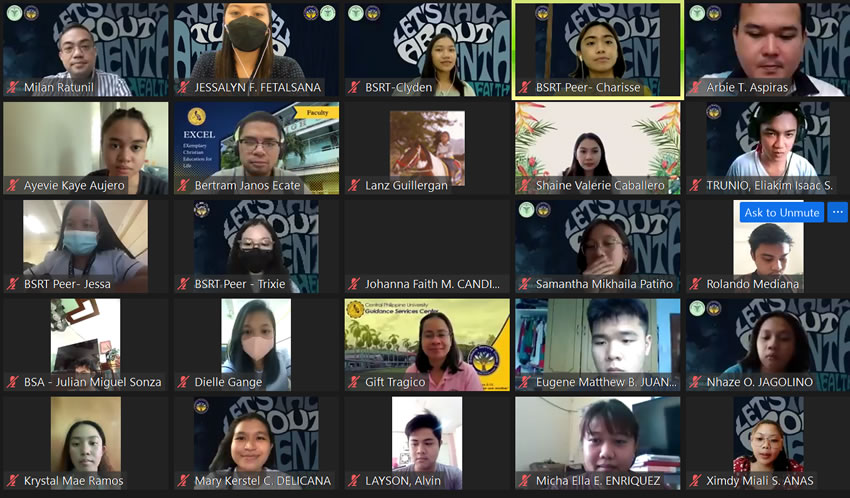 Participants in the Webinar on Entailing Mental Stresses and Coping Practices.
In celebration of the Mental Health Month, the Bachelor of Respiratory Therapy (BSRT) Peer Facilitators' Organization, in coordination with the Guidance Services Center, conducted an online webinar with the theme "Entailing Mental Stresses and Coping Practices" on October 12, 2022, Wednesday from 9:00- 11:30 AM via Zoom and FB live.
The program was prepared and spearheaded by the BSRT Peer Facilitators. The webinar's objective is to help Centralian students have an awareness of the effects of stress, identify healthy coping practices that can help them during difficult times, and have the determination of having a grit and growth mindset.
Dr. Henry D. Gonzales, Dean of the College of Medicine, in his opening remarks, emphasized that "There is no health without mental health", while Dr. Ma. Julie Christie S. De La Gente, BSRT Program Coordinator also added that "Jesus is our Master healer and we can have victory because the all-sufficient God is with us". Ms. Zarianne Chiliad R. Gumatico, BSRT Alumna, who graduated Magna Cum Laude also shared her testimony during her college life. She shared the acronym RT which stands for – R- Remembering your Creator in the days of your youth, and T – Trusting the Lord with all your heart and leaning not on your own understanding.
Mr. Ralph Ian Ramos, a 2nd-year BSRT student introduced the invited speakers who are both Mental Health Professionals. The notable speakers were Mr. Arbie Aspiras, a Registered Nurse and an Adolescent Health Program Coordinator (DOH), Malay, Aklan, and Dr. Milan Ratunil, a Psychiatrist from St. Vincent General Hospital, Cebu City.
Mr. Arbie Aspiras tackled the causes of stress, its effect, and how to effectively manage it. On the other hand, Dr. Ratunil discussed the importance of mental health, normality models, and the emotional processing cycle.
Ms. Di-anne Evangelista, a 3rd-year BSRT student, closed the program with a prayer, while Ms. Charisse Rubino and Ms. Clyden de Juan, both 3rd-year BSRT students, served as Masters of Ceremony.
A lively engagement ensued during the Question and Answer (Q&A) portion were participants were provided the opportunity to further clarify with speakers their questions. This was followed by the awarding of Certificates of Appreciation to the Resource Speakers. The webinar ended with a photo op of the speakers and the participants. There were 196 students from different colleges who participated in the webinar.
The Peer Facilitating Program, as one of the services offered by the Guidance Services Center (GSC), provides an avenue for students to seek assistance from trained student facilitators. The Peer Facilitators are also the helping hand of the GSC in advocating its programs and services.